November 20th, 2015 |

Author:
George Heritier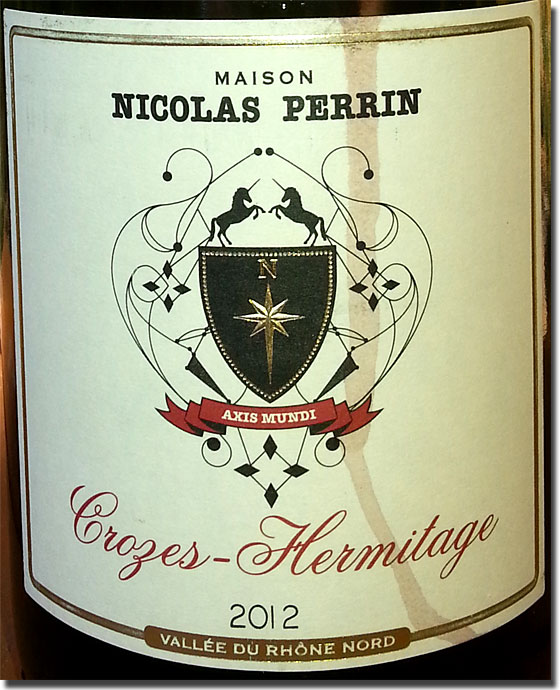 We first learned to love the wines of Crozes-Hermitage back in the summer of '95, when friends opened a bottle of 1978 Paul Jaboulet Aine Domaine du Thalabert for us. That bottling and those of Alain Graillot soon became some of our favorite wines for more than a decade. We gradually drifted away from them, one major reason being that the more reasonably priced Jaboulet pretty much disappeared from retail shelves around here. (Click image to enlarge.)
Happily, we "rediscovered" Crozes-Hermitage a few years ago, after encountering Graillot's wines once again, and then, discovering the lovely wines of Domaine des Hauts Chassis.
So, I was pleasantly surprised to find the following selection during an expedition to an area Costco a few weeks ago. I reviewed several wines from Maison Nicolas Perrin (a collaboration between Nicolas Jaboulet and the Perrin family of Chateau Beaucastel fame) three years ago, but it wasn't until I got it home that I realized this was the same vintage that I had tasted back then, so that made it all the more interesting.
2012 Maison Nicolas Perrin Crozes-Hermitage, 13% alc., $19.99: Looks like a glass of bloody ink; all leathery and briar-bramble on the nose. Shows obvious young Syrah black fruit character on the palate, somewhat sour and astringent, and it quickly offers more and more "garrigue" with air. A sizable and well-structured wine with the depth of fruit to get a lot better with age, and, at this price, a no-brainer to pick up at least a few more and lay them down for 5-8 years. Interestingly, it shows none of the barrel character that was so obvious three years ago. Find this wine
Imported by Vineyard Brands, Birmingham, AL
It's a bit of a shame that these have ended up in Costco bins here in southeastern Michigan. I could speculate that the wine has been a hard sell around here at the original $28-35 retail price range. I'm not saying it isn't worth that, but it's a lot more attractive at $20, and I'm nothing if not a bargain hunter. It won't supplant the Domaine des Hauts Chassis Les Galets as my current favorite from Crozes-Hermitage, but I'll certainly be going back for a few more to put down for a while and see how they develop with some age.
Reporting from Day-twah,
Bastardo
Related posts: