August 24th, 2016 |

Author:
George Heritier
So these three bottles were sitting on the shelves at Western Market in Ferndale for several months, not quite languishing, and I'd see them and say to myself, "I really should take them home; they've got a little age on them, and as devoted Doon-heads, we owe it to ourselves to see how they're coming along."
I finally bit the bullet in June. It then took us another few months to actually get to them, because I was looking for just the right occasion, which finally reared its pointy little head last week in the form of a certain annual celebration.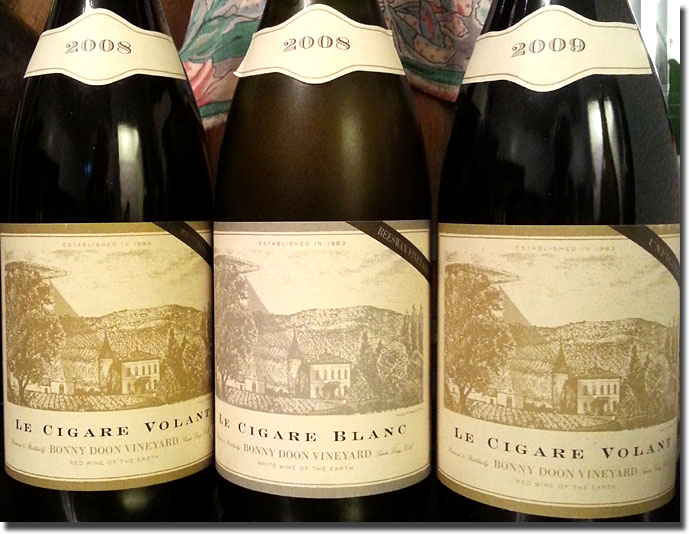 2008 Bonny Doon Le Cigare Blanc Arroyo Seco Beeswax Vineyard, 57% Roussanne, 43% Grenache Blanc, 14.3% alc., $22.99: Clean medium color with a tinge o' lemon; all mineral-driven white tree fruit and lanolin. The nose is still lively and the flavors still expressive, with somewhat toned-down acids that nevertheless do everything they need to do. No secondary action here as of yet, just an enjoyable 8-year old white Rhone blend that gives testament to the age worthy nature of this bottling. Made from biodynamically grown grapes, this is one of my very favorite California whites, vintage in and vintage out. Find this wine
2008 Bonny Doon Le Cigare Volant Central Coast, 45% Grenache, 30% Syrah, 13% Mourvèdre, 7% Cinsault, 5% Carignane, 14.2% alc., $37.99: Clean, dark color; still showing plenty of tannic and acidic structure, adding a bit of a bite at first. Rich, thick and intense; earthy, and starting to develop secondary nuances of leather, cola and mahogany over a solid core of black plum and berry. Still on the way up, and not close to its peak, but I like where this one is going. It opens and becomes more generous with air, getting more and more southern Rhone-ish. Find this wine
2009 Bonny Doon Le Cigare Volant Central Coast, 36% Syrah, 25% Grenache, 20% Mourvèdre, 19% Cinsault, 13.3% alc., $29.99: Clean, dark color; lovely fragrant nose, almost floral. Dark plum and berry flavors and aromas, with no secondary characteristics to speak of and just a bit of the barnyard with air; a little less earthy and a little more fruit forward than the 2008, and not even close to peaking. Substantial in weight and texture, and structured for many years of development and improvement. Find this wine
In hindsight, it might have been better to give the two reds an hour in decanters, because they do open nicely with air, if you just have to drink them now. All three of these delicious wines were very well received here at Gang Central, and are highly recommended.
Reporting from Day-twah,
Bastardo
Related posts: