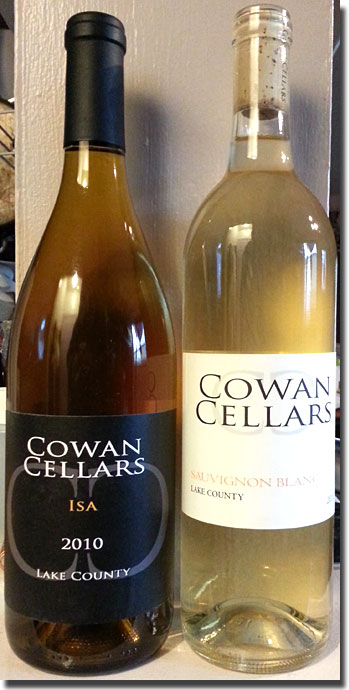 Gang of Pour was created back in 1997 as an offshoot of our involvement in the internet wine community, on such forums as those operated by Wine Spectator, Robin Garr, Brad Harrington and others. Over the years, we got to know many people virtually through said forums, and got to meet many of them in person through "offlines," tasting gatherings in various parts of the US and Canada. Several of the people we met have contributed to Gang of Pour over the years, and one gentleman who still does is "Florida Jim" Cowan. We first met Jim in person back in 2001, during a road trip to North Carolina, and have met up with him on several other occasions since. We found him to be every bit as charming and gracious as his online persona; here's what I said about Jim when we welcomed him as a contributor to our pages in 2010.
It's no exaggeration to describe "Florida" Jim Cowan as one of the most respected and admired commentators in the online wine community. A true gentleman, Jim is the consummate voice of reason, with a common sense view of all things wine-related that resonates strongly with his many friends and readers.
Jim is more than just a commentator, though; he caught the winemaking bug after working in the vineyards and wineries with Russell Bevan, of Bevan Cellars, and Steve Edmunds, of Edmund St. John, during the fall of both 2006 and 2007. He made his first wine in 2007 and has been making wine every year since then, establishing his Cowan Cellars with his wife, Diane Arthur. We first tasted one of Jim's wines in 2009, and while it received mixed reception among the rednecks we drank it with, this taster was most impressed.
A few months ago, Kim and I decided that it was high time to see how Cowan Cellars was coming along, so we ordered up a case. Kim wanted to throw a dinner party featuring some of the wines, and I thought it would be fun to try the two Sauvignon Blancs, the Pinot Noir and the Syrah. In his own words, Jim makes "wines that accompany food well, which is very important because I also love the food that my lovely wife, Diane, prepares for our daily meals – usually vegetarian, and always light yet flavorful." In that regard, Kim contacted Diane and set her menu based on some of her suggestions. We invited three of our best friends in the wine biz to join us, Rebecca Poling, Michelle DeHayes and Anne Keller Klump. We got things started with a very fine Left Coast sparkler that Rebecca brought over.

2006 Iron Horse Brut Green Valley of Russian River Valley Cuvee Michael Mina, 13.5% alc.: Clean, medium color, with a very active bead and ample mousse; mineral-driven and bone dry, this is sparkling wine the way I like it, and right up there with the best domestics that I've had. Medium bodied, with excellent acids and length. Find this wine
2010 Cowan Cellars Isa White Wine Lake County, 100% Sauvignon Blanc, 12.5% alc., $22.00: Pale amber in color, and, initially, not very aromatic; this doesn't really speak Sauvignon to me, but I like it, especially paired with Kim's delicious roasted and stuffed Gruyere Cheese Pumpkin opener. Medium bodied, and more, with ample acids and very nice balance and presence. As it opens in the glass, it offers what Anne describes as "aromas of apple crisp right out of the oven;" Rebecca offers impressions of "baked pear" on the palate, and Anne adds "almond paste-marzipan on the finish."
Jim Cowan's comments: De-stemmed and fermented to dry on its skins at ambient temperature in 6-7 year old French oak barrels. 290 cases produced. Should drink well on release and gain color, depth and complexity over a decade. This wine should never be over-chilled; cellar temperature or warmer for service. Find this wine
2012 Cowan Cellars Sauvignon Blanc Big Valley Lake County, 100% Sauvignon Blanc. 12.7% alc., $20.00: Clean, rich medium color, and again, not giving much on the nose at first. More in the apple spectrum, showing little, if any grapefruit-like characteristics; very rich and smooth. Anne mentions "a nice floral note on the nose," and Michelle elaborates, adding impressions of "tangerine skin/spray/oil. An interesting and tasty variety of the Sauvignon experience; not as intense as the Isa, and that's ok, as it matches well with the roasted beet, arugula and Feta salad.
JC: Whole-clusters kept at 50 degrees for 48 hours, then pressed into barrel to ferment. Underwent malolactic fermentation and aged in 6-8 year old French oak for 6 months. Bottled unfiltered and unfined. 250 cases produced. Find this wine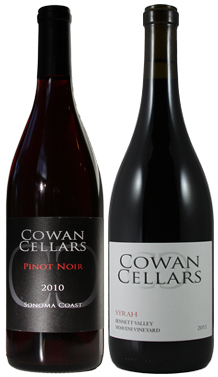 2010 Cowan Cellars Pinot Noir Sonoma Coast, 100% Pinot Noir, 13.9% alc., $32.00: Clean ruby garnet color, with a pretty pomegranate and black cherry nose; Michelle immediately commented on the wine's "smoky, meaty" character, and Rebecca agreed, calling it "sanguine," and adding "blood" and "copper penny." Everyone agrees that this is a pretty little middleweight, rich and restrained at the same time, with lovely balance. As much as we like the whites, we like this and the following wine even more, and this worked beautifully with the mushroom risotto and cedar planked grilled salmon.
JC: The vineyard where these grapes grew is about three miles from the Pacific; it was de-stemmed and fermented below 80 degrees F and only pump-overs were performed (no punch downs) it spent 10 months in 2-3 year old barrels. 250 cases produced. This reminds of Chambolle when it is young and the weightless nature of the wine gives it a feminine delivery. For me, the kind of wine to have with lighter fare, and even some seafood; for the vegetarian cuisine we often have for dinner at my house, perfect. Should be fresh and lively at release and gain depth and complexity over a decade in the cellar. Find this wine
2011 Cowan Cellars Syrah Moaveni Vineyard Bennett Valley, 100% Syrah, Alban 1 clone, 13.6% alc., $26.00: Clean, dark color; Anne spoke for all of us when she immediately said that this is "restrained and really good, more like a northern Rhône than something from California and Australia." This has a pretty black plum and berry personality, shaded with subtle earth. Medium-full-to-full bodied, and structured for some years in the cellar, yet so nice right now; it offers nice rich fruit, with a slightly tart note on the finish, again, like more than a few northern Rhônes we've enjoyed. Great with grilled lamb chops and roasted root vegetables.
JC: De-stemmed and fermented to dry at ambient temperature, it spent 20 months in 6-7 year old French oak. 51 cases produced. Will benefit from several years in the cellar but can be drunk now with flavorful foods. Will easily last and develop for 15 years or more with proper storage. Find this wine
"Tasted blind, none of these would be mistaken for old world wines, but they're all about balance and restraint." – Michelle DeHayes
"You can drink more than one glass of any of these." – Rebecca Poling
It goes without saying that these four wines were very well received by all of us, and the fact that our three industry professional friends liked them so well is a testament to their quality. Jim Cowan is doing a fine, fine job of making exactly the kind of wines he and Diane like to drink, and they're the kind of wines we like to drink as well. Bravo, Florida Jim!
Reporting from Day-twah,
geo t.
Related posts:
One Response to "A Cowan Cellars Dinner"