Our old partner in crime, Putnam Weekley, gave me a shout a few weeks ago to let me know about an upcoming Ridge Vineyards tasting at a cool little Detroit deli called Mudgies. Mudgies is a classic Corktown joint, old school and charmingly so. The focus is on local products whenever possible, in-house roasted meats, fresh soups and high quality cocktails, meads, craft brews and, of course, wines. Putnam bartends afternoons and also extends his considerable knowledge toward the selection of the alcohol that is served. There's a different wine theme each Tuesday evening, and last week, it was the aforementioned Mr. Ridge. Lord knows, I have more than a little experience with this producer, and while I might have passed on some other such events, I know that anything Mr. Weekley has his fingers in is bound to be good, so I saddled up and drove down to take it all in. Turns out I was right, because not only were the wines terrific, I also ran into and renewed acquaintances with my old friends Steve and Robin Kirsch and Rick Lopus. (Click images to enlarge.)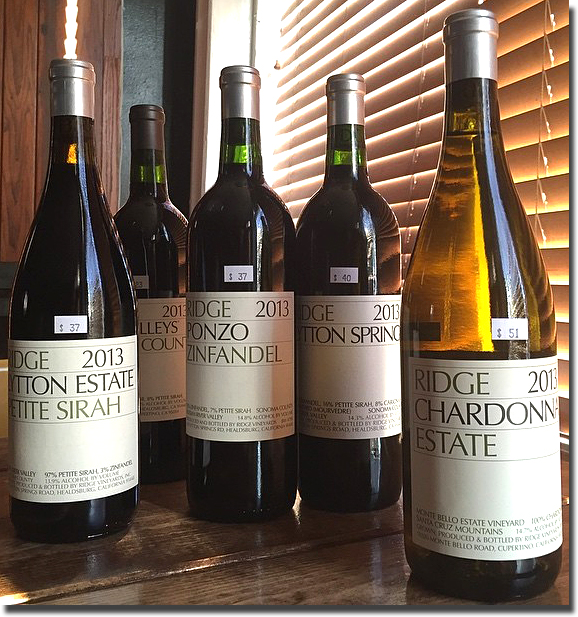 Five wines (pictured above; photo by Putnam Weekley) from the 2013 vintage were served for $15, with a starter followed by two tandems. The starter turned out to be a red, rather than a white. Putnam told me he thought it would make sense in the end, and it did. Knowing that I'm a Zinfandel lover from way back, he also gave me a pour from a producer I'd only heard of but never tasted anything, for comparison's sake. Both went better than one might expect with my vegetarian wrap called the "Hippy Dippy" (avocado, spinach, sunflower sprouts, carrot, apple, cucumber, dried cherries, walnuts and raspberry vinaigrette, wrapped in tortilla). You don't HAVE to eat meat with these intense reds!
2013 Ridge Three Valleys Sonoma County, 80% Zinfandel, 11% Carignane, 8% Petite Sirah, 1% Alicante Bouschet, 14.4% alc., $23: Ripe, yet a bit earthy, with spicy black raspberry and blackberry flavors and aromas. Showing good depth and structure, this has some good years ahead of it, and it speaks Mr. Ridge without the overt American oak they sometimes display in their youth. Almost creamy in comparison to the following wine, with great balance and a little chutzpah on the side. The best Three Valleys I've had in quite a while, maybe the best ever, made with fruit sourced from Dry Creek, Alexander and Russian River Valleys. Find this wine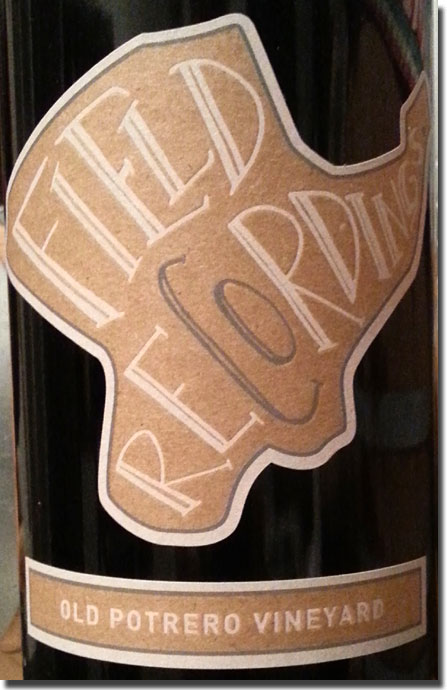 2014 Field Recordings Arroyo Grande Valley Zinfandel Old Potrero Vineyard, 14.9% alc., $18: Rich, ripe and exuberant, with intense Zin character that stops just short of going over the top. A delicious expression of the variety, and I made a point of picking one up to open for Alan Kerr the next time we get together, as I think he'll really like this. 100% Zinfandel, 100% American oak, 15% new, 24 barrels produced. Find this wine
Next up was the white that most people would have started with, teamed up with another one of my favorite varietals from back when I first started exploring California wines in the mid-to-late 70s.
2013 Ridge Santa Cruz Mountains Estate Chardonnay Monte Bello Vineyard, 14.7% alc., $51: Spot on Ridge Chardonnay; Ridge deserves greater recognition for their Chard, or maybe they don't, since there's not that much of it! Pure varietal character, with that signature Ridge kiss of oak. Ripe and spicy, though not at all excessive, with the depth and acids to age effortlessly for at least 3-5 years, but why wait? Find this wine
2013 Ridge Dry Creek Valley Petite Sirah Lytton Estate, 97% Petite Sirah, 3% Zinfandel, 13.9% alc., $37: One whiff and you can tell that this is a deeper, darker critter; it's all black fruit and Draper perfume on the nose. A big wine, but not at all ponderous, with that sleek Ridge signature. Earthy as you'd expect, but not so tannic that you need to wait 15-20 years to enjoy it. The rich core of fruit is just ripe enough for current drinking pleasure, but you just know it will only get better with a decade or more in the cellar. Find this wine
Finally, there was the double whammy closers, in the form of two beautiful Zin blends.
2013 Ridge Russian River Valley Zinfandel Ponzo, 93% Zinfandel, 7% Petite Sirah, 14.8% alc., $37: Ripe and earthy (always a good Ridge combo), with hints of cocoa over blackberries and black raspberries. Good structure for at least a few years in the cellar, but this is a drink-me-now kind of Zin too, so drink this one in the near term while you wait for the following selection to develop with some cellaring. Find this wine
2013 Ridge Lytton Springs Dry Creek Valley, 74% Zinfandel, 16% Petite Sirah, 8% Carignane, 2% Mataró, 14.3% alc., $40: Putnam calls this one a beast, and while it's not the tannic monster that the 1999 model was on release (and for many years after), it's no wallflower. Tight and very primary at first, it starts to open fairly soon after pouring, showing more and more classic Lytton Springs character; rich, dense and more and more generous, with a nice blend of fruit and earth. It shows noticeable evolution with only 15 minutes in the glass, so yes, you can drink this now, but I'll let mine sit for about five years before breaking into more. Find this wine
Getting my first taste of these 2013 Ridges was reason enough to be glad I attended this event, and the Field Recordings Zin was a real bonus. Kudos to Putnam, Greg Mudge and the staff at Mudgies for all the great things they're doing. I'll be going back for more, fo' sho'.
Reporting from Day-twah,
Bastardo
Related posts: