Continued from the article Tasting Leelanau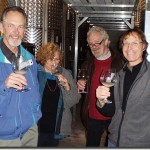 We began our survey of Leelanau wines with our visit with Charlie Edson at Bel Lago, and it set the tone for our entire tour.  The wines are delicious and Charlie is a delight to spend time with.  I suppose it would be more proper to refer to him as Charles E. Edson, Ph.D, his official title, but he just seems like Charlie to me, and I came to think of him as a buddy after sharing food and wine with him a few days later.  Claudia has known him for some time, and I'd met him on a couple of occasions previously at trade tastings, but those events, by their very nature, made it hard to get the kind of read on his wines that I would have liked. Happily, there would be no such distractions on this bright Monday morning.
All of the wines at Bel Lago are made from estate grown fruit, and Charlie had at least a hand in planting every vine.  Varieties grown include Pinot Grigio, Chardonnay, Auxerrois, Cayuga white, Riesling, Pinot Blanc, Gewurztraminer, Vignoles, Seyval Blanc, several Muscats, Pinot Noir, Pinot Meunier, Cabernet Franc, Merlot, Regent, and others.  There are 32 different clones of Pinot Noir alone, a number of them being of the Dijon variety, which Edson mostly prefers.  He uses multiple yeasts on almost every fermentation, with plenty of experimentation.
After a brief bit of getting reacquainted, we got down to the pleasant task of tasting through the wines.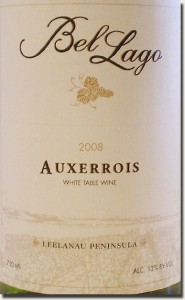 2008 Bel Lago Leelanau Auxerrois, $12.99: Showing pale color, and both pretty and expressive on the nose; rich and fairly ripe in the mouth, with apple, pear and citrus flavors underscored with nice minerality.  Medium bodied, with good cut and intensity.  Charlie says that the minerality comes from a lot of shale in the soil in which it's grown, and that these take about a year in the bottle to develop a nice mouth feel.  It's almost there already, and I liked it well enough to bring three home with us. Find this wine
2006 Bel Lago Leelanau Auxerrois: Medium straw in color, with some mildly pungent bees wax and lanolin on the nose that follows through on the palate with a nice, rich core of fruit.  Smooth, rich and elegant in the mouth, and very texturally appealing, this opens quickly in the glass  and shows some subtle secondary character.  This one is sold out, but Charlie pulled one out of his stash for our edification. Find this wine
.
.
.
.
.
.
2007 Bel Lago Leelanau Conservancy Crystal River Cuvee
, $14.99: About 100 cases of this are produced each year to benefit the
Leelanau Conservancy
.  The wine, modeled after
Conundrum
,  is a blend of Chardonnay, Pinot Grigio, Riesling and other select varieties, 50% of which is barrel fermented.  Pale in color, it's ripe, but not really sweet, with nice mineral underneath, and while the oak is apparent, it's not obtrusive.  There's a nice spicy quality to it from a little Muscat added to the blend, and a little residual sugar was added for balance.  Claudia noted a "grapiness" to this wine. 
Find this wine
2007 Bel Lago Leelanau Chardonnay, $17.99: Pale to medium color, with subtle oak over pear on the nose, but just a little air really accentuates the pretty aromatics.  Very silky in the mouth, with lovely sweet barrel and ripe fruit character.  Great food wine and so nice, I didn't want to spit, but as I wrote in my notes, "We DO have a full day ahead of us!"  This saw 100% French oak, 15% of which was new, and was comprised of 10 different clones of Chardonnay, almost all Dijon; it spent 10 months on the lees. Find this wine
2007 Bel Lago Leelanau Pinot Grigio, $13.99: Pale in color, with some subtle pineapple on the nose; rich and ripe on the palate, with peach and a little pineapple, along with some underlying minerality and what Charlie describes as "quasi-tropical fruit and even a little apricot."  Medium bodied and then some, with excellent cut.  Charlie says that this is atypical for Bel Lago, being as fat as it is, adding that it was picked very ripe, at 23.7 ° Brix.  This vintage is almost sold out, but never fear, the next one is waiting in the wings. Find this wine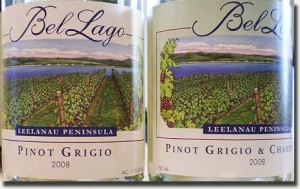 2008 Bel Lago Leelanau Pinot Grigio, $13.99: Pale in color, with some subtle lime on the nose; there's a tiny spritz to the attack, with pear and lime flavors, nice intensity and excellent acids.  Charlie says that this one is a little more characteristic of the flavor profile he's looking for, adding that it has developed a little more slowly in the bottle than usual, but that it's almost there.  Good timing, as it's to be released in a few weeks. Find this wine
2008 Bel Lago Leelanau Pinot Grigio & Chardonnay, $11.99: 25% Chardonnay added to the Pinot Grigio is the usual blend and totally changes the flavor profile of the Pinot, according to Edson, and that's apparent when it's tasted.  Pale in color, with rich apple, pear and citrus flavors and aromas, shaded with just a hint of oak character.  More than medium bodied, with excellent cut and balance.  This wine was first made in 1997, with Edson's first barrel of commercial Chardonnay, and is Bel Lago's best selling wine.  This one saw older oak barrels and some oak sticks, which Charlie prefers over chips. "Oak chips are hard to control," he told us. "We use sticks; they just add some spice.  The flavors come out more slowly from the smaller surface." Find this wine
2007 Bel Lago Leelanau Gewurztraminer, $16.99: Pale color, with subtle peach, litchi, rose petal and mineral aromatics that blossom with a little air, echoing and expanding on the palate.  Rich, intense, spicy and yet delicate, with good cut and length.  Charlie commented on the white pepper/spice component in this, and Claudia likened it to a "mixed fruit ambrosia/potpourri."  Charlie gave this 30 hours of cold soak to accentuate the rose petal characteristic.  "Gewurztraminer takes a while to evolve," he told us, adding, "This is showing as well as it ever has." Find this wine
2008 Bel Lago Leelanau Gewurztraminer, $16.99: This one is young and primary, rich and intense, all litchi, mineral and white pepper, with plenty of zip and a long finish.  Weighing in at 15.3% alcohol, it gives a very slight burn on the mid-palate, but doesn't finish hot.  It had 16 hours of skin contact.  Charlie exclaimed, The fruit was just so ripe in '08; I can't wait to taste this in about 5 years." Find this wine
2008 Bel Lago Leelanau Primavera, $7.99: A kitchen sink kind o' blend with a base of 50% Cayuga white, this is rich and ripe, a semi-sweet quaffer that Claudia calls "a yum bomb; really luscious and totally grape-y."  Not your usual wine descriptors, to be sure, but quite accurate in this case.  2.2% residual sugar makes this just sweet enough to be very appealing without being cloying in any way. Find this wine
2007 Bel Lago Leelanau Semi Dry Riesling, $14.99: Made from about 1/2 dozen clones and measuring about 3% residual sugar.  Medium color, with subtle petrol and mineral on the nose, and plenty more in the mouth, where it turns rich and ripe, yet somewhat steely at the same time.  Slightly oily, with good weight, cut and intensity; Claudia commented that it's still tight, but while it does have several years of improvement ahead of it, I found it already very nice.  Charlie remarked, "The precursor to the petrol comes from the vineyard and you do with it what you will." Find this wine
2007 Bel Lago Leelanau Sweet Riesling, 375 ml, $8.99: Pale color, with nice petrol on the nose and a rich core of ripe red apple with shades of petrol on the palate; a little oily, with good weight, acids and a long finish.  6 1/2 % residual sugar. Find this wine
2008 Bel Lago Leelanau Rose, 375 ml, $9.99: 70% Pinot Noir, processed with the saignee method of bleeding off some of the juice early in the fermentation process and then supplemented with 30%  Auxerrois; it saw 25% French oak.  Watermelon pink, and while the oak shows in the flavor profile, it's well in the background.  Nice strawberry and cherry flavors and aromas anchored with earthy undertones; Charlie makes mention of some pepper and spice.  Medium bodied, with good cut and length.  Dry rose the way we like it! Find this wine
2006 Bel Lago Leelanau Pinot Noir, $17.99: Smoky ruby garnet color, with a smoky nose; on the palate, it offers smoky black cherry with a little earth in support. (Did I mention that there's a smoky quality to this wine?) Charlie added that "black pepper spice was all over this right from the start."  Middleweight, with good structure and not too ripe; dare I say somewhat Burgundian?  Very nice.  From a good, but not great vintage; cropped at 1 1/2 to 1 7/8 tons per acre, and aged in 100% French oak for 10-12 months. Find this wine
2007 Bel Lago Leelanau Pinot Noir: Clean ruby color; still tight earthy black cherry character and in need of time to come together, but full of promise with all the right stuff.  Claudia remarked that it's "like a flower bud that's still not opened." Not yet released; from a riper vintage than '06; 14-15 year-old vines, 6-8 different clones, 40% new oak. Find this wine
Afterwords, we took a walk down into the cellar and compared the 2008 Pinot Noir from both Allier and Vosges barrels.  Both show the same nice plum and black cherry characteristics, with pretty color and nice intensity, but the Vosges shows a little broader and sweeter, while the Allier is, as Charlie put it, "a little edgy."  Once he determines the optimum blend of the two, no doubt the resulting wine will be a fine one indeed.
We also sampled several lots of 2009 whites from both barrel and tank, tasting things that ranged from surprisingly good to "wonder what we'll get from this one?"  We also tried a taste of some Pinot Noir must that was quite interesting.
It's no secret that the 2009 vintage has been a very difficult one in northern Michigan.  The weather was cold and most grapes just never ripened.  "You've heard that this vintage is awful?" Charlie asked us?  "It's somewhere between awful and worse than that."
Still, like some others we talked to, Edson holds out some hope.  He's actually going to try to make the Pinot Noir, telling us, "It's the one I'm most excited about, and ultimately, may be the most disappointed with."
Regarding the continually improving quality of Leelanau wines, Charlie told us knowingly, "Yes, vines are getting older, but the top properties are managing their vines better."  Put Charlie Edson and Bel Lago Vineyard and Winery among the leaders in that regard.  They have the wines to prove it.
Continued from the article Tasting Leelanau
Related posts:
12 Responses to "Tasting Leelanau: Bel Lago Vineyard and Winery"