November 8th, 2017 |

Author:
George Heritier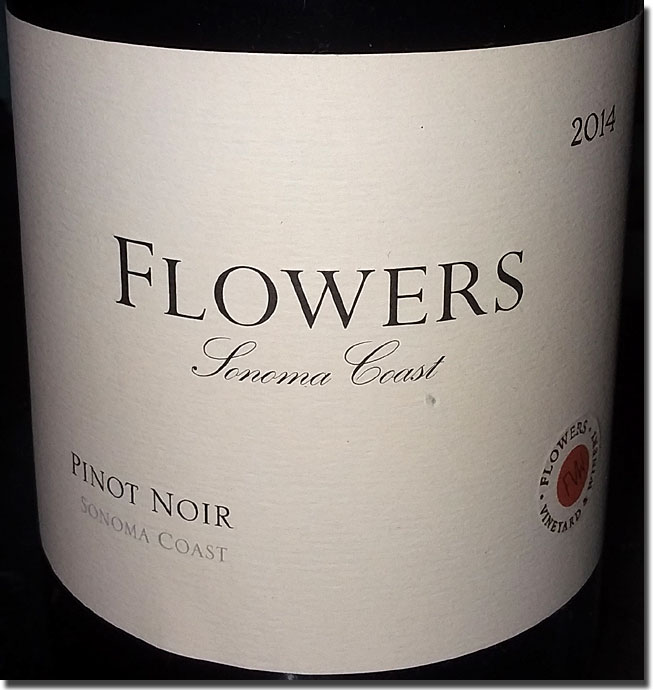 Kim and I still have fond, if now somewhat distant, memories of our two visits to Camp Meeting Ridge way back in 1999 and 2000. This was back when Walt and Joan Flowers still owned the winery, and the stunning vistas, elegant brunches, wild rides through vineyards above the clouds and, of course, the wines, all provided lasting mental images that have remained with us over the years.
The wines were controversial, and had both admirers and detractors. I remember one particular Toledo convocation featuring a Friday Night flight that had tasters split about 50/50 either way. Our reaction was almost always favorable to the wines, but we gradually drifted away from them for purely financial reasons, not only because of escalating prices, but also because of the Flowers "hostage wine" policy that forced mailing list members to buy several bottles of wines like the one reviewed here in order to get a few of the single vineyard selections. We simply felt that the rising prices were not justified by what was in the bottles, and the allocation policy was downright greedy.
Fast forward to a few months ago, when, whilst perusing the wine department offerings at our friendly neighborhood Trader Joe's, I happened upon the bottle noted below and decided to take a chance and try an example of what had been produced there recently. It took us a few months to get to it, but we finally pulled the cork a few nights ago, and here's what we found.
2014 Flowers Sonoma Coast Pinot Noir, 13.7% alc., $45.99: Clean garnet color, with a clean, bright black cherry/Pinot nose. Neither wallflower nor a Syrah-wannabe, this does have some weight and density, with flavors that deliver nicely on the promise of the nose, with an earthy base underneath, hints of cranberry and rhubarb and overtones of smoky oak. Medium-full-to-full bodied, with good structure for at least a few more years of cellar aging and nice length on the finish, this is drinking well now, and is very much in the style that I remember from back when.
Having said that, I don't favor this style like I did at the turn of the century. Yes, the wine is pleasant and well made, with no detectable flaws, but, to me, it seems "homogenized," with no real sense of place or distinguishing characteristics to set it apart from the steady parade of Pinot Noirs in this general price range. And, speaking of price, I don't mind having paid this much for "research," but I won't go there again. It just isn't worth $46, in my not-so-humble opinion. Find this wine
It was fun to revisit old memories, but, all things considered, our Flowers fandom will remain a thing of the past.
Reporting from Day-twah,
Bastardo
Save
Save
Save
Save
Save
Save
Related posts: