.
Reading  Randall Grahm's recently released book, Been Doon So Long: A Randall Grahm Vinthology, is more than a little like having a conversation with him.  From the very beginning, one is bombarded with his erudite, irrepressible and, more than occasionally, savage wit, which should come as no surprise to anyone having had a gander at even one of his Bonny Doon wine labels over the years.

T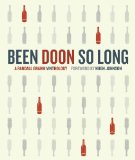 he reader also can't help but notice the constantly recurring themes; the passion for unfashionable grape varieties, the almost Quixote-like quest to fashion wines in California to achieve and exhibit a "sense of place," or terroir, a la the centuries-old European models and a sense of dismay for having too long put the marketing cart before the wine making horse in the Bonny Doon business plan.  Grahm spoke of these things when I interviewed him back in 2005, and the same ideas were inescapably apparent in the marketing information sent to us last summer, accompanied by six delicious samples of the re-focused vision of what Bonny Doon wines should be.
In one small sense, Been Doon So Long is a little like Kermit Lynch's "Inspiring Thirst," in that it largely reprints past writings in one volume, but there the resemblance ends.  Where Lynch's writings are an assembled collection of impressions and descriptions of the wines he imported and promoted through almost thirty years of monthly newsletters, most of Grahm's selections (described by the author as "Doonian ephemera," and originating in HIS newsletters) are parodies and satiric ravings that we at Gang of Pour might refer to as "fever dreams."  Randall readily admits that the earliest of these are less articulate than those that would come later, but all maintain those recurring ideas noted above.
The volume includes a heavily footnoted introduction (actually, there are footnotes throughout the entire book, but they are particularly abundant in the opening) that by turns, tells a bit about the history of Bonny Doon and how Grahm came to compose his satires, as well as laying out his unique vision how what grape growing and wine making ought to be.  There is also a chapter which I found most interesting,  entitled, "The Etiquette (and History) of the Bonny Doon Etiquette," which details the evolution of the Bonny Doon labels, and is in itself another view of the Doonian history.
The parodies range from twisted takes on the classics (Da Vino Commedia: The Vinferno) to Beat Poetry (Howlbarino) and even to Rock Opera (Born to Rhône), the latter featuring song sendups such as "It's Only Zinfandel" (Sung to "It's Only Rock 'n Roll" by The Rolling Stones) and "That Old-Time Pomerol (Sung to "That Old-Time Rock and Roll" by Bob Seger).  There is also a final section, "Earnest Speeches and Sober Essays," in which Grahm further states his various cases in eight additional articles.
I could understand the casual reader finding "Been Doon So Long" to be perhaps somewhat tedious. (Why does the phrase "Too many WORDS, Mozart!" keep running through my mind?) But, then, this book wasn't written for the casual reader; it was written for wine geeks with a wacky sense of humor, particularly those who subscribe to the notion that the best wines are those that are made in as close to natural methods as possible, as opposed to the oceans of industrial, manipulated, manufactured alcoholic grape beverages that flood the market these days.  If you're one of those, I highly recommend this book.
9 Responses to "Book Report: Been Doon So Long: A Randall Grahm Vinthology"