Archive for December, 2013
The 2013 archive is presented by date the notes were compiled and submitted. Prior year's tasting notes may be found here.
December 24, 2013
2012 Idlewild, Vin Gris Dry Creek Valley:
13.6% abv; light copper color; mostly the bass notes of rosé wine as this is based on syrah (and since I see no regular syrah in their line-up, I assume this is direct press); bright and lively on the palate, some viscosity but nothing cloying, flavors have a sauvage note; mouth-watering finish. $22 retail.  Personally, I prefer lighter and more treble-noted rosés, but the earthy/wild notes here are intriguing and the acidity is clearly in charge overall. That's in my wheelhouse.  (With pupusas and pastillos, it paired well and the acidity kept the rather piquant salsa at bay.) Find this wine
2012 Idlewild, Arneis Fox Hill Vnyd.:
14.2% abv; expansive aromas of lime and flowers; texturally smooth with flavors that echo the nose and bright acidity; good balance and length. As it warms and gets air, everything becomes more intense and focused. A beautiful wine but I can by Giacosa, Arneis for $5 less; that's not a deal breaker because this is so pretty but it does make me think twice. Find this wine
2012 Idlewild, Carignan Testa Vnyd.:
13.2% abv; mulberry and earth scents; tannic and concentrated with flavors like the nose and some bitterness on the finish. While I like the depth and character here, it's a bit disjointed, so back in the decanter and into the cellar for another time. Day two: Find this wine
Aside: I have now tried the Cortese, Dolcetto, Grenache Gris, Carignan, Arneis and Vin Gris (all 2012's, their first year in release) from Idlewild. I am convinced that these wines are worthy of attention; they are geared to food and taste so much better in accompaniment that I think they should be severed at no other time. They have no overt oak flavors; the alcohols are mostly under 14%, the wines rely upon their acids (as would be expected) and they NEED time in the bottle. The price range is $22-$32 per bottle and that seems reasonable based on quality.
In addition, the varieties they are working with lend diversity to my cellar and their production is so small that I am pretty certain that only the owners are involved in the process; and no one looks after their "babies" like the owners.
Today, I will sign-up for their mailing list; it has been a very long time since I have signed-up for any list. Kudos to Sam and Jessica; an auspicious start. Find Idlewild wines
Best,
Jim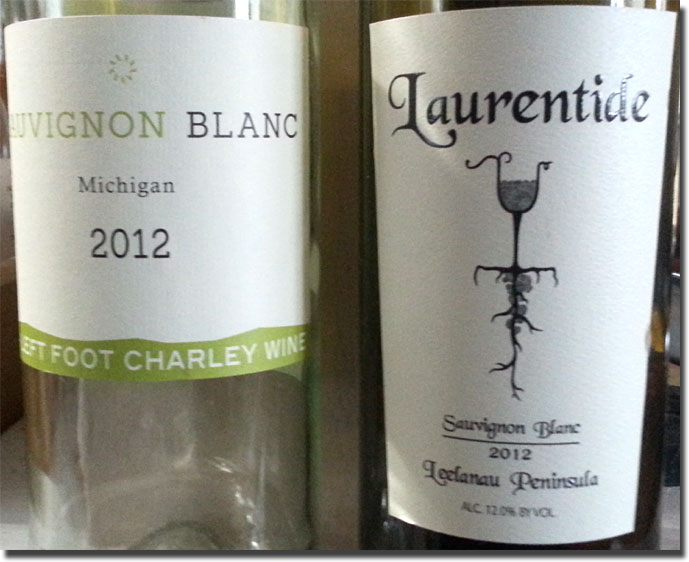 Last April, Kim and I drove up to Traverse City to attend the Leelanau Peninsula Vintners Association Media Weekend. After checking into our hotel, we did what we do whenever we go to TC, and booked straight over to Left Foot Charley Winery and Tasting Room. It's right in town, we don't have to drive to either the Old Mission or Leelanau Peninsulas, and we know we're going to taste some of the best wines in Michigan. As luck would have it on this occasion, owner/winemaker Bryan Ulbrich was in the house; he took us back into the production area, and gave us a taste of several tank and barrel samples. Everything was at least good (some parcels were meant for blending, rather that standing alone, so while not shining on their own, they would make important contributions to their intended greater whole), and then there were things like the then-yet-to-be-bottled 2012 LFC Pinot Blanc, which we could already tell was quite yummy. One of the most intriguing samples that Bryan poured us was a 2012 Sauvignon Blanc, one of the first from Michigan we'd ever tasted as far as I can remember, but as it turned out, by no means the first that has been produced. (I say as far as I can remember, because some years back, Kim and I sat on Joel Goldberg's Michwine.com tasting panel, and I seem to vaguely recall that we tried one or two back then, but I have no notes to verify that.)
The next day, during the LPVA Media Loop Tour, we stopped into the tasting room of one of the newest Leelanau producers, Laurentide, and we got a taste of another Michigan Sauvignon, this one grown right there on French Road, and made by our friend Shannon Walters. That one was from the 2011 vintage, and it caught the attention of everyone in our group. So, the variety was making inroads in the Grand Traverse Bay region, not unlike the upstart plantings of Gruner Veltliner at Chateau Grand Traverse and Chateau Fontaine that we've reported on previously.
Read the rest of this entry »