January 11th, 2012 |

Author:
George Heritier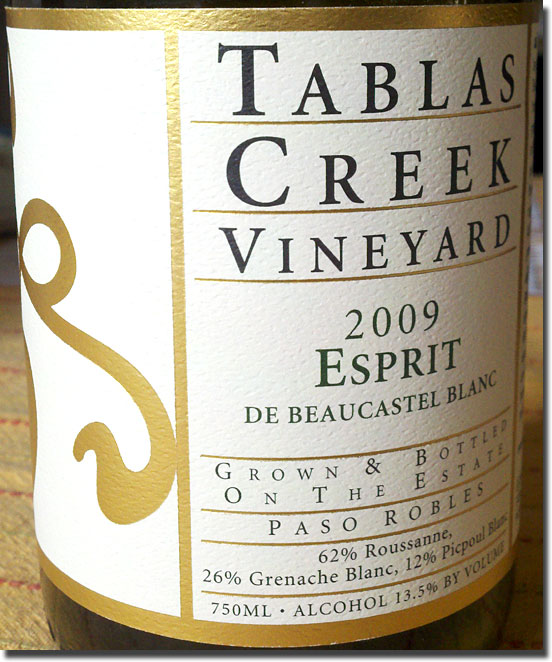 We received a review sample of the 2009 Tablas Creek Esprit de Beaucastel Blanc a few months ago, and although we tried it after a week or so of letting it rest up from its cross-country journey, I've been rather slow in posting said review. It turns out that this isn't a totally bad thing, because a few weeks ago, we were also sent a bottle of the '09 Rouge to try, thereby allowing me to combine our impressions on both selections. If you've followed our rants and raves for any length of time, you've probably noticed that we're big fans of Tablas Creek, and these two only serve to reinforce our admiration for this fine producer. Click images to enlarge.
The grapes for both the white and red Esprit de Beaucastel bottlings are grown on Tablas Creek's 120-acre certified organic estate vineyard.
2009 Tablas Creek Vineyard Esprit de Beaucastel Blanc Paso Robles, 62% Roussanne, 26% Grenache Blanc, 12% Picpoul Blanc, 13.5% alc., $40.00 SRP: Clean medium straw to pale gold in color; expressive aromas of white tree fruit, especially peaches, with some apricot in support. Generous flavors echo with some underlying minerality. Full-bodied, rich, ripe and slightly oily, with excellent acids and length. As stated, this is quite approachable, but really, it would be a shame not to give it several years in the cellar to develop into all it can be, which is to say, a very fine white Rhone blend. Find this wine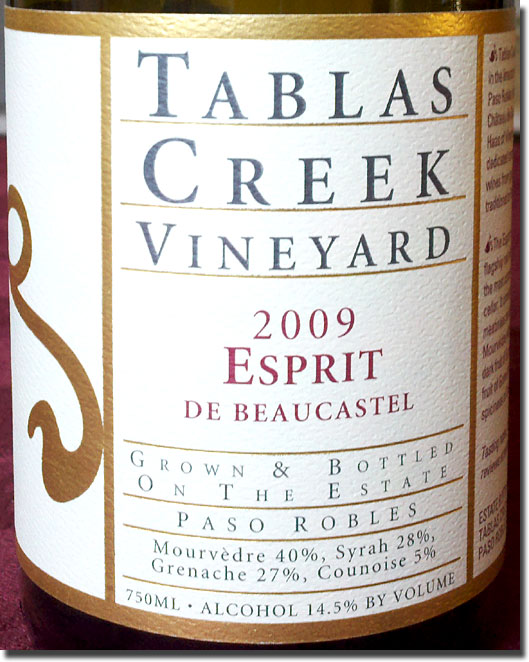 We were joined by our colleague and partner-in-crime, Alan Kerr aka Canadian Zinfan when we pulled the cork from the red blend.
2009 Tablas Creek Vineyard Esprit de Beaucastel Rouge Paso Robles, 40% Mourvèdre, 27% Grenache, 28% Syrah, and 5% Counoise, 14.5% alc., $55.00 SRP: Upon his first sip of this, Chef Kerr observes, "Obviously a young wine, but so good!" Clean and dark in color, with effusive aromatics of a perfumed cornucopia of red and black plums and berries, echoing and expanding on the palate with hints of earth underneath. Alan adds an impression of blood, and Kim mentions some iron. Full bodied, with a nice, long finish and a creamy smooth texture that belies the substantial structure that should take it ten years down the road and beyond. Alan adds, "Fleshy, juicy Grenache is very forward; the oak is barely noticeable. The only thing missing is the terroir." I'm not sure I agree on that final point, as this does show more and more earth and mineral character as it opens, but whatever the case, this is a ravishing wine, even at so tender an age. Patience will definitely be rewarded. Find this wine
Reporting from Day-twah,
geo t.
Related posts: