Last week, I decided that it was high time to try some Michigan wines with the Friday night tasting group at the retail outlet in which I am gainfully employed. The bulk of the selections were from the 2 Lads Winery on the Old Mission Peninsula. Cornel Olivier and Chris Baldyga have established an impressive level of quality with their wares in a relatively short period of time, and I'm a fan, so here was an opportunity to try some of their newest selections with our intrepid band of regulars. We started things off with some bubbles.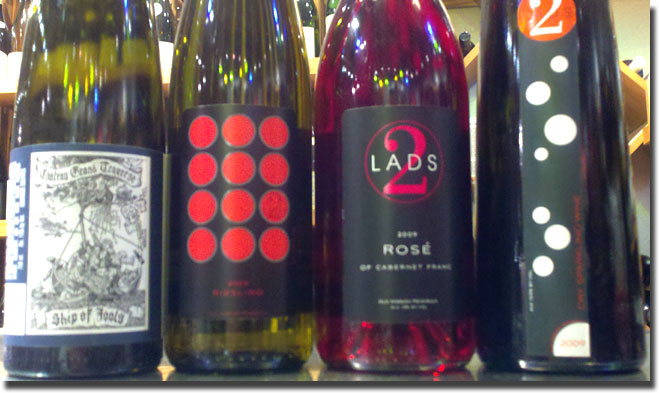 2009 2 Lads Old Mission Peninsula Sparkling Pinot Grigio, 12.5% alc., $24.99: Clean and crisp; medium bodied, with very good mousse and excellent acidity. Bone dry green apple and grapefruit character, and very refreshing. Here's what the lads have to say about this on their web site: "The cool (what? I meant cold!) summer of 2009 was perfect for sparkling wine production, and our Sparkling Pinot Grigio proves it. Produced in the traditional Champagne method, this sparkling wine underwent primary fermentation in tank before being transferred to the bottle for secondary fermentation (thus the beautiful bubbles!) It then aged 10 months en tirage (on the lees) before disgorging and finishing each individual bottle by hand." Find this wine
Since the next selection maintains a solid presence on retail shelves in the area, I thought it would be both fun and instructive to see how it's developing, so I included it in the mix.
2008 Chateau Grand Traverse Old Mission Peninsula Ship of Fools, 55% Pinot Blanc, 35% Pinot Gris, 10% Pinot Noir, 13% alc., $15.99: Seems a bit flat after the bubbles, and almost suffers in comparison, but only for a taste or two; successive sips show a wine developing nicely since we last had it, with good concentration of fruit and nice acids and length. Plenty of life left in this one! Find this wine
2009 2 Lads Old Mission Peninsula Chardonnay, 12.3% alc., $24.99: Clean, medium color, with good varietal character; minimal oak influence, with nice rich apple and pear character, medium-full body, good cut and nice intensity. Clean and crisp, and a real success, considering the variety and the vintage. Find this wine
2009 2 Lads Old Mission Peninsula Riesling, 11.5% alc., $21.99: Nice, pungent Riesling personality, with rich red and green apple flavors and aromas; medium bodied, with good cut, density and length. Does what Riesling's supposed to do, and that's what we're looking for! Sourced from the vineyard of Dan and MaryAnn Fouch. Find this wine
2010 2 Lads Old Mission Peninsula Cabernet Franc Rosé, 13.8% alc., $18.99: Strawberry pink, with pure fruit; like drinking a bowl of rich strawberries and raspberries. Medium bodied, with good acids and excellent intensity. Find this wine
Also included in the lineup were the delightful 2009 2 Lads Old Mission Peninsula Pinot Noir (13% alc., $21.99) and 2008 2 Lads Old Mission Peninsula Cabernet Franc (13.5% alc., $24.99), which we've reviewed previously, and I'm happy to report that these are every bit as good now as they were then, if not better. Kim and I enjoyed a bottle of each a few weeks earlier and they remain two of the best reds we've ever had from Michigan.
We finished off with one that demonstrates the drawbacks and problems of the '09 vintage in Michigan.
2009 Chateau Grand Traverse Michigan Late Harvest Riesling, $14.99: While this wine is sweet, varietally correct and pleasant enough, it's a simple, one dimensional wine compared to previous vintages, and I suppose that's to be expected, as it's sourced from the Michigan appellation and not specifically from Old Mission Peninsula fruit. It still has its fans, of course, but I'll wait for the 2010 version to see how that tastes. Find this wine
Reporting from Day-twah,
geo t.
Related posts:
3 Responses to "Some Recent Michigan Wines with the Friday Night Regulars"