August 5th, 2012 |

Author:
George Heritier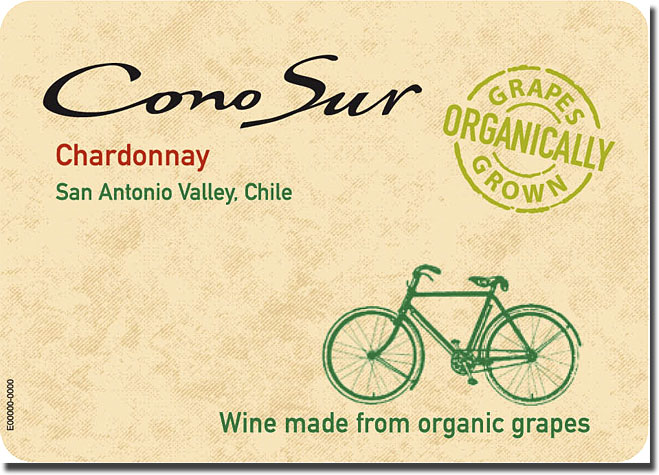 I want to like the wines from Chilean producer Cono Sur, I really do. I find much to admire in their integrated vineyard management system that favors the use of natural alternatives to fertilize, prevent and control pests and diseases, their organic viticultural project (270 hectares certified) and their CarbonNeutral® delivery status. With this kind of attention to sound eco-policy, the wines should taste good, right?! Not necessarily…
We've reviewed wines from Cono Sur on several occasions, and we've almost always enjoyed the whites, but the reds have often been not to our liking. At one point, we thought that they might have gotten away from their excessive oak and over-ripe tendencies, but the last couple of times we sampled new offerings, we opted for a "better-to-say-nothing-than-say-something-bad" policy. Here are our impressions of the latest batch of three whites and three reds that we sampled, and I'm pleased to report that they are mostly favorable. (Click images to enlarge)

2011 Cono Sur Sauvignon Blanc Bicycle Valle Central, 12.5% alc., $12.00 SRP: Clean, pale-to-medium color; good varietal character, with the requisite grapefruit/gooseberry flavors and aromas shaded with a hint of lime and earthy mineral. Medium-full body, with zippy acids and decent length. Good value for the money. Find this wine
2011 Cono Sur Riesling Bicycle Valle Central, 13% alc., $12.00 SRP: Clean, medium color; varietally "correct," with red and green apple, a hint of peach in there somewhere and a bit of underlying minerality. Medium-to-medium full bodied, with zippy acids and decent length. Not a lot of pizazz here; it's not a "bad" wine, but neither does it show any inspiration or inspire excitement. Find this wine
2011 Cono Sur Chardonnay Organic San Antonio Valley, 13.5% alc., $14.00 SRP: Clean, medium color; rich, ripe pear and Golden Delicious apple flavors and aromas, with some ever-so-subtle mineral on the palate. Full bodied, with good acids and length. Like the Sauvignon, this shows good varietal character and offers good value for the money, and perhaps it has a little more going for it than that wine and the Riesling. Find this wine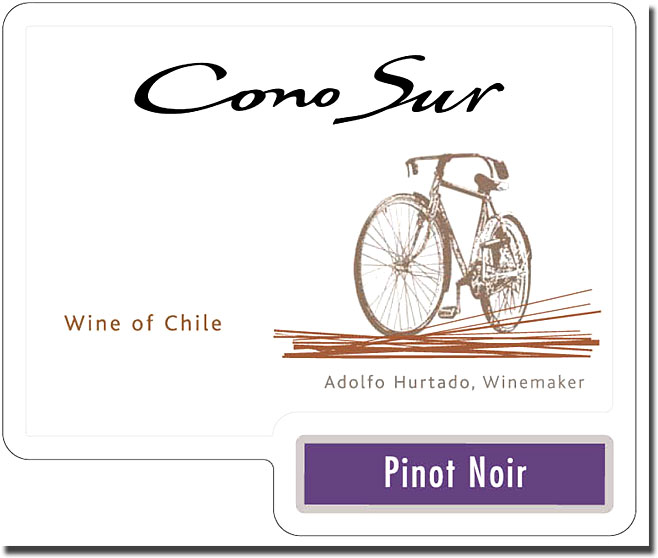 2011 Cono Sur Pinot Noir Bicycle Valle Central, 13.5% alc., $12.00 SRP: Clean ruby garnet color; the fruit has a somewhat "hard" character at this point, taking on an earthy black cherry character with noticeable, but not excessive, oak char present. Medium full bodied, with ample structure for at least a few years in the cellar and good length on the finish. This will likely improve with some cellar time, so drink or hold. It's a good example of why I've always liked Cono Sur's Pinot Noirs best of all their reds. Find this wine
2011 Cono Sur Cabernet Sauvignon Bicycle Valle Central, 13.5% alc., $12.00 SRP: Clean, dark color; coffee and toast nose, with more of the same on the palate, with a solid core of black currant, blackberry and an undertone of earth. Full bodied and smooth in texture, with enough structure to go a few years in the cellar and hold its own with a variety of grilled red meats, but without the tannic backbone that I expected. That's not a bad thing in this case; if anything is objectionable here, it's the "toast and coffee" character, which pushes the envelope for this taster. Not as spoofy as I feared it might be, but spoofy enough so that I would never buy it. Find this wine
2010 Cono Sur Cabernet Sauvignon Vision Maipo Valley El Recurso, 13.5% alc., $16.00 SRP: Clean, dark color; the nose gives little more than a subtle balsa-like note, which comes out a lot more on the palate, not quite covering up a good core of black currant/blackberry fruit. Full bodied, well proportioned, with good structure, but the balsa-like character just doesn't do it for me. Seems to be aiming for a "claret-style," and perhaps some cellaring will tone down the spoofy balsa character. Find this wine
Cono Sur imported by Vineyard Brands, Inc., Birmingham, AL
Reporting from Day-twah,
geo t.
Related posts:
One Response to "Six from Cono Sur"