A few months ago, our friends at Napa Valley's Cornerstone Cellars sent out a three-year vertical of their Sauvignon Blanc to selected critics, reviewers and old folksingers. The idea was to demonstrate just how well these age and develop. We had already reviewed the 2009 back around the time of its release, and had quite liked it then, so, of course, I was very interested to see not only how it had fared in the intervening time, but how it compared to the two succeeding vintages.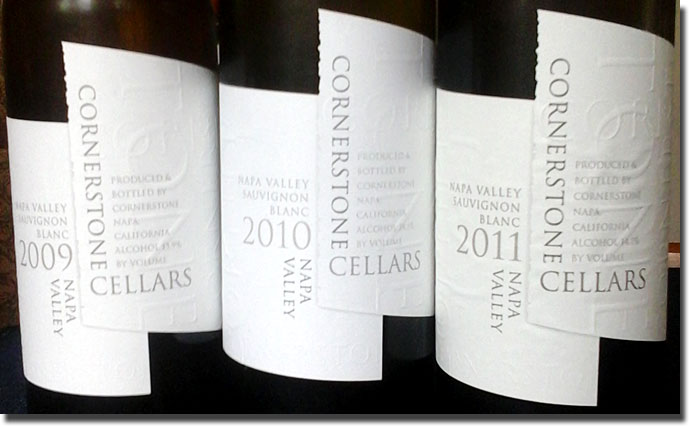 We didn't get to these any too quickly, I must say. I kept looking for the optimum tasting opportunity, which finally presented itself just a few weeks ago with a visit from Ridge Vineyards Regional Sales Manager, Christina Donley aka "The Donley." We also invited our wine biz girlfriends Rebecca Poling (Great Lakes Wine and Spirits) and Anne Keller-Klump (Vineyard Brands), so it turned into a fun "just-us-girls" kind of evening, with me being the "honorary" female. I've always been in touch with my feminine side, and I'd as soon drink and eat with these four women as almost any men that I can think of, so it's all good! It was a beautiful late-May night, which afforded us the opportunity to eat and drink out on our back deck. We enjoyed all three wines with Kim's delicious duck breast salad and a mushroom risotto paired with either shrimp or pan-seared walleye, depending on diners' preferences. (I had shrimp risotto AND a bit of the walleye, and both were wonderful.) We tasted the three vintages side-by-side with both courses over the next two hours, and I dutifully recorded what everyone had to say. (Click images to enlarge. I took the bottle shot; food porn courtesy of The Donley.)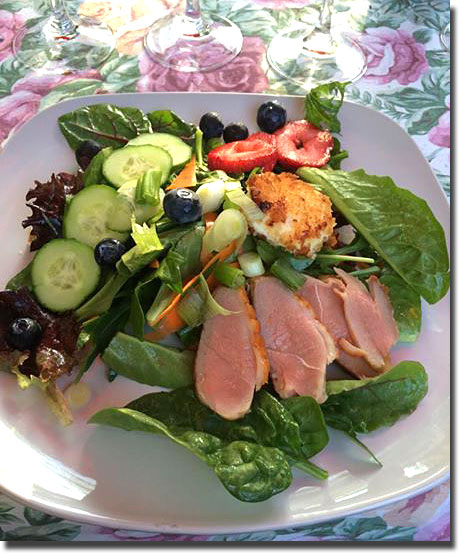 All three vintages are from the Talcott Vineyard in St. Helena, a mature vineyard of dry-farmed old vines that average over twenty years in age.
2009 Cornerstone Cellars Napa Valley Sauvignon Blanc, 13.9% alc., $70: This wine has aged quite gracefully since we reviewed it in April of 2010. Showing clean, medium color, it offers a good dose of mineral on the nose, and has an unmistakable smoky "fume" character about it which we all attributed to time spent in barrel. Medium bodied, with zippy acids, it's neither muted nor restrained, but it is toned-down compared to the two younger examples. It still shows excellent concentration, with a unique personality, and is really in a nice place right now. Tasters offered specific impressions of "Lemonhead Candy," "fresh chopped mushrooms" and it still maintains that herbaceous quality I noted back in 2010. This is probably my favorite of the vertical. Find this wine
2010 Cornerstone Cellars Napa Valley Sauvignon Blanc, 14.1% alc., $50: The palest in color of the three, but, like the others, it has that smoky "fume" character that sets the tone to its character. Medium full bodied, with zesty acids and very good length, it's buoyed by a nice core of citrus-grapefruit and a petrol-like minerality. Impressions offered by tasters included "very grassy," "fresh cut alfalfa" and "If I just wanted a glass of white wine, I'd want the '10." This one really sticks out as being different from the others, and, indeed, it's the solid favorite of three of the five in attendance. Find this wine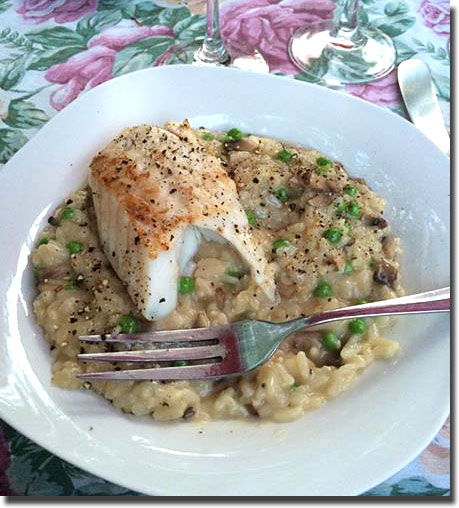 2011 Cornerstone Cellars Napa Valley Sauvignon Blanc, 14.1% alc., $30: Perhaps not surprisingly, this, the youngest of the three selections is the most rambunctious. It shows clean, medium color, and generates citrus and a little smoke on the nose; with air, more citrus emerges, along with something reminiscent of how an aquarium smells. The rich, intense flavors echo and expand, garnering such descriptors as "butterscotch," "Crème brûlée," "slightly chalky" and "saline." One taster added that she likes it the least, finding it "hot on the finish," whereas the '09 and '10 are more balanced. Personally, I'm looking forward to trying this again in a few years, since the two older wines give pretty solid indication of how these benefit with some years in the cellar. Find this wine
The 2009 and 2010 are sold out except for Cornerstone's library, where the few remaining bottles go for $70 and $50 respectively. If that seems expensive, one has only to consider the price that Didier Dagueneau Silex or Pur Sang sell for these days. The '09 and '10 Cornerstones are two of the very finest domestic Sauvignons I've had the pleasure of tasting, and I'm betting that, with a few years of cellaring, the '11 will be almost, if not just as good. My recommendation would be to buy some of that at $30, and put it down for anywhere between 2-5 years or more. If it's any indication, that '09 is in no danger of fading any time soon, and it certainly has at least a few more great years left in it.
Reporting from Day-twah,
geo t.
Related posts:
2 Responses to "A Cornerstone Sauvignon Blanc Vertical"