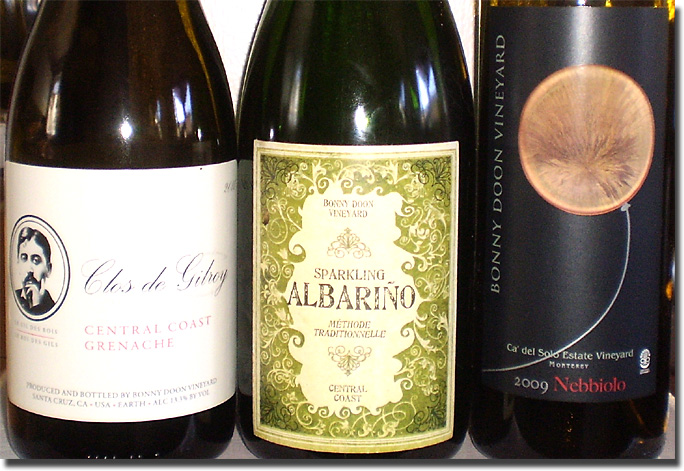 We've been fans of Bonny Doon wines since well before I interviewed head honcho Randall Grahm back in 2005, so much so, that we've kept track of what they're producing over the ensuing years and reported accordingly on several occasions. (The cyber-trail going backwards starts here.) I've even gone so far as to write Bonny Doon into one of my songs, "I'm Getting' Squirrelly in My Old Age," so we were quite geeked when we received a box containing several of the Doon's recent releases not long ago, including some things not available through normal retail outlets. Read on for the full rundown on our impressions, starting with a couple of nice whites, and including pertinent comments by Randall following each note.
2011 Bonny Doon Le Cigare Blanc Arroyo Seco "Beeswax Vineyard," 62% Grenache Blanc, 38% Roussanne, 12.5% alc., $28: Clean, medium color; white peach and mineral nose carries over nicely onto the palate, where the minerality takes on a slightly chalky character. Full bodied, with good acids and length. As mentioned in the accompanying notes from BD, this is a food wine, rather than an easy sipper, and indeed, it pairs nicely with lightly braised chicken thighs and onions, a brown rice/beluga lentil medley and steamed broccoli. It seems somewhat muted when tasted alongside the '10 Réserve, which is perhaps an unfair comparison. Considered on its own terms, it's a solid white that will get better with some years in the bottle. 1650 cases produced. Find this wine
RG: "Another cool vintage with a blessedly low degree of alcohol (12.5%), much as we had observed in 2010."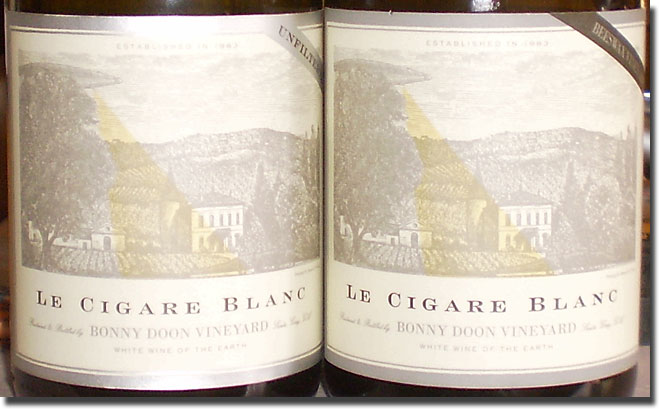 2010 Bonny Doon Le Cigare Blanc Réserve Arroyo Seco "En bonbonne," 56% Roussanne, 44% Grenache Blanc, 12.4% alc., $50: Ever-so-slightly cloudy lime-tinged medium straw color; much more lively on the palate than the '11 Beeswax. Bright white peach and apple, with some nice, underlying lemon-citrus; fragrant and flavorful, with several years of improvement ahead of it. Full bodied, with zippy acids and a long finish, this also pairs well with the same dinner as the proceeding selection. Made with biodynamic grapes from Beeswax Vineyard. 497 cases produced. Find this wine
RG: "We began our series of Réserve wines with the '08 Le Cigare Volant Réserve and liked the result so much we replicated the technique with an analogous white version in 2009 to very interesting result. After the wine completes ML, we rack it to 5 gallon glass carboy, where it reposes sur lie, and we perform anaerobic magnetic batonage more or less monthly. The results are very impressive—especially in texture (wine also unfiltered, as you can see), extreme savoriness (umami central) and the development of an interesting hazelnut aspect (presumably courtesy of the reductive élevage). Available in 6-packs in stylish wooden Cigare boxes. (Wine Club primarily, but also limited availability through wholesale)."
Our colleague and partner in crime, Alan Kerr aka Canadian Zinfan, paid us a visit recently, and since we always value his input on tasting projects, we opened the following three selections with him.
2010 Bonny Doon Sparkling Albariño Central Coast, 12.5% alc., $32: This sparkler absolutely wowed us, especially considering that it's made from Albariño. Showing rich medium color, with a fairly active bead, it's rich and intense in the mouth, fairly exploding with ample mousse and citrus, peach and mineral character; Chef Kerr observed, "I'm getting that lime, and a biscuit-y note." Medium bodied and then some, with excellent acids and intensity and a long lingering finish, this is the most delightful surprise I've had from any wine I've tried in quite some time; I just can't say enough good things about it. 617 cases produced. Find this wine
RG: "This wine is composed of 100% Albariño from two exceptionally cool vineyards, Jesperson Vineyard in Edna Valley (84%), and the Ca' del Solo Vineyard (16%). Fourteen months en tirage—didn't want to lose too much of the primary citrus character that makes Albariño so delightful—and bottled with minimal dosage. Available only at winery/ wine club."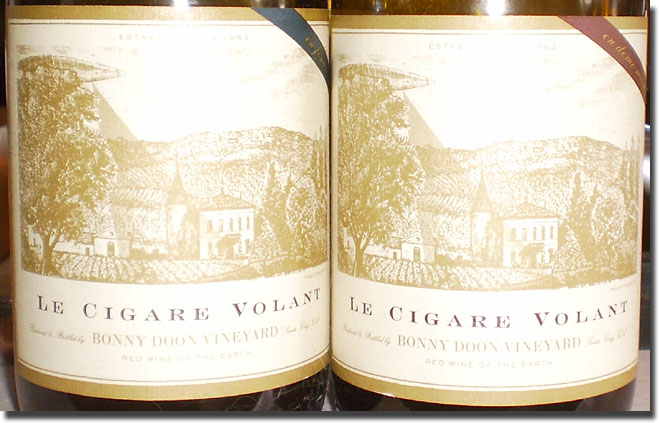 The two Le Cigare Volant bottlings are identical blends, given different treatments, and were enjoyed with some delicious grilled lamb-sicles.
2008 Bonny Doon Le Cigare Volant Central Coast "En foudre," 45% Grenache, 30% Syrah, 13% Mourvedre, 7% Cinsault, 5% Carignane, 14.2% alc., $45: Clean, dark color; on the nose; initial impressions of iodine and seaweed evaporate quickly, according to Kerr. This is a very nice approximation of a southern Rhône, offering flavors and aromas of dark plum and berry, earth, iron and a hint of black olive. Alan added "a little bit of licorice and red currant lozenge." Full bodied and well-structured for several years of development, with good length on the finish. 558 cases produced. Find this wine
2008 Bonny Doon Le Cigare Volant Central Coast "En demi-muid," 45% Grenache, 30% Syrah, 13% Mourvedre, 7% Cinsault, 5% Carignane, 14.2% alc., $45: Clean, dark color; a bit deeper and darker in character than the "En foudre," being full bodied, well-structured and intense; Alan commented, "More elegance and structure." Showing a similar flavor profile to the previous selection, but less approachable, so this is the one that wants more time in the cellar; still, both are very, very fine reds indeed. 558 cases produced. Find this wine
RG: "This was a paired set of wines that we made for our DEWN customers and sold on a limited basis through the wholesale channel. The cellar treatment of Cigare Volant is always a mix of puncheons and large wood uprights (equipped with "lees hotels"), in one proportion or another, dependent on vintage. I was curious to see the development of the individual components over time; so we reserved a portion of each component before the final blend. To many palates the "demi-muid" would seem more normative, perhaps more in the "International style," but for me, the "foudre" is funkier, more soulful and ultimately the more appropriate interpretation for these meridional grapes. (But what do I know?)"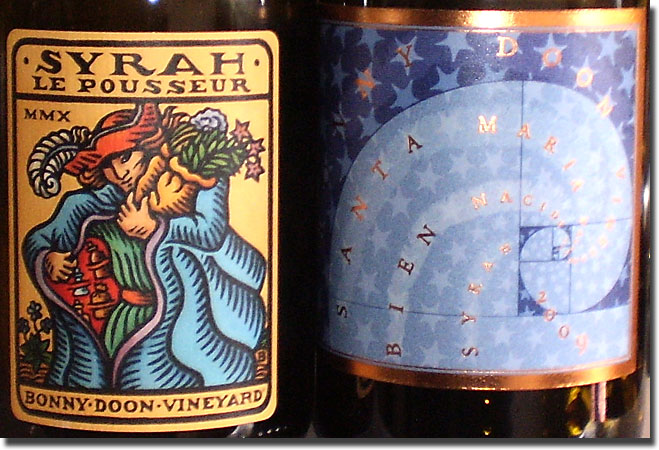 Of the two Syrahs that we sampled, one is approachable now, with some time in a decanter, while the second is one for the cellar.
2010 Bonny Doon Syrah, "Le Pousseur," Central Coast, 57% Alamo Creek, 43% Bien Nacido, 12.8% alc., $26: Deep, dark and inky in color, with a lovely blackberry and plum nose, shaded with a subtle note of lavender, all of which carries over onto the palate, gaining just a hint of something resembling cocoa. Full bodied, and smooth, with a velvet-like texture, yet not without the structure to age and develop for several years. Kim really enjoys this from the very first sip, and so do I. 1016 cases produced. Find this wine
RG: "This wine has become in a sense our version of a "Brune et Blonde." The Alamo Creek component (a warmer site, just northeast of Santa Maria) brings a wonderful earthy stoniness (it's an old arroyo), and the Bien Nacido (cooler site, to the southeast of Santa Maria) imparts a rather classic smoked meat/violet perfume. Partially because we practice a reductive élevage in the cellar and partly due to our use of screwcaps, this wine is pretty wound up at the present time and benefits enormously from decanting. I love the 2010 vintage—fabulously flavorful wines achieved with at a modest alcoholic degree. (This one is 12.8%.) Great aging potential."
2009 Bonny Doon Syrah, "Bien Nacido, X Block" Santa Maria Valley, 13.3% alc., $42: This looks like a glass of ink and smells a bit like the barnyard, with a solid core of earthy black plums, shaded with iron, iodine and black olive. Much the same on the palate, this is full bodied and very well structured. In truth, it's all about promise at this point, and needs several years of quiet rest in the cellar, but patience will be well rewarded. I wouldn't even think about opening one of these for at least five-to-seven years, and that might be too soon. 843 cases produced. Find this wine
RG: "A very successful, concentrated vintage from this famed vineyard. The wine is initially a bit reduced upon opening (Gentle people: To your decanters!) but opens nicely with some air. I'm always taken by the extreme meatiness/savoriness of the Bien Nacido Syrah from the X Block (it's oldest Syrah planting). It's a personal (crank) theory of mine that the Estrella River clone of Syrah, to which the X Block is planted is selfsame with the Serine clone. Someday perhaps we will know."
I love Grahm's description of Clos de Gilroy: "We are always aspiring to achieve weapons-grade Grenache from our growers, but sometimes the efforts fall slightly short and we end up with something that is Clos but no Cigare, i.e. this wine."
2011 Bonny Doon (The Wine Formerly Known As) Clos de Gilroy Central Coast, 83% Grenache, 7% Cinsault, 6% Syrah, 4% Mourvèdre, 13.3% alc., $18: Clean dark color, almost opaque; dark plum and berry nose, with a good dose of earth and mineral. Sleek, yet substantial in the mouth, with flavors that echo the aromatics very nicely. The fruit and earthier qualities complement each other nicely, and a note of pepper adds to the appeal. Full bodied and structured to stand some time in the bottle, but more than approachable already. Based on this and an '09 Clos de Gilroy that we enjoyed several months ago, it strikes me that this bottling is one in Bonny Doon's book that's deserving of far greater recognition. Good to pair with a wide variety of grilled red meats and pasta. 767 cases produced. Find this wine
RG: "Clos de Gilroy sees no oak, is bottled early, and aims to capture the wonderful peppery spiciness of cool climate Grenache. Best served with a slight chill."
And, since I mentioned the '09 Clos de Gilroy, here are my notes on that one.
2009 Bonny Doon Vineyard Grenache Clos de Gilroy, 88% Grenache, 8% Cinsault, 2% Syrah, 13.5% alc., $13.99: Clean ruby garnet color; ripe plum and berry nose, fleshing out on the palate with plenty of black and red currant, plum and berry, all underscored with a solid, decidedly earthy base, resembling something from the southern Rhone or the Languedoc. Full bodied without being at all heavy, smoothly textured, with enough structure to cellar for a few years, and yet drinking so well now, a case would probably not last a month at Gang Central. In fact, Kim and this taster like it so well, we might just have to test that premise out. Recommended with enthusiasm, and excellent with flat iron steak sliced thin and placed on a mixed green and beet salad! Made with Biodynamic grapes. Find this wine
Last, but I daresay the least of this survey is the current (and last) offering of Bonny Doon's Nebbiolo.
2009 Bonny Doon Nebbiolo Monterey Ca' del Solo Estate, 14.4% alc., $45: Clean, dark color, with a hint of the barnyard to the grudging black fruit nose. Deep, dark and not quite mysterious on the palate, with earthy black currant and dried black cherry flavors shaded with a smidgen of leather; not exactly a knockoff of the Piedmont style, but neither is it a California fruit bomb. Full bodied, sleek and well-structured for several years in the cellar. Pairs well with Kim's red saucy pasta. Likes air, so decanting wouldn't hurt, at this point. 508 cases produced. Find this wine
RG: "This was our last vintage of Nebbiolo before our funny, funky Soledad vineyard was sold. For the life of me, I can't say why the grapes were so good. '09 was the first time in seven or eight years that we didn't dry a percentage of the grapes (in the style of Sforzato), but '09 was a warm vintage, we thinned mercilessly—crop thinning and wing removal—and managed to achieve a reasonable degree of uniform ripeness. This wine demonstrates that not so obvious dictum that drinking Nebbiolo need not be an ordeal—there is an abundance of fruit—cherry, pomegranate, plum and licorice—along with the secondary savory earthy elements that so delight us nebbiophiles. I can only dream, but perhaps someday Nebbiolo may find a real home in the New World."
Reporting from Day-twah,
geo t.
Related posts:
2 Responses to "Tasty Wines from Bonny Doon"