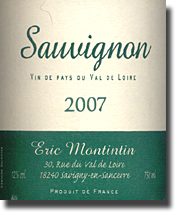 As previously reported, we've become fans of the wine department that Jarred Gild has put together at Ferndale's Western Market, and as is often the case, a friendly relationship has developed out of that admiration.  We invited Jarred over a few nights ago and proceeded to spend a most enjoyable evening of good food (burgers grilled slightly past medium rare), fine wine and rambling conversation that covered a variety of topics.  Not shy in the least about expressing his opinions, he also has some interesting and ambitious ideas about where he'd like to take his career, but, for now, those are best left for another report.  For now, we'll focus on the representative selection of wines that he brought along to taste from his retail shelves.  We started with two very nice whites.
2007 Eric Montintin Sauvignon Vin de Pays de Val du Loire, 12% alc., $13.99: The vineyards that produce this pale to medium straw colored Sauvignon are located just 500 meters outside of Sancerre, and thus the appellation designation; it offers a grapefruit and green apple nose that gains a good dose of stony mineral on the palate.  Medium to medium full bodied, with excellent acids and good length, this is old world, old school Sauv Blanc just the way we like it. Find this wine
Imported by HB Wine Merchants, New York, NY

2008 Mulderbosch Chenin Blanc Stellenbosch, 13.5% alc., $15.99: We've enjoyed various vintages of this South African stalwart's Sauvignons going back to the '97 vintage (Alan Kerr had good things to say about the 2007 just last year), and their Cabernet Sauvignon Rosé is just what we're looking for when we want something pink.  This is their first Chenin we've tried, and it performs admirably; it's a surprisingly Sauv Blanc-like white that delivers a little more apple than grapefruit when compared to the Montintin, and nicely so, with undertones of minerality that add to the appeal.  Medium to medium full bodied, with balanced acidity, this is very harmonious and very nice. Find this wine
Imported by Cape Classics, New York, NY
2007 Dragani Montapulciano d'Abruzzo, 12.5% alc., $6.49: Showing good dark color, with earthy black currant and dried cherry flavors and aromas; smooth, harmonious and with enough structure to hold its own with a rich red meat sauce over pasta, various red meats and of course, it's a solid burger wine, which made sense on this occasion.  Nice to get an even better read on this than I did with Putnam Weekley and the folks at Slows Bar-B-Q a few months back. Find this wine
Imported by Veritas Distributors, Inc., Warren, MI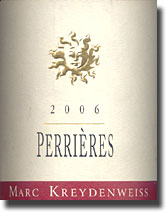 2006 Marc Kreydenweiss Costieres de Nimes Perrieres, 13.5% alc., $13.99: We enjoyed this just as much as we did the 2005 version last year.  Produced from 80 year old  Carignan and 35 year old Syrah and Grenache vines in a single biodynamically farmed vineyard, it shows good dark color, with earthy flavors of plum and berry, more black than red, and undertones of old wood; there's good structure for a few years in the cellar, but don't be leery of opening one tonight.  Balances the earth and fairly ripe fruit quite nicely and makes for a nice Red Wings and Red Rhones kind o' wine. Find this wine
Imported by Wilson Daniels Ltd., Saint Helena, CA
2004 Chateau Granins Lagravette Moulis-En-Medoc Rouge, 60% Merlot , 30% Cabernet Sauvignon, 10% Petit Verdot, 13% alc., $14.99: This deeply, darkly colored claret is definitely old school and in no way "Parkerized;" it's bone dry and offers flavors and aromas of old wood, earth and black currant, all shaded with a bit of tobacco and a subtle herbaceousness.  Full bodied and well structured for at least another 3-5 years in the cellar, it's a nice Bordeaux that offers excellent value.  We went back for more of this. Find this wine
Imported by Victoire Imports Company, Sonoma, CA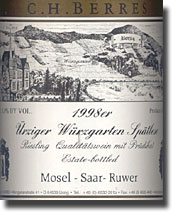 1998 C. H. Berres Urziger Wurzgarten Riesling Spatlese Mosel-Saar-Ruwer, 8% alc., $19.99: Pale straw in color, and exuding a petrol, mineral nose that gains a rick core of ripe red and green apples on the palate.  Still fresh and vibrant, with good presence and cut, sweet, but not dessert sweet.  It would like some nice spicy Asian food and it opens and improves with air.  A nice 11-year old Spatlese at a fair price.  We went back for more of this as well. Find this wine
Imported by Classical Wines, Seattle, WA
Reporting from Day-twah,
geo t.
7 Responses to "Tasting with Jarred Gild"