"I Need a Miracle Every Day" – Grateful Dead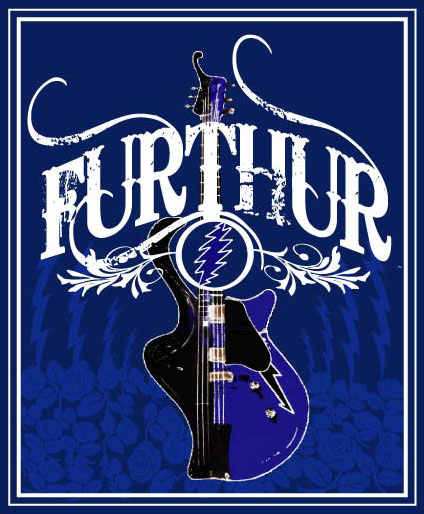 Bob Weir and Phil Lesh of the Grateful Dead brought their latest musical project, Furthur, to Chicago for two shows on March 2nd and 3rd, and Kim, Rosie and this reporter reprised our Rothbury adventures to meet there for both shows at the beautiful Auditorium Theater of Roosevelt University, a venue that more usually showcases the likes of Ballet Folklórico de México de Amalia Hernández and the Alvin Ailey Dancers.
Band members included Jeff Chimenti, who plays keyboards in Weir's RatDog and also performed with the Dead last summer at Rothbury, Joe Russo on drums, Jay Lane on drums and percussion and perhaps most interestingly, Dark Star Orchestra's John Kadlecik on guitar.
Audience members on both evenings ranged in age from 10 and under (obviously there with parents and/or guardians for the cultural experience, and all seemed to be enjoying themselves immensely) right on up to peers of Lesh, who turns 70 on March 15th. Only a few of the oldsters were seen to wilt towards the end of the second evening, while everyone else had a real cool time.
Rosie and I didn't really need a miracle; we had tickets for both nights. (Kim opted not to attend, but never misses a chance to visit Chicago.) However, while trying to find tickets for a couple of friends a few hours before the show on Tuesday, we ran into a fellow on the street not far from the auditorium who just happened to have two front row seats at face value. Needless to say, our friends got our tickets and we stood as close to the band as we could possibly be without actually sharing the stage with them. On Wednesday night, we never did find out where our assigned seats were, we just went down as far to the front of the space as we could and when the security personnel finally stopped asking us to move back, we were in about the sixth row, sharing an area that never was claimed by any one else.
Click Images To Enlarge
From the first beat of "Feel Like a Stranger" on Tuesday to the final strains of the "Johnny B. Goode" encore Wednesday night, the boys were on and didn't let up for a minute. This wasn't just a bunch of stoned old hippies getting together to jam for their fans, it was a group of consummate professionals playing great music at a very high level of proficiency. Transitions were almost seamless, and in the two night's shows, no song was repeated. Rosie tells me that Bobby and Phil take turns righting set lists, and in that regard, Tuesday DID seem a little more Weir-centric, while Wednesday featured more of Jerry's songs as sung by John.
We were a little surprised that we were allowed to shoot video, but then we probably shouldn't have been, since the Grateful Dead were always good about letting fans record their shows. Included here are 3 videos for your viewing and listening enjoyment.
It was a very rare and special treat to be in the front row on Tuesday, one that I'll likely never enjoy again. It offered the opportunity to watch the band up-close, and I took special interest in scoping out Phil and Bobby. Liver transplant recipient Lesh looked great for a man of almost 70, and if Weir looked a little grizzled at 63, his energy and intensity were still boundless, and he's the same bitchin' guitar player that he ever was. A major aspect of the Grateful Dead sound was the guitar interplay between Bobby and Jerry Garcia, and it was as instructive as it was enjoyable to get an up-close look at his technique.
Speaking of Jerry, think of how daunting it must have been for John Kadlecik to be selected by his idols to replace his ultimate idol. Kadlecik has been a member of the popular Grateful Dead cover band Dark Star Orchestra for several years, and was chosen for his ability to evoke the sound, and to some extent, the spirit of Garcia. I honestly wasn't quite sure of what to think of him at first; on Tuesday night, he was at times inspired, and at other times, perhaps somewhat tentative. On Wednesday, however, he was full of confidence and performed brilliantly. Nice work if you can get it.
Click Images To Enlarge
(Interlude: While she didn't join us for the two shows, Kim did keep herself occupied. We stayed at the Hotel Blake, about four blocks from the auditorium, and while the accommodations were pleasant, the Wi-fi connection was intermittent, at best. However, she reports that she had a very fine dinner at the hotel's Custom House Restaurant, and that Chef Shawn McClain has a proclivity for piggy parts that would do Anthony Bourdain proud. She says that the pork cheeks with pappardelle pasta were very fine indeed.
Click Images To Enlarge
We also made a point of making a pilgrimage to one of the aforementioned Mr. Bourdain's Top 12 places you need to eat before you die, Hot Doug's, "The Encased Meats Emporium and Sausage Superstore," and perhaps the most exotic hot dog/sausage shop you're ever likely to run across. I enjoyed the Rattlesnake Sausage with Roasted Yellow Pepper Mayonnaise and Creme de Brie Cheese, while Kim delighted in the Uber Garlic Pork Sausage with Bacon-Garlic Mayonnaise, Smoked Gouda Cheese and Roasted Garlic Cloves. Our good buddy Glen Allen Pruett chowed down on a Blue Cheese Pork Sausage with Sir William Pear Creme Fraiche and Roasted Almonds. Don't miss the opportunity to experience this campy decorated establishment in all its glory if you're ever in Chicago, it's a must-do!
The two Furthur shows we attended were nothing less than a joyous and loving celebration of the living legacy of the Grateful Dead, with the band and audience feeding off of each others energy and building it to increasingly higher levels. Occasionally, I would turn my back on the band to witness the entire audience on their feet, dancing ecstatic, in that unique manner that only Deadheads do, from the first floor right up to the fourth balcony. It was testament to the incredible spirit that was generated by the band and the reverence that their fans hold for them, and Rosie and I were thrilled to have been able to take part in these very special festivities. If you love the Dead and get the chance to catch Furthur while they're touring, you owe it to yourselves to do so.
Reporting from Chicago,
geo t.
Related posts:
3 Responses to "The Traveling Rothburys Go Furthur ~ Chicago, 03-02/03-10"