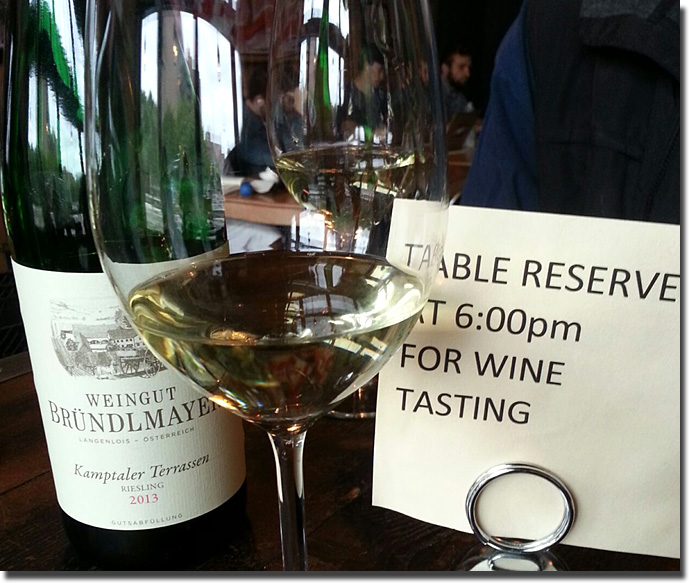 Just about every Thursday, Great Lakes Coffee Detroit, a cool little coffee shop, café and wine bar in midtown Detroit, has a wine tasting of selections you're not likely to find at many other locations. When it comes to the coffee, wines, beers and ales or food stuff for small plates, James Cadariu aka Roastmaster General is uncompromising in his selections, focusing on small, artisanal producers he admires.
This past Thursday, Great Lakes offered three wines from the exceptional Austrian producer Bründlmayer. We've enjoyed Willi Bründlmayer's wines quite a bit on past occasions, perhaps none more than on Monte Bello Ridge, of all places, back in about '98 or '99. It's rare to get a taste of these in the Metro Detroit area, so we availed ourselves of the opportunity, saddled up with our good friend Gary Shea and trucked on down to the corner of Woodward and Alexandrine, where we hooked up with another good friend in the person of Noelle Lothamer.
The Weingut Bründlmayer is located in Langenlois, roughly 43 miles northwest of Vienna, along the Danube River in the Lower Kamp Valley. The vineyards are protected from the cold northwesterly winds by wooded hills of the Waldviertel. Vineyards are mostly terraced; only organic fertilizers are used and no pesticides whatsoever. One of the most interesting aspects of the vineyards is the Lyre training system, which Willi Bründlmayer helped develop. Vines are trained just over ground level so that the grapes benefit from the soil heat, but high enough that they are not spattered with wet soil in thunderstorms. Canes are then trained at an angle upward and perpendicular to the row, which doubles the sunlit and aired foliage surface and improves grape ripeness. The well-aired leaves dry faster, reducing risk of grape mildew. During harvest, grapes are picked in successive passes, and are never de-stemmed or crushed, with minimal handling.
These three wines all feature a Stelvin® screw cap closure, which is always a plus in our book. The "Terrassen" designated wines we tasted on this occasion were sourced from both upper and lower terraces.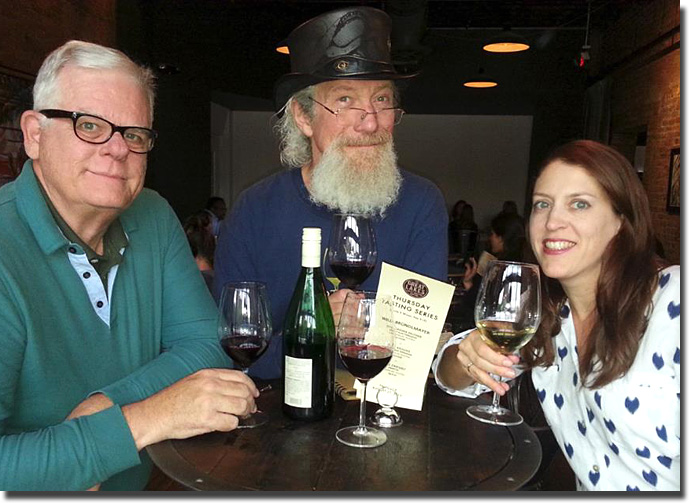 2013 Bründlmayer Kamptal Riesling Terrassen, 12.5% alc., 750 ml, $29.00: Medium straw color, with tart green apple and mineral flavors and aromas; not exactly effusive on the nose, but what's here is nice. Medium bodied and more, and fairly rich, with good intensity, a nice density to it, great acids and good length. A nicely balanced dry Riesling; not "bone" dry, but not fruit forward by any means either. Great Lakes Coffee got all of this from the distributor, so this is the only place you can get it in the metro Detroit area, according to Cadariu. Find this wine
2013 Bründlmayer Kamptal Grüner Veltliner Terrassen, 750 ml, 12.5% alc., $34.00: Medium straw color; like the Riesling, not overly generous on the nose, but it does give a little more aromatically as it opens in the glass. Dusty mineral, quince and under-ripe green apple flavors and aromas on a medium bodied+ frame; beautifully balanced acids, with good length.
Find this wine
2012 Bründlmayer Kamptal Zweigelt, 1L, 12.5% alc., $19.00: Clean dark garnet color, with an earthy, sticksy black fruit nose that follows through very nicely on the palate, where it also shows hints of briar, bramble and a little pepper. There's a nice core of black currant and blackberry fruit here; medium-full-to-full bodied, with decent tannin structure, good acids and good length. This wants to be consumed in copious quantities, and should drink well for at least the next five years or so, perhaps improving over the next few.
Find this wine
Bründlmayer Imported by Michael Skurnick Wines, Syosset, NY
Bastardo's Bloody Pulpit (with apologies to Tom Hill): I think it's safe to assume that my friend the Roastmaster General was responsible the following remarks on the Great Lakes' Facebook Event page: "The wines of Willi Brundlmayer will surely impress. With all the jibber jabber about Michigan wines, why bother when you can drink the best wines in Austria from the man who invented Zweigelt."
I should also add that as James was pouring us glasses of the Zweigelt, he stated that there is some dispute as to who was actually responsible for this cross-strain. In fact, it's common knowledge that the variety was created by Austrian scientist, Fritz Zweigelt, who crossed Blaufränkisch with St. Laurent in 1922. Even the Bründlmayer website acknowledges this, so I have no idea where this alleged dispute might have been or may still be taking place. (Bründlmayer DID buy the Zweigelt Cellar together with a part of his vineyards, however.)

As for the "jibber jabber about Michigan wines," I am a fan of both Austrian and Michigan wines, and will readily admit that our industry has a way to go to reach the level that Austria has achieved. Having said that, while I certainly am impressed with these Bründlmayers, I can't justify buying the two whites at the prices listed here. (The Zweigelt is another matter entirely; the $19 price tag is a fair tariff for what you get in those 1 liter bottles.)
For my money, Michigan wines such as the 2012 Left Foot Charley 7th Hill Riesling ($24), 2013 Left Foot Charley Island View Pinot Blanc ($24) and the 2012 Bel Lago Auxerrois ($18) all give me more drinking pleasure, and they cost less. (We're growing Grüner Veltliner here in Michigan too, and while our vines are still young, they show great promise.)
As is always the case with such subjective matters as fine wine, cuisine, art and music, tastes and opinions will differ, and your mileage may vary. As for me, that's my story, and I'm stickin' to it.
Reporting from Day-twah,
Bastardo