May 21st, 2015 |

Author:
George Heritier
A little over a year ago, I happened upon a Crozes-Hermitage at a trade tasting given by our friends at A.H.D. Vintners that really grabbed my attention, so much so, that I bought a few bottles and brought them home to investigate further. After spending some time with them, I posted the following notes in April of 2014. (Click images to enlarge.)
2012 Domaine des Hauts Chassis Crozes-Hermitage Esquisse, 13% alc., $23.99: Deep, dark garnet color, and all garrigue, all the time, setting the tone over a solid core of rich, fairly ripe black plum and berry fruit. Full bodied, with good structure and length, this will age well for at least five years or more, but it's drinking really well already. This pushes the envelope for ripeness, but falls short of going over the top, which is probably why it showed so well at the trade tasting where I discovered it for the first time. (Editor's note: Based on the most recent taste of this wine, I'd have a hard time using the term "black fruit" again, but I'll explain that shortly.)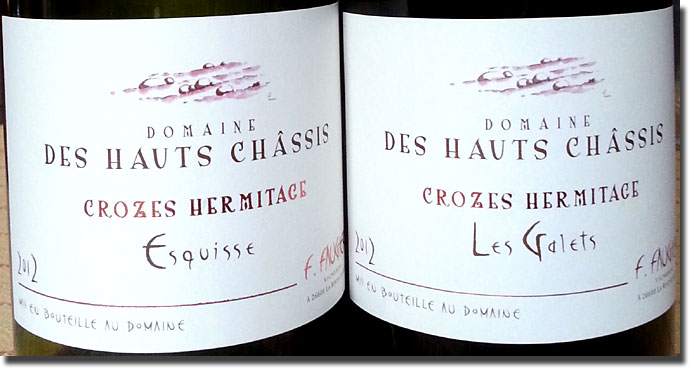 Fast forward to a few weeks ago, when we got to try not only this wine again, but a sister bottling as well, and we were just so impressed with them both. We tasted them side-by-side, starting with the Esquisse.
Kim didn't care for this much when it was first poured, but within 20 minutes, it had opened nicely and was much more to her liking, and mine as well. Still very much as I remember, with a big hit of garrigue playing counterpoint to a rich core of fairly ripe Syrah fruit, but a bit smoother and more harmonious with the extra year in the bottle. It exudes lovely aromatics that are almost floral in an herbaceous way, and while it's delicious now, it'll benefit from at least a few more years to further tone down the tannins and acids. The QPR (quality-price-ratio) here is super. Find this wine
2012 Domaine des Hauts Chassis Crozes-Hermitage Les Galets, 13% alc., $27.99: Very much in the same house style as the Esquisse, but with slightly less garrigue and smoother, more refined fruit and structure, this also offers a gorgeous bouquet and a luscious mouth feel. This will undoubtedly get even better with more time in the bottle, but it's so good already, how do I keep my hands off?! Because of the herbaceous character of the wine (and the Esquisse, for that matter), the fruit doesn't come off to me as black or red so much as it does brown, and that's why I enjoy both so. They already seem to have some of the mature, secondary characteristics that you almost never find in wines so young, and, like the Esquisse, Les Galets offers terrific bang for the buck. Based on these two 2012 bottlings, Domaine des Hauts Chassis is a producer I want to get to know a whole lot better. Find this wine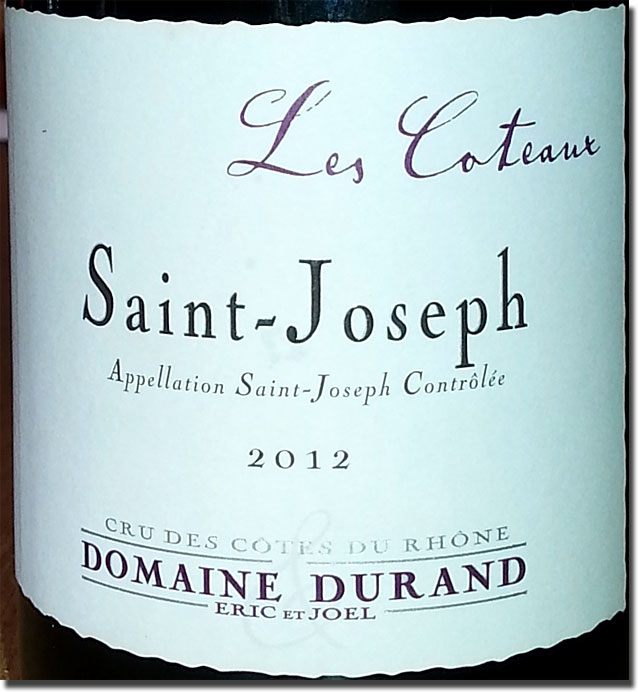 We had chance to try another northern Rhône this week from a producer that we've also had good experience with, as we tried the 2010 version of the following selection a year and a half ago.
2012 Eric & Joel Durand Saint-Joseph Les Coteaux, 13% alc., $33.99: Deep and dark in color, with earthy black plum and berry aromas shaded with hints of black olive and iodine. Flavors echo with a rich core of fruit that needs little air to display its obvious charms, and as it opens, some subtle garrigue emerges, adding to the appeal. Full bodied and well-structured for several years of cellaring and development, but more than just approachable already. Very nice indeed; I'm enjoying a second glass as I format this report, and while it costs a little more than the two noted above, it's worth every penny. Find this wine
Domaine des Hauts Chassis and Eric & Joel Durand imported by A.H.D Vintners, Warren, MI
For the uninitiated, all three of these wines are 100% Syrah, and pair beautifully with most any lamb dish or good cassoulet.
Reporting from Day-twah,
Bastardo
Related posts:
One Response to "Three Fine Northern Rhônes"