February 18th, 2016 |

Author:
George Heritier
We don't drink a lot of Barolo here at Gang Central, which is a shame, because it seems like every time we do, we ask ourselves why we don't drink more. I felt this when I tasted the terrific wines from Massolino some months ago, and again a few weeks ago, when my buddy, Charlie Engelhardt, posted a picture on Facebook of a bottle he was enjoying with his father, Kris.

As chance would have it, Charlie stopped in for a visit the following week, and told me that he'd just seen the wine in question a few minutes earlier at our friendly neighborhood Trader Joe's. I boogied on over the next day, picked up a bottle and opened it that night. Here are my impressions of what we tasted.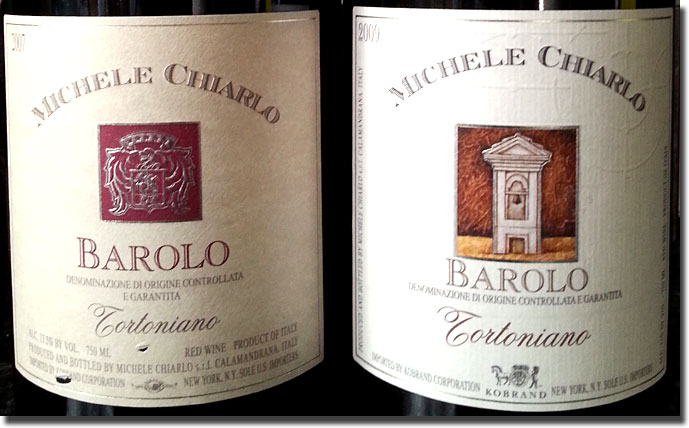 2009 Michele Chiarlo Barolo Tortoniano, 14% alc., $46.99: Funky in a good way, this shows smoky dark color, and there's lots going on in the generous aromatics; dried cherries, earth, leather and forest floor, all of which echoes and expands on the palate. Full bodied, rich, fairly smooth in texture and structured for several years of further development, yet drinks well now right from the get-go. A very impressive wine, of which I have purchased more accordingly. Find this wine
As we were tasting the wine, I posted my own bottle shot on Facebook, and got a quick reply from Charlie, who told me that it was the '07 he had liked so much and seen at TJ's, not the '09. Sure enough, I went back the next day and there was indeed a lone bottle of the older vintage, so I picked it up and brought it home, along with another '09. We tried that one a few days later, and it's even better than the first.
2007 Michele Chiarlo Barolo Tortoniano, 13.5% alc., $46.99: Clean, dark color, with gorgeous earthy dried cherry flavors and aromas, subtly perfumed; a hint of forest floor that shows itself more in the mouth than on the nose. What a lovely wine! Smooth and harmonious, and while not as funky as the '09, it is funky enough to keep things interesting. This is still on the way up and has the structure to continue to develop and improve for several years. If only it weren't the only '07 on the shelf at this location. Find this wine
The Chiarlo winery, 100% family owned, has been in operation since 1956, and has established a reputation for high quality Barberas and Barolos since then, which these two certainly bear out. Charlie tells me he bought his bottle for around $56 in Bay City, so these are even more attractive at this price. I'll be keeping an eye out for more of the '07; it's so good, that I'll pay what Charlie did if I have to.
Reporting from Day-twah,
Bastardo