October 6th, 2011 |

Author:
George Heritier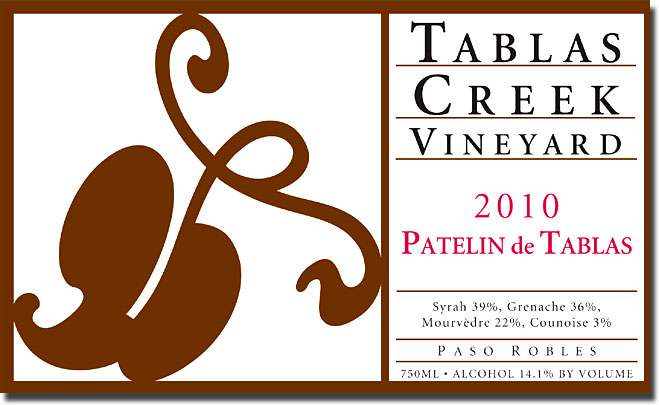 We're always happy to try whatever comes our way from our friends at Tablas Creek Vineyard, because since we filed our first report on their wines, we've never had anything they've made that rated lower than a "very good," and more often than not, the stuff is "really, really, really good." We recently got to try a new bottling from TC, their Patelin de Tablas Rouge. You can read the full story on how this, and its pale counterpart, came to be on their blog, but the short story is that successive drought vintages cut into TC's production, while a bad economy left many fine Paso Robles vineyards with grapes that they had a hard time selling. The happy solution to these problems was to create Patelin de Tablas; Patelin is roughly translated from the French slang for "country neighborhood." In years with high production, wines would be comprised predominantly of estate fruit, while in leaner vintages, non-estate fruit from growers with good track records could be included. Most of these vineyards are planted with TC cuttings, and all are farmed sustainably, many through organic or biodynamic principles.

We got to spend some time with the initial red offering, and we're happy to report that it more than lives up to the high standards we've come to expect from Tablas Creek.
2010 Tablas Creek Patelin de Tablas Rouge, 39% Syrah, 36% Grenache, 22% Mourvedre, 3% Counoise, 14.1% alc.: Clean dark garnet, purple at the rim; ripe and primary, with a cornucopia of black and red fruit graced with a kiss of oak and some subtle earth and cocoa underneath. Full bodied without being in any way heavy, with good balance and structure, and nice length on the finish. I quite like this wine now, but I think I'll like it even more in a few years when it's had some time to mellow down easy, as those ol' Chicago blues boys used to sing. Find this wine
Grapes for this were sourced from two limestone-rich regions in Paso Robles: the warm Adelaida Hills and the cool Templeton Gap: Syrah, Grenache, Mourvedre and Counoise from the Tablas Creek certified organic estate vineyard; Syrah from the biodynamically-farmed Chequera Vineyard (Templeton Gap); Tablas-clone Grenache from the Edward Sellers Vineyard (Templeton Gap); Tablas-clone Mourvedre from the Glenrose Vineyard (Adelaida Hills); Syrah and Grenache from the La Vista Vineyard (Adelaida Hills); Grenache and Tablas-clone Mourvedre from Briarwood Vineyard (Templeton Gap); Syrah from Vina del Sol (Templeton Gap).
I would be remiss in not mentioning that I also had the opportunity to try the 2010 Tablas Creek Vineyard Patelin de Tablas Blanc, a blend of Grenache Blanc, Viognier, Roussanne, and Marsanne, at a recent trade tasting, and while I took no notes, it too impressed me with its rich, luscious character. (Find this wine) Both sell in the $20 range and offer excellent QPR for what's in the bottle, and with 4,900 and 2,700 cases produced of the red and white respectively, there are good quantities available. I advise buying multiple bottles of each, always keeping case discounts in mind.
Reporting from Day-twah,
geo t.
Related posts:
4 Responses to "A Country Neighborhood Red from Tablas Creek"