January 10th, 2013 |

Author:
George Heritier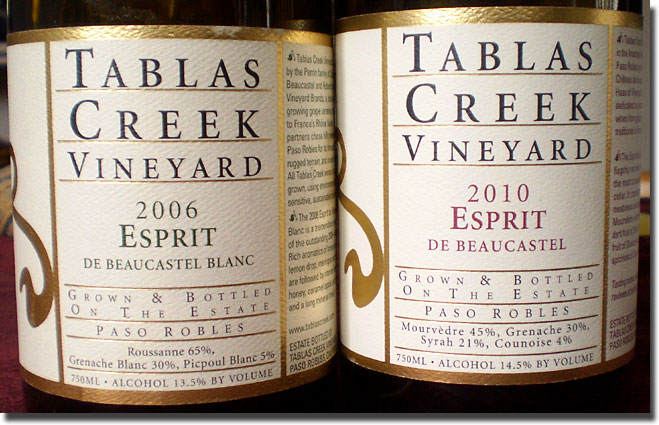 Christmas tends to be pretty low key here at Adams, Heritier and Associates. We don't get involved in the commercial aspects of the holiday at all. We don't put up a tree, nor do we buy each other gifts. We do like to have a quiet dinner with some good wine, and that's what we did again two weeks ago. Kim roasted a chicken along with a lot of root vegetables. I selected a wine that might not seem to be the likeliest candidate to pair, but it was Christmas, we had had it in our cellar for a few years and, since it had been that long since we last tried it, I wanted to taste where it was at, thank you very much. As it turned out, it worked very well with this dinner. (Click image to enlarge.)
2006 Tablas Creek Vineyard Esprit de Beaucastel Blanc Paso Robles, 65% Roussanne, 30% Grenache Blanc, 5% Picpoul Blanc, 13.5% alc.: Pretty pale-medium golden color, with a stingy nose at first, offering only a little something reminiscent of lanolin. Flavors of white peach and pear shaded with notes of lanolin and mineral explode in the mouth, full bodied and intense; great balance, with excellent acids and a long, lingering finish. In no danger of fading any time soon; au contraire, we probably should have let it sit for a few more years, because it still seems to be on the way up, so while it's great now (and it benefits from extended aeration), it's still going to get better! Find this wine

Since it was Christmas, and we weren't going anywhere, we decided to open a sample bottle that we'd received from our friends at Vineyard Brands, knowing full well that it was going to be something special.
2010 Tablas Creek Vineyard Esprit de Beaucastel Paso Robles, 45% Mourvedre, 30% Grenache, 21% Syrah, 4% Counoise, 14.5% Alc., $55:00: Deep, dark color, almost inky; big, intense and powerful, yet displaying that impeccable balance that we've come to expect from Tablas Creek. Deep, dark, earthy flavors and aromas of black plums and berries, underscored with an almost creamy finesse that doesn't begin to detract from the bold character of the wine. Full bodied, and structured for many years of aging and developing, this is such an impressive wine. I opened this too soon, but, then, it is a review sample, so it had to be done. It would have been preferable to drink it with food, but it does go so well with a big Guild 12-string, some harmonicas and several fine old time folk and bluegrass songs! Great stuff here. 4400 Cases Produced. Find this wine
About a week earlier, we sampled the current vintage of Tablas Creek's Côtes de Tablas Blanc, and it too is a delight.
2011 Tablas Creek Vineyard Côtes de Tablas Blanc Paso Robles, 27% Viognier, 26% Grenache Blanc, 25% Marsanne, 22% Roussanne, 13.1% Alc., $27.00: Pale golden color; rich lanolin and white tree fruit on the nose, echoing nicely in the mouth, with mineral undertones and a subtle herbaceousness. Thick, unctuous and full bodied, with ample acidity and a long, totally dry finish, where the minerality really shows itself. A hint of anise emerges as the wine opens in the glass. One of the best young Côtes de Tablas Blancs I can remember tasting, out of a steady stream of fine offerings. Doubtless it will develop into something even better with 2-5 years in the bottle. 1475 Cases Produced. Find this wine
Reporting from Day-twah,
geo t.
Related posts: