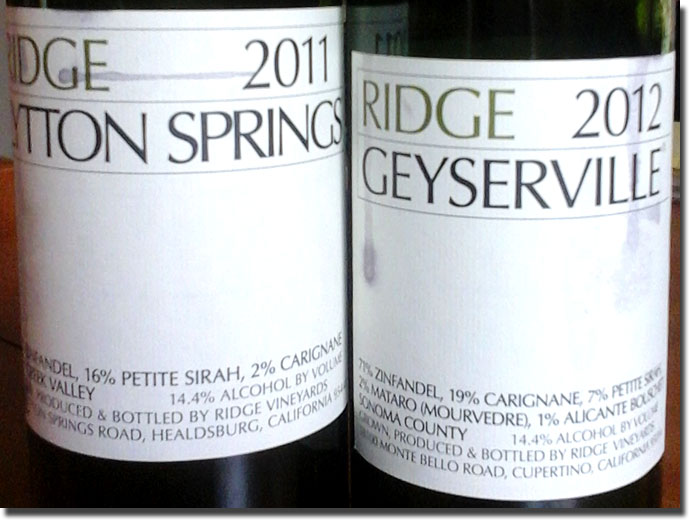 During her last visit, Ridge Vineyards Regional Sales Manager, Christina Donley aka "The Donley," spent her days making the rounds to both on-and-off-premise accounts in the Detroit area sampling some of our favorite wines here at Gang Central. On her second night in town, she came home with four bottles that still had enough left in them so that Kim and I could enjoy a good taste of each. I wasn't about to try these babies and not take notes, so I pulled out my trusty notebook and pen, put on my old "Bastardo" hat and went to work. (Click images to enlarge.)
2012 Ridge Geyserville® Sonoma County, 71% Zinfandel, 19% Carignane, 7% Petite Sirah, 2% Mataro (Mourvedre), 1% Alicante Bouschet, 14.4% alc., $38.00: Slightly lighter in color than I might have expected, but don't let that fool you. It exudes lovely Draper perfume, and flavors and aromas are all about well-integrated oak, even at this early stage, and a pretty mélange of red and black berries and cherries; there's also a note of aquarium on the nose. Even with the air that this got from being sampled all day, the tannin and acid structure is formidable, as one would expect from any good Geezer. I had a glass of this with Kim's chorizo tostadas and it still needs a minimum of five years in the cellar. Lots of potential here, so be patient.
(For the serious wine geeks, Ridge goes above and beyond to provide tech info like the following on the production of most of the wines on their website.) Harvest Dates: 17 September – 17 October. Average brix 24.5° degrees. Fermentation: Natural primary and secondary; 6 of the 27 tanks were fitted with submerged cap grids, both those and the tanks with a floating cap were given full pumpovers; pressed at 9 days. 100% air-dried American oak barrels (24% new, 25% one and two years old, 51% three and four years old.) Thirteen months in barrel. All estate-grown, hand harvested grapes. Destemmed and crushed. Fermented on the native yeasts, followed by full malolactic on the naturally-occurring bacteria. Six fresh egg whites per barrel to moderate the firm texture of tannins; minimum effective sulfur for this wine (30 ppm at crush; 164 ppm over the course of aging); oak from barrel aging; pad filtered at bottling. In keeping with our philosophy of minimal intervention, this is the sum of our actions. Find this wine
Read the rest of this entry »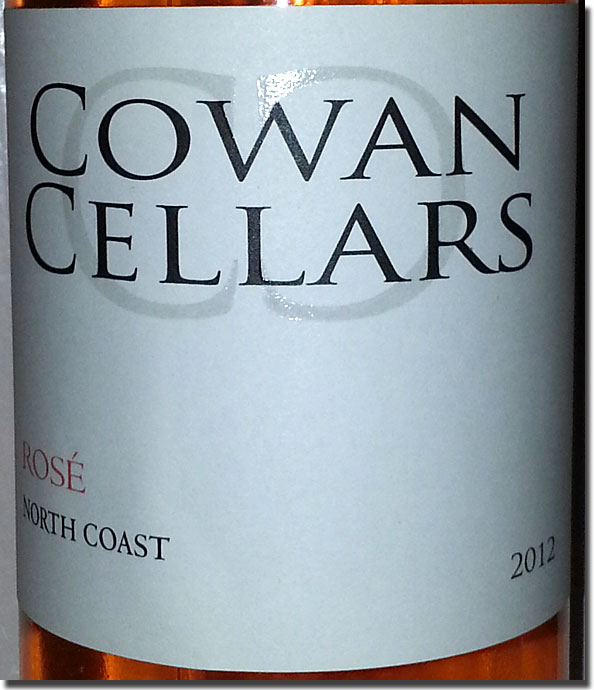 When we had our Cowan Cellars wine dinner back in November, we only tasted four of the six wines that we had purchased from our friends Florida Jim Cowan and Diane Arthur. We took our sweet old time getting around to the other two, and in fact, we still haven't tried the Ribolla Gialla (but we will soon). We did, however, try the rosé just a few nights ago, and we really enjoyed it. Here are my impressions. (Click images to enlarge.)
2012 Cowan Cellars Rosé of Pinot Noir North Coast, 13.9% alc., $15.00: Salmon pink color, not too dark, not too pale; aromas of watermelon and strawberry only hint at the intensity of the mineral-laden flavors. Medium-to-medium full bodied, with excellent acids and very good length. The minerality figures prominently in the wine's personality, playing a nice counterpoint to the rich fruit. This is the kind of rosé I would expect Florida Jim to make, knowing his personal tastes as I do, and it made a nice match for our quasi-Salad Niçoise of arugula and mustard greens, green beans, hard boiled eggs, sliced avocado and tuna. Jim is dead-on about serving this at cellar temperature; I disregarded his recommendation and gave it a good chill, wanting to observe how it changed in the glass, and I can report that as I sipped a glass slowly, it became considerably more expressive after 30 minutes in the glass. Comprised of saignée (bleedings) from several prestigious vineyards of Pinot Noir in the Sonoma Coast area of Sonoma County; partially fermented in open bins and part in 8 year old French oak; then combined and stored in tank for 6 months where it went through malolactic fermentation. Bravo, Jim Cowan! Find this wine
We've also sampled five other fine rosés over the last several weeks, from four of our favorite producers. I'll say it again, rosés aren't just warm weather quaffers at our house; we drink and enjoy them throughout the year. Here are my impressions of four domestics and one from the old world.