July 1st, 2016 |

Author:
George Heritier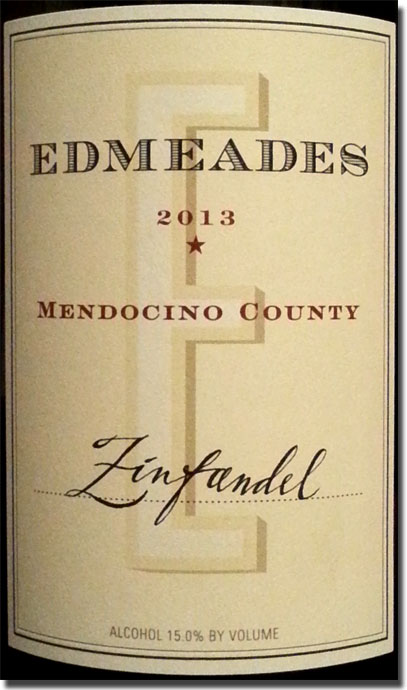 We don't drink near as much Zinfandel as we did back in the day. We cut our wine teeth on some beautiful Burgess Zins back in the '70s, and we discovered Mr. Ridge at around the same time. I reported on the 4-day ZAP (Zinfandel Advocates and Producers) festival in 2003, when my enthusiasm for the variety was still high, but after that, our interest started to drift more and more towards red Rhône varieties, and Zins showed up less and less in our reports. These days, we're most likely to pull the cork on one of these when we get together with our partner-in-crime, Alan Kerr aka Canadian Zinfan. (Click on images to enlarge.)
Case in point; a few weeks ago, Chef Kerr let it be known that he'd be in town for one night, and I thought it would be fun to honor his Gang moniker with something good, so I stopped by Holiday Market in Royal Oak and found a real beauty languishing on the shelves with a very affordable price tag affixed to it. As far as I can tell (or remember), the last time we tried an Edmeades Zin was in 2003, and that one was so enjoyable, I figured, "How bad can this one be?"
It turns out that it's every bit as good as that 1998 model.
2013 Edmeades Mendocino Zinfandel, 15% alc., $18.99: Clean and dark in color, with a lovely, rich "zinberry" nose; rich and creamy chocolate textured on the palate, with a ripe core of fruit anchored with earthy undertones and accented with shades of briar and bramble. My notes read, "This is Zinfandel the way I like it;" it's big, more old school than otherwise, and just a pleasure to drink. It's also a terrific value; in case you didn't notice, this one costs $2 less than that 1998. It has the structure to age and develop for several years, and both CZ and I have invested in four bottles each. I plan on buying more so that I have a few to drink in the near term while the others rest in the cellar. (I'd LOVE to get my hands on some of their single vineyard offerings to see what they are all about!) Find this wine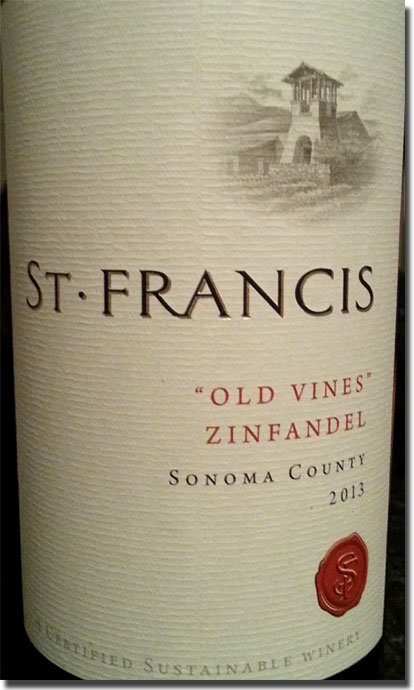 A week or so after enjoying the Edmeades with Alan, I was shopping at our friendly neighborhood Costco, and I noticed a couple of bottles that had once been high on our list of QPR (quality-price-ratio) Zins, and curiosity got the better of me, so I picked up one of each and brought them home to try.
2013 St. Francis Sonoma Zinfandel Old Vines, 15.2% alc., $14.99: With clean, dark color, this offers deep, dark, briary "zinberry" aromas; rich and ripe on the palate with black raspberry and black cherry flavors and a bit of heat. Full bodied, well structured, rich and intense, this has good length on the finish and shows no excessive oak. My only concern here is the alcohol heat; it's not horrid, but it's there, and is why I probably won't buy this otherwise solid, well-priced Zin again. Find this wine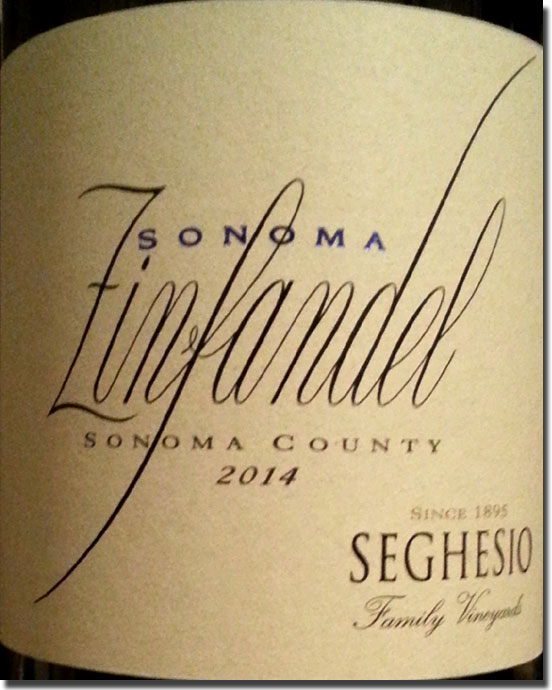 2014 Seghesio Sonoma Zinfandel, 14.8% alc., $18.99: Deep and dark in color, with pretty Zinfandel fruit graced with toned-down oak compared to the last one of these I tried at least five years ago, which is why I haven't had another since. The oak that IS apparent gives this both spicy notes and a certain creamy quality in flavor, but not texture. Sleek, with no fat, and good structure for at least a few years in the cellar. With air, it does show a little more oak than I care for, but it's not gross. I like this wine, but I like the Edmeades bunches more for the same price. Find this wine
Reporting from Day-twah,
Bastardo
Related posts:
2 Responses to "My Kind of Zin"