August 29th, 2015 |

Author:
George Heritier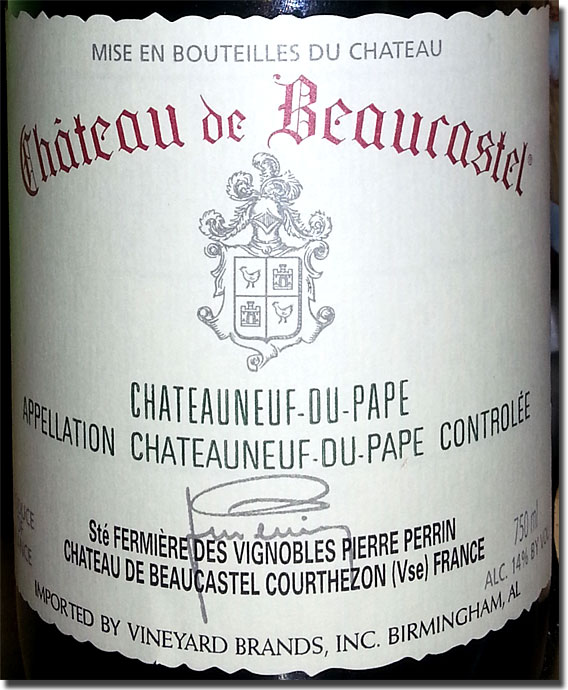 From the Not-Quite-Quick-and-Dirty Department: Each of the wines featured in this report bears a connection to one of our previous two reports. I tasted this first one with Luke McCollom from Left Coast Cellars last week; the wine was given to him by a generous Ann Arbor retailer, and then he sent me home with the bottle to share with Kim. As promised, here are my impressions.
2006 Château de Beaucastel Châteauneuf-du-Pape Blanc, 80% Roussanne, the balance from Grenache blanc, Picardan, Bourboulenc and Clairette, 14% alc., $69.99: Clean, rich color; stony mineral and a hint of beeswax over bone dry stone fruit in both flavor and aroma. Full bodied, with great acidity and outstanding presence. I had the opportunity to taste this over a couple of hours and the beeswax emerged to take a more prominent place in the wine's personality. Quite tasty already, but not yet at its peak, perhaps not even close. Organically grown, 80% fermented in stainless steel, 20% in 225 liter oak casks. Find this wine
Imported by Vineyard Brands, Inc., Birmingham, AL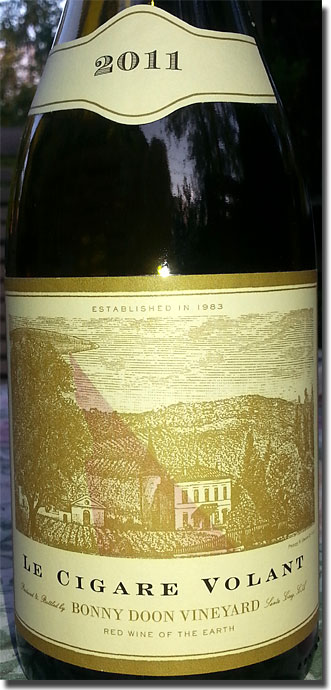 This was the second bottle opened during my recent birthday celebration, but it didn't seem right to include these notes with the Joseph Swan Pinot Noirs, nor did I want to neglect reporting the good news that it is yet another excellent Le Cigare Volant.
2011 Bonny Doon Vineyard California Le Cigare Volant normale, 37% Mourvèdre, 34% Grenache, 20% Syrah, 9% Cinsault, 14.2% alc., $45.00: Clean, dark color, with a bit of the barnyard over deep, dark black fruit on the nose; on the palate, black plum and currant, with just a hint of that barnyard, along with shades of briar and bramble. Full bodied and harmonious on the palate, but structured for ten years or more of development, with smooth tannins (I wouldn't call them "silky") and vivid acidity. As do so many Le Cigare Volants, both "normale" and otherwise, this drinks more like a southern Rhone than a California red, and I'm all for it. 21.5% Ventana, 20% Del Barba, 14% Rancho Solo, 12% Evangelho, 10.5% Bien Nacido, 10% Alamo Creek, 9% Bechtold, 3% Gonsalves. Find this wine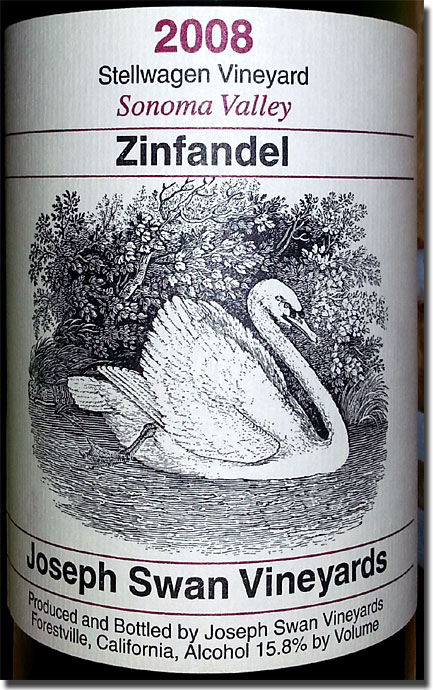 As I mentioned in my blog entry, "A Pair of Swans," I'm now on the lookout for anything from this fine producer that is available in the area, and while the focus has been mainly on those two Pinot Noirs (and I've had some success, I might add), I did happen to run across a sizable stash of the following wine, so I brought one home to try.
2008 Joseph Swan Sonoma Valley Zinfandel Stellwagen Vineyard, 15.8% alc., $29.99: Attractive dark garnet color, with enticingly rich, earthy, black raspberry, black cherry and blackberry aromatics that echo and explode on the palate. There's a ton of gorgeous fruit here, but also big structure, with significant tannins and racy acids; it gets a bit earthy and sticksy on the finish. This is an old school Zin, in both a good and a bad way; the alcoholic heat is obvious, even on the second night. There's plenty of fruit here to give the tannins and acids a run for their money, but my concern is, will that heat ever dissipate? Time will tell, and I'll pick up a few more to find out (although I wouldn't pull the cork from another for 5 years), because that big core of fruit is so pretty, I want to believe… Find this wine
Reporting from Day-twah,
Bastardo
Related posts:
One Response to "Mixed Bag"