Archive for January, 2013
I've never been shy when it came to shameless self-promotion for Gang of Pour, so why should things be any different, now that I'm playing and writing music after a ten-year hiatus? I started singing and playing in earnest again almost two years ago, largely through the inspiration provided by my daughter. It was tough at first, but the more I worked at it, the better things sounded. It's gotten to the point where music has suddenly become a full time job, with the release of my CD, "In My Element" a week ago, rehearsing for two gigs this coming weekend and really cranking up everything that ReverbNation has to offer as far as promotion of songs and gigs. Add to that some great jamming with really fine musicians, and the year is really getting off to a brilliant beginning!
"In My Element" is now available in both CD and individual track digital download from cdbaby; just click on the link below.
Reporting from Day-twah,
geo t. aka Don Coyote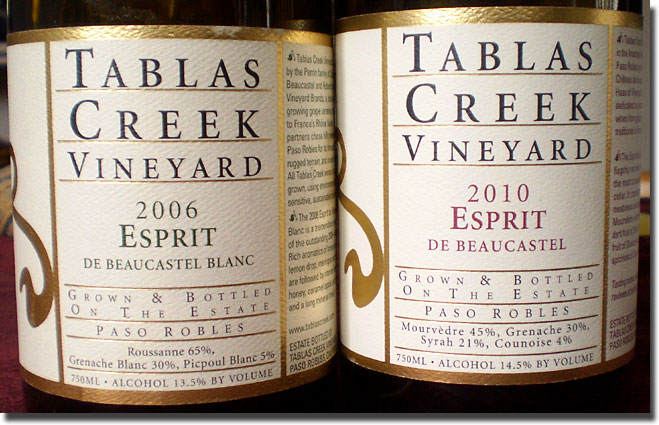 Christmas tends to be pretty low key here at Adams, Heritier and Associates. We don't get involved in the commercial aspects of the holiday at all. We don't put up a tree, nor do we buy each other gifts. We do like to have a quiet dinner with some good wine, and that's what we did again two weeks ago. Kim roasted a chicken along with a lot of root vegetables. I selected a wine that might not seem to be the likeliest candidate to pair, but it was Christmas, we had had it in our cellar for a few years and, since it had been that long since we last tried it, I wanted to taste where it was at, thank you very much. As it turned out, it worked very well with this dinner. (Click image to enlarge.)
2006 Tablas Creek Vineyard Esprit de Beaucastel Blanc Paso Robles, 65% Roussanne, 30% Grenache Blanc, 5% Picpoul Blanc, 13.5% alc.: Pretty pale-medium golden color, with a stingy nose at first, offering only a little something reminiscent of lanolin. Flavors of white peach and pear shaded with notes of lanolin and mineral explode in the mouth, full bodied and intense; great balance, with excellent acids and a long, lingering finish. In no danger of fading any time soon; au contraire, we probably should have let it sit for a few more years, because it still seems to be on the way up, so while it's great now (and it benefits from extended aeration), it's still going to get better! Find this wine
Read the rest of this entry »