By now, regular readers might recognize that we are big fans of all things Tablas Creek Vineyards, and we've made no secret of the fact that Vineyard Brands sends us samples of their wines periodically for review. The first two whites in this report came to us in the same package as the two rosés we told you about in late April, but, as is sometimes the case, we took our sweet old time getting them. We finally opened both on successive evenings last week, and, not surprisingly, we quite enjoyed them both. Here are my impressions of each.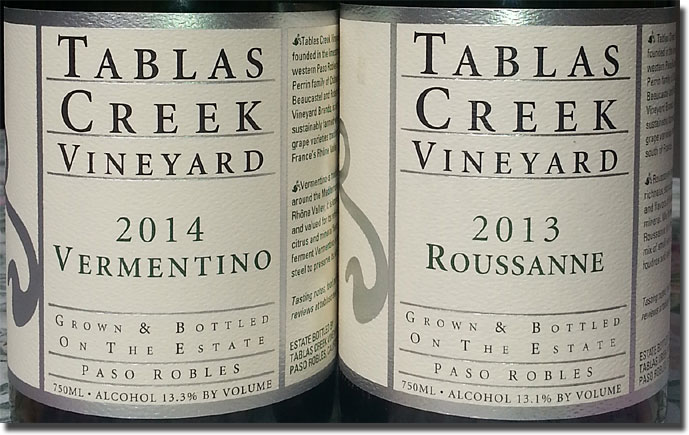 2014 Tablas Creek Vineyard Paso Robles Vermentino, 13.3% Alc., $27.00: Clean, medium color, with bright, attractive aromatics of peach and melon, this takes on more citrus character on the palate, adding some grapefruit/lime to the mix. Medium body, with perfectly balanced acids; rich and fairly ripe (a bit more so than its French and Italian counterparts, as one might expect), with a bit o' mineral for good measure. Quintessential seafood wine, and TC also recommends this with oysters on the half shell, aioli or pestos, linguine with clam sauce and stir fried green vegetables. It's also really tasty all by itself. 1,000 cases produced.
From the Tablas Creek website: "The Vermentino grapes were whole cluster pressed, and fermented using native yeasts in stainless steel to emphasize the minerality of the grapes. The wine was bottled in February 2015." Find this wine
2013 Tablas Creek Vineyard Paso Robles Roussanne, 13.1% Alc., $35.00: Deep golden color, with rich peach and tropical fruit flavors and aromas, underscored with stony minerality. Fairly thick, dense and decidedly primary; full bodied, with ample acids, great balance and almost opulent in texture. It shows even more tropical fruit on the second day, but never goes over the top (Tablas Creek wines never do). Delicious now, but this one really wants some time in the cellar to develop to its full potential. I'd like to try it again in about five years; TC says it'll go a decade. Quite nice with one of Kim's vegetarian curry concoctions over brown rice; the winery also recommends rich shellfish (lobster and crab), sea bass, mildly spicy gumbo, stir-fries in garlic and olive oil and salmon. 700 Cases produced. (This selection is available to TC VINsider wine club members only.)
T.C.: "The Roussanne grapes were whole cluster pressed, and fermented using native yeasts two-thirds in neutral 1200-gallon French oak foudres and one-third in 170-gallon French oak demi-muids. The lots were left on their lees for 6 months, and allowed to complete malolactic fermentation. After fermentation the lots were blended, and bottled in February 2014. The wine underwent only a light cold stabilization before bottling." Find this wine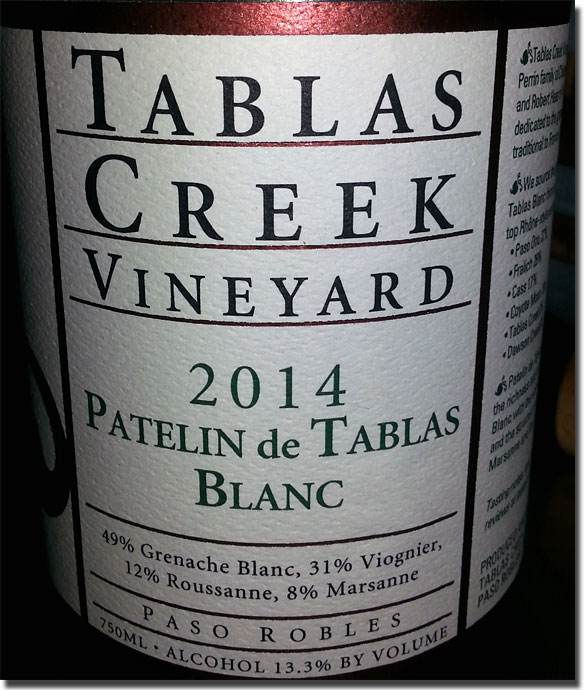 We've been buying (and enjoying) a lot of this next selection lately, and I had intended to file a follow-up report to our original review, when I realized that we hadn't posted any notes on this one; it was the 2013! That oversight is easy enough to rectify, so here you go.
2014 Tablas Creek Vineyard Paso Robles Patelin de Tablas Blanc, 49% Grenache Blanc, 31% Viognier, 12% Roussanne, 8% Marsanne, 13.3% alc., $14.99: Clean medium color; offers pretty peach, melon, pear and mineral flavors and aromas. Full bodied, with lovely, somewhat dense texture, perfectly balanced acids and good length. Will pair well with a wide variety of seafood and chicken dishes, and sips well on its own as I finish up these notes. We've already gone through the better part of a case, and we'll keep going back for more until this is gone, especially at this great price. Too bad our Costco doesn't carry the Patelin de Tablas Rouge too! 3200 Cases Produced.
27% Tablas-clone Grenache Blanc from Paso Ono Vineyard in El Pomar
26% Viognier from Fralich in El Pomar
17% Marsanne and Roussanne from Cass Vineyard in Geneseo
16% Tablas-clone Grenache Blanc from Coyote Moon Vineyard in Estrella
8% Roussanne and Marsanne from the Tablas Creek cerified organic estate vineyard
6% Tablas-clone Grenache Blanc from Dawson's Creek Vineyard in El Pomar
T.C.: "All varietals for the Patelin de Tablas Blanc were whole cluster pressed, and fermented in stainless steel to emphasize the clean crisp flavors and preserve the aromatics. Only native yeasts were used. After fermentation, the wines were racked and blended, and bottled in May 2015." Find this wine
Reporting from Day-twah,
Bastardo
Related posts: