I'm always on the lookout for good buys in any wine department that my adventures take me through, and I've been fortunate to come upon five over the last few months. The first is one I reported on in August, the 2012 Domaine Laroche Saint Martin Chablis. It was a good buy at the Costco price of $19.99, but I guess it wasn't moving fast enough for them, so they hung a closeout price price of $9.97 on it, and I brought home a dozen or more. I mean, where do you find quality Chablis for $10?! You may still find some of this at various Costcos in the metro Day-twah area, but I cleaned out the stash at our friendly neighborhood outlet on Stephenson Highway in Madison Heights.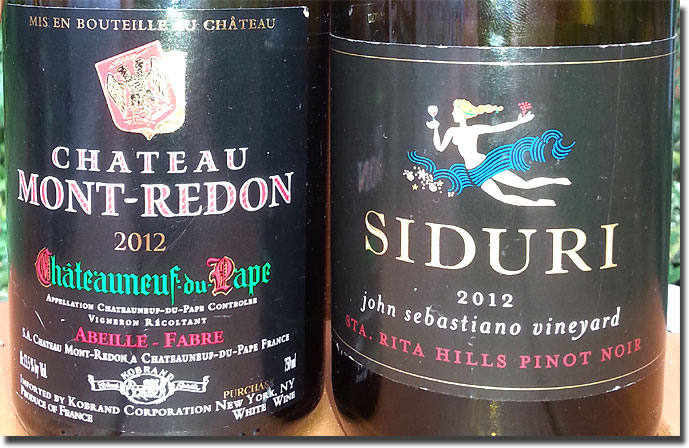 There were two other terrific buys at the Madison Heights store, a white and a red, and while I took advantage of both, so did other intrepid buyers, so they were snatched up quickly. As to whether they're still available at other locations, I can't say, but I rather doubt it, especially, the Siduri Pinot Noir. Here are my notes on both, starting with the pale Châteauneuf-du-Pape.
2012 Chateau Mont-Redon Châteauneuf-du-Pape Blanc, 13.5% alc., $9.97: Medium straw color, with a delightful wet stone nose; doesn't have the fruit intensity of the Beaucastel that we liked so well last month, but it's really tasty on its own terms, with plenty of stony mineral on the palate as well. Bone dry white tree fruit on a full bodied frame, with more than ample acids and good length on the finish. I love a good mineral-driven white, and this is all that and then some; in fact, I liked it even better the second time we tried it than I did the first. It was probably a decent buy at around $30, but at 10 bucks, I kept bringing home multiple bottles until it was sold out. Predominantly Grenache Blanc and Roussanne. Find this wine
Imported by Kobrand Corporation, New York, NY
2012 Siduri Santa Rita Hills Pinot Noir John Sebastiano Vineyard, 14.3% alc., $14.97: Clean ruby garnet color, and generous in both flavor and aroma, with expressive smoky black cherry and cranberry shaded with hints of barnyard and matchstick on the nose and tart rhubarb and earthy undertones in the mouth. The ripe and tart elements play nicely off each other, creating a rewarding drinking experience. Medium-full bodied, and structured for at least 3-5 years improvement, and while I'll try to hold off on the four bottles we have left, it's so good now, especially with air, that might be a tough task. Amazing bargain at this price; it had been priced in the mid-$30s before closeout, and $48 at the winery. Find this wine
I got the next one from, where else, our buddy Jarred Gild at Ferndale's Western Market. We loved the regular bottling of the 2012 Picq Chablis, so an 8-year old Vieilles Vignes bottling was a no-brainer.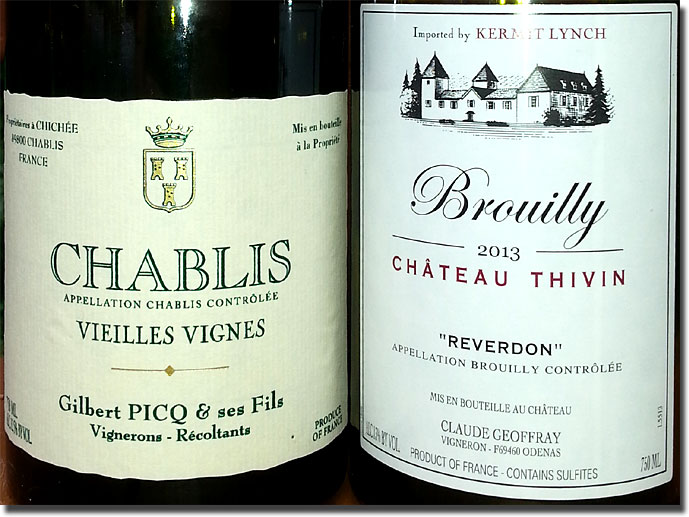 2007 Gilbert Picq Chablis Vieilles Vignes, 12.5% alc., $19.99: Medium straw to pale gold in color, with an intense core of tart Chardonnay fruit underscored with stony mineral; you can practically taste the limestone. Still more primary than secondary (just hinting at the latter); full bodied, with lively acids and very good length, this is damned tasty, not to mention great QPR at $19.99. Jarred told me that a couple of customers returned bottles of this and he ended up drinking and enjoying them himself, and I can see why; we've already gone back for more and will continue to do so as long as it lasts. Kudos to Mr. Gild for continuing to find gems like this that few others seem willing to bother with or take notice of. The Vintage '59 website tells us: "This comes primarily from two hand-harvested parcels (occasionally part of a third is added) of 50+ year-old-vines totaling 0.77 acres. These vines grow on the high plateau across the ravine from Vaucoupin, and just down a short distance from the Vaudécorse parcel." Find this wine
Imported by Vintage '59 Importers LLC, Washington, DC
Finally, we picked this little gem up at Plum Market in August, and finally got around to opening it last week. I am told that there are still a few bottles available at this price, if you beat me to them…
2013 Chateau Thivin Brouilly "Reverdon," 13% alc., $15.97: Clean ruby garnet color, with an almost exotic mélange of red berries and cherries on the nose; so nice, I almost want to keep my nose in the glass, but I finally take a sip to find an earthier, less fruit forward approximation of the aromatics that delivers lots of pleasure with every sip. Medium-full bodied and structured for more than a few years in the cellar, but more than approachable already. Very nice indeed. Here's a little background info from Kermit Lynch:
• Sourced from the Reverdon sector of Mont Brouilly, an area known for producing wines of great finesse
• Eastern sun exposure on a moderate slope, facing Mont Brouilly
• Whole cluster fermentation during 8 days
• Raised in concrete tank for 8 months Find this wine
Imported by Kermit Lynch Wine Merchant, Berkeley, CA
Reporting from Day-twah,
Bastardo
4 Responses to "Bargain Hunter Bastardo"