Jumpin' Jim Lester rode into town last week on a trade mission, lookin' to sell some of his always-delicious Wyncroft wines and spend a little time with his buddies Kim and geo. He dropped in at Gang Central after a very successful wine dinner and tasted me through most of what he'd poured earlier that evening; unfortunately, his latest vintage of Shou had been consumed entirely, but we'll get to try that one at a later date, no doubt. He started me out on a couple of Rieslings before moving on to the red stuff.

2010 Wyncroft Lake Michigan Shore Riesling Avonlea Tank Sample, 13.5% alc.: Bone dry, with no botrytis and made from super-ripe fruit; still showing a little SO2, along with a lot of baby fat and primary fruit, which will recede with time, allowing the acids to come forward. Pretty perfume on the nose. As you might expect, this one is all about promise right now, but there's a lot here.
2008 Wyncroft Lake Michigan Shore Riesling Avonlea "VT", 14.8 % alc.: Made in the traditional Alsatian Vendange Tardive style, this is coming along nicely since we had it last, showing a rich golden color and offering nice petrol and grapefruit rind on the nose, which follows through on the palate, where it gains some pine resin. Because this is a dry ice wine (picked at Kabinett level sweetness on December 3rd at 28 Brix), it actually has some tannins to it as a result of pressing the frozen grapes. Jim says, "If you like petrol, this will have lots in 10 years." 25 cases were made and it sold out in 2 months.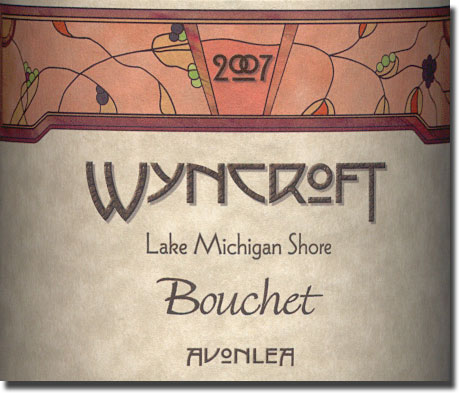 2007 Wyncroft Lake Michigan Shore Bouchet Avonlea, 13% alc.: Jim's first attempt at making a Joguet Chinon-styled Cabernet Franc (right down to the slope shouldered bottle) is a complete success, in my-not-so-humble opinion. It spent 30 months in a one-year old Bordeaux barrel, which imparted a "Chianti-like cedar character," according to Mr. Lester. He also commented on a September '07 deluge of rain that "may have taken a little out of the middle," but I find this to be very pretty and very Pinot Noir-like, with a delicate kiss of sweet oak over perfumed cherry and red berry, shaded with some pretty spice and nice earthy undertones. Medium-to-medium-full bodied, with structure based more on acids than tannins.
2009 Wyncroft Lake Michigan Shore Pinot Noir Avonlea Barrel Sample: Clean, ruby garnet color, with a pretty spice and cherry perfume that follows through so nicely on the palate with some subtle earth and mineral. Medium bodied, full flavored, already lovely and full of promise. Because the growing season in 2009 was so cool, Jim calls this "the lightest Pinot Noir I've ever made," but it has real charm and pure Pinot Noir character.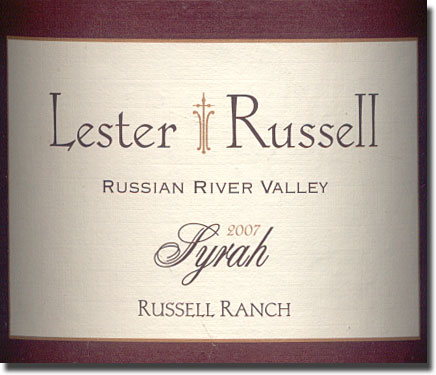 2007 Lester Russell Russian River Valley Syrah Russell Ranch, 13.2% alc.: Grapes for this wine were grown by Jim's friend, Wayne State University professor Bruce Russell, in a vineyard situated just north of Rochioli and Williams-Selyam, at an elevation of 450 feet. Blanketed in fog every morning, then subjected to very hot afternoons, it produces what might be described as cool climate Syrah in a Californian style. It was planted in 2001 to Syrah clone 174. It shows clean, dark color, and has put on some weight since we last tried it in 2009. It exudes an effusive perfume, and delivers flavors and aromas of spice, sweet oak and hints of tar and earth over a big core of ripe red plum and berry. Jim mentions some "black licorice in the middle of entry and chocolate cherries on the finish," and his wine-making style really shows here; there's a consistent personality in this and his Michigan reds. Really tasty stuff here, and I couldn't restrain myself from indulging in a second pour. It saw 36 months in three barrels, one being new and two neutral. I can't wait to taste the results of the '08 vintage and those that will follow.
Jim Lester's Wyncroft wines continue to be among the very best produced in Michigan, and I'm especially excited by the three reds tasted on this occasion. I'll be particularly interested in following the progress of the Russian River Valley project, as there are plans to plant Pinot Noir at Russell Ranch, so stay tuned, buckaroos.
Wyncroft wines are available for sale through its website.
Reporting from Day-twah,
geo t.
Related posts:
One Response to "Jumpin' Jim Lester"