Continued from the article Tasting Leelanau
I met Adam Satchwell, winemaker at Shady Lane Cellars, at a (mostly) rosé tasting last May, and because the pink stuff was my total focus at that event, I didn't taste through everything he was pouring. We discussed the possibility of visiting him at a later date, however, and lo and behold, there we were, pulling into the tasting room parking lot for our second appointment on Tuesday.
Shady Lane is owned by Dr. Joseph O'Donnell, a Grand Rapids, Michigan based neurosurgeon. Adam has served as both winemaker and vineyard manager there since 2000. Previous to that, he studied in the Viticulture/Vineyard Management program at Santa Rosa Junior College, while also working as a cellar rat at Mark West Vineyards in the Russian River Valley; he also occasionally worked at Edmeades Vineyards in the Anderson Valley of Mendocino, with his uncle, Jed Steele. Adam finished his studies at Cal Davis, while again working with his uncle Jed, who by then was at Kendall-Jackson.
Before we got down to the pleasant task of tasting, we took a walk through one of the higher vineyard lots, which gave a fine panoramic view of the property, now expanded to 150 acres from the original 100. There were initially 60 acres of fruit trees, but some of those have since been replaced with vineyards, which now total 52 acres. Dr. O'Donnell purchased the farm in 1988, with the first vines planted in 1989; new plantings started in 2001 and continued through 2008. There are five different soil structures, mostly based in sandy loam.
The tasting room is a beautifully restored old field stone structure that was built in 1913 to serve as a chicken coop, and it was there that we convened to survey the wines that Adam had chosen to pour for us, starting with some Riesling.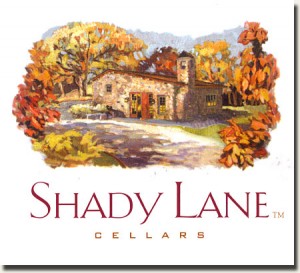 2007 Shady Lane Leelanau Dry Riesling Estate, $16.50: Pale to medium color; steely green apple, citrus (which Adam characterizes as "lemon oil") and mineral flavors and aromas. Medium to medium-full bodied, with racy acidity. 1% residual sugar; picked very early in a warmer vintage.
2008 Shady Lane Leelanau Dry Riesling Estate: Paler in color, and richer and rounder than the 2007, with more lime accenting the solid core of green apple fruit supported with mineral underneath; Adam is reminded of "lime blossom honey." Slightly oily, and it still has a little bit of spritz to it, and while it's not as zippy as the '07, it has more than enough acidity to keep it moving right along. Sourced from a plot situated on the lightest, sandiest loam on the property, with significant calcium ion content.
2007 Shady Lane Leelanau Semi-Dry Riesling, $15.00: Pale color and not giving much on the nose at first, but with plenty of ripe peach and honeysuckle in the mouth, and some nice mineral underneath. Made mostly from estate fruit, with the aim of producing a floral character and a transition of sweetness up front to the acidity in the back without losing the richness of the fruit, which Adam says is accomplished through phenolic management of the grapes, and successfully so, from what we tasted.
2007 Shady Lane Leelanau Gewurztraminer Estate, $18.00: Medium color, with pretty litchi and rose petal on the nose; very mineral-dominated in the mouth, with the floral elements taking a back seat. A little oily and slightly acidified for food friendliness. From first crop vines and fermented completely dry.
2008 Shady Lane Leelanau Chardonnay: This bottling is the only white that is oak aged, in 500 liter puncheons (half new and half one-year old French oak, medium toast) for one year, with full malolactic fermentation and heavy lees aging; Satchwell says he inherited the style when he was hired. The medium color is still a little cloudy and the nose is all creamy pear/Chardonnay; quite dry on the palate, with nice acids, a subtle note of citrus and a creamy custard finish. Balanced and refreshing, with what Adam describes as "signature northern Michigan acidity."
2008 Coop de Blanc, 100% Vignoles, $13.00: The "Coop" in the name is a humorous reference to the former fowl residency in which we were now standing, and Adam describes this as "the Jolly Rancher wine." It tastes like semi-sweet white grapes, there's no other way for me to describe it, although Satchwell did pretty well with "candied tropical citrus fruit." Nicely balanced, with racy acidity to play counterpoint to the 6% residual sugar.
2007 Shady Lane Leelanau Pinot Noir Estate, $16.50: Clean ruby color, with a pretty nose of creamy black cherry and rose petal that takes on earthy undertones in the mouth, being drier than the aromatics lead one to expect. Delicate and intense at the same time, fleshing out with a cherry, pomegranate and cranberry personality; aged for one year in 75% new oak with heavy toast and it works, so we brought one home.
2008 Shady Lane Leelanau Blue Franc, 100% Blaufrankish (Lemberger), $22.00: Blue Franc is the literal translation of the German Blaufrankish, and can only be made from Lemberger, according to the ATF. Jed Steele trademarked the name for his Shooting Star label, and allows only Shady Lane to use it. Shows clean, dark color and offers coffee and toast on the nose and on the palate, with a solid core of black fruit; Adam adds impressions of "blueberry jam and cedar," while Claudia mentions "soft powdery tannins." Medium-full bodied, with good structure and very harmonious, this hits the spot for Merlot drinkers, according to Adam, and it holds my interest as well.

2007 Shady Lane Leelanau Cabernet Franc, $16.50: Clean dark color, and none of the vegetal qualities that the variety is sometimes noted for, with toasty red and black fruit character that Claudia and Adam collectively describe as "raspberry, violet and a little dried tarragon." I got something darker, with black currant and blackberry shaded with earth and toast, medium-full bodied, with good structure and length. Very well focused.
2006 Shady Lane Leelanau Late Harvest Vignoles, 375ml, $28.00: This golden colored elixir resulted from grapes with lots of botrytis, and offsets 14% residual sugar with screaming acidity; effusive and expressive, with mango, pineapple and plantain flavors and aromas, it is intense, yet balanced and focused, and not at all over the top. A delicious dessert selection that pairs well with crème brulee or just a simple custard.
Our little gang of four really liked what we tasted at Shady Lane, and Adam obviously knows his stuff, both in the vineyard and the winery. What's more, like so many of the people we hooked up with in Leelanau, he's a great guy to just hang out with, and hopefully, we can do so again before too many more months go by.
Shady Lane's wines have limited availability on the Internet.  Contact the winery for more information on ordering – 231- 947-8865.
Continued from the article Tasting Leelanau
Related posts:
16 Responses to "Tasting Leelanau: Shady Lane Cellars"