As always, our tradition of pairing Red Wings hockey with Red Rhône wines is not exclusive to libations from southern France alone. All a bottle needs to qualify for Hockey Night in Day-twah is to be full of Grenache, Syrah or any other variety native to that region, be they grown in California, Australia, Argentina or wherever. We have our favorites, of course, and it should come as no surprise to longtime readers that Bonny Doon Vineyard is at the top of the list. (Click on image to enlarge.)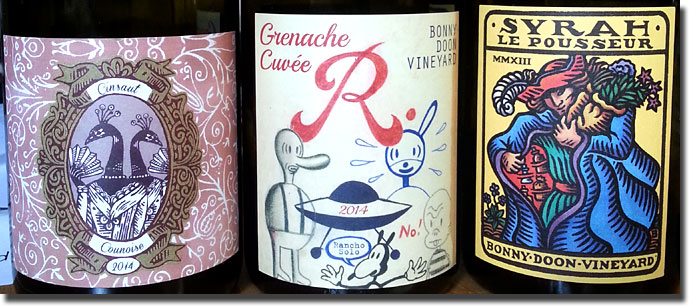 We got our hands on these three recently, and yes, they were all enjoyed while rooting for our boys with the winged wheel on the front of their jerseys. Here are our impressions.
2013 Bonny Doon Central Coast Syrah "Le Pousseur," 13.5% alc., $26: Deep and dark in color, with primary black plum and berry on the nose that follows through on the palate, gaining shades of earth, leather, tar and iron. Well proportioned, structured and balanced, this has at least 5 years (and perhaps 8 or more) years of development ahead of it, yet it's quite nice right now, with little or no aeration. A big, tasty mouthful of juicy Syrah, and a great value at this price! Vineyard sources: 63% Bien Nacido, 35% Alamo Creek, 3% Ventana. 3185 cases produced.
The Word from Doon:The '13 Pousseur contains a rather substantial percentage of Bien Nacido Syrah, which imparts a distinctive smoked meat/ bacon fat aspect, characteristic of the Syrah from that cool climate vineyard, even in a slightly warmer vintage. Find this wine
2014 Bonny Doon Monterey Grenache Cuvée "R" "Rancho Solo," 14.5% alc., $48: Not quite clean ruby garnet color, but what's a little murk among friends? The reticent aromatics only hint at the big rich red berry and cherry flavors, shaded with a little earth and subtle notes of herbs, leather and just a hint of cocoa. It's not hard to see why this wine is so popular, it's really easy to like right from the get-go. There's at least a few years' worth of structure on a medium-full-bodied frame, but so good already. The only thing I don't like about it is the price. I could cozy up to it more if it weighed in at around $30-35, but that's just the kind of hairball I am. 270 cases produced.

The Word from Doon: One of the most successful red wines @ BDV and highly aspirational for our direction in the future. Shows the Burgundian elegance of Grenache (produced from a very special clone), farmed in a relatively cool site (Soledad). Aged in puncheons to conserve fruit, and of course to protect from oxidation. This has great length and suavity. Find this wine
2014 Bonny Doon California Cinsaut (67%) / Counoise (33%), 13.7% alc., $35: Surprisingly light in color; it looks more like a middle weight Pinot Noir than a Rhone variety, but at least it's darker than a rosé. It throws a light cherry berry rosewater nose that echoes in the earthy flavors that show good intensity before fading some on the finish. Medium bodied and structured for at least a few years in the cellar. Pleasant and enjoyable, if you don't have your heart set on a big red Rhone, but I wouldn't care to spend more than $15-20 for what's in the bottle. 280 cases produced.

The Word from Doon: This is a wine that was a bit of a one-off, produced for our DEWN Club, and really shows the potential great elegance of Cinsaut, in this instance, very old-vine fruit from Bechtel Vyd in Lodi. Very strange, distinctive nose (I think a lot of that strangeness/sous-bois quality comes from the almost feral aspect of Counoise), coupled with wild berries, particularly fraises de bois from the Cinsaut. Obviously, the preternatural precocity of the vintage, and the dearth of precipitation are the obvious factors. Malolactic fermentations, erosion control in the vineyard, and that sort of thing. I predict that Cinsault will soon become the next "thing;" you heard it here first. Find this wine
Reporting from Day-twah,
Bastardo
Related posts:
2 Responses to "Red Rhone Rangers from Bonny Doon"