Continued from the article Tasting Leelanau
If our visit to Chateau Fontaine wasn't quite as exciting as the wild ride that owner Dan Matthies took us on the last time we were there, it was still rewarding on a number of levels.  Dan and wife Lucie Fontaine Matthies are putting out as solid a lineup of wines as ever, and they now have the ubiquitous Shawn Walters making the wines for them.Walters, who started out 18 years ago as a "cellar rat," rose through the ranks to become winemaker at Leelanau Cellars before leaving to assume the same position at Forty-Five North a few years ago.  Besides holding down these two positions, he now also makes wine for Longview Winery, as well as consulting with a number of other Leelanau producers.
There is also a new winery, French Road Cellars, the state's first custom crush facility, across the parking lot from the tasting room, owned by Dan's son Doug, where Walters produces wines contracted by his One World Winery clients as well as Chateau Fontaine's wines.
So things are looking good at Chateau Fontaine, except, perhaps, for the poor 2009 vintage.  As Dan told us, "It's been a long summer, and we didn't expect that after spending 3/4 of a million dollars on the new facility."
The wines of Chateau Fontaine are made entirely with estate grown grapes.  Our tasting session and tour of the French Road Cellars facility was videotaped by Kris Riley, of  Traverse Northern Michigan Magazine and MyNorth.com. Click the image below to view the video.
Dan started us out with their lineup of whites.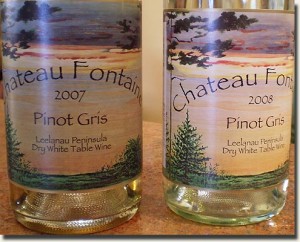 2007 Chateau Fontaine Leelanau Pinot Gris, $14: Dan characterized 2007 as "one of the best vintages we've ever had," adding that this spent 14 hours in cold soak.  Not really white at all, it has that "eye of the partridge" color (the natural color of the variety), with rich, intense apple and citrus flavors, and good weight and cut.  Made in the French style, this is Chateau Fontaine's best seller in restaurants. Find this wine
2008 Chateau Fontaine Leelanau Pinot Gris, $14: Medium straw color, with a slightly funky nose (in a good way); rich, intense and a little pungent, with ripe grapefruit, Granny Smith apple, crisp acidity and a long, lingering finish.  Claudia Tyagi commented that it's "very round and lively, but full." Find this wine
2007 Chateau Fontaine Leelanau Chardonnay, $12:  Picked at 24.7 ° Brix and in oak for less than 30 days.  Not a lot on the nose at first, but in the mouth, it offers rich, beautiful fruit without frills or excess; Dan likes Macon-styled Chardonnays, and this is a very nice approximation, all soft and silky, with the oak paying nice little compliments, rather than dominating the character of the wine. Find this wine
2007 Chateau Fontaine Leelanau Woodland White (Auxerrois), $12: Charlie Edson of Bel Lago sold Dan the cuttings to start his Auxerrois program, 1,000 of which eventually making for 850 vines.  Very pale in color, with white peach and green pear flavors and aromas underscored with some nice herbaceous undertones.  Rich and expressive, with nice minerality. Find this wine
2008 Chateau Fontaine Leelanau Dry White Riesling, $16: This pale colored Riesling was picked early for acidity, from 3rd leaf vines.  It offers a nice balance of said acidity and citrus, with some subtle mineral, good varietal character, medium body and good length. Find this wine
2008 Chateau Fontaine Leelanau Gewurztraminer: Only 38 cases of this pale straw colored Gewurz were made; .02% residual sugar was added to highlight the rich, expressive fruit, which gives the impression of sweetness, although fermented dry.  Spicy litchi and rose petal flavors are fleshy, hedonistic and slightly oily, with good acidity. Find this wine
2008 Chateau Fontaine Leelanau Semi-Sweet White Riesling, $14: Medium straw color, with ripe apple, peach, mineral and just a hint of petrol; rich, round mouth feel and a little oily, with good acids and a lingering finish. Find this wine
2006 Chateau Fontaine Leelanau Pinot Noir, $16: Picked at 23.2 ° Brix and fermented on the skins for 23 days, it exudes a strange, not quite funky but not typical aromatic that seems somewhat secondary, and not necessarily appealing, at least for this taster.  It offers earthy tart cherry flavors of modest proportions, but almost seems like it's starting to oxidize.  An off bottle? Find this wine
2007 Chateau Fontaine Leelanau Pinot Noir, Unreleased: This one, unlike the last selection, was made by Shawn, using a seed extraction fermenter and Radoux tight grain medium toast oak barrels.  The pretty light ruby hue almost looks like rose, but in the mouth, the wine has more body than the color might imply, with smoky wild strawberry and cherry flavors and aromas graced with a pretty kiss of sweet oak.  With good intensity on a medium bodied frame, this is a fine example of the old axiom, "You can't judge a book by looking at its cover," or in this case, a wine by its color.   Shawn said that this wine will improve with three days open on the counter. Find this wine
2007 Chateau Fontaine Leelanau Woodland Red, 40% Cabernet Franc, 40% Cabernet Sauvignon, 12% Merlot, 8% Syrah, $28: This saw time in the seed extraction fermenter before going in barrel, more new American oak than French; all varieties were co-fermented.  It shows a creamy ruby color, still purple at the edges, and offers creamy oak over red berry and cherry flavors and aromas; Claudia added impressions of jam and black pepper.  "This wine wants a lamb chop and Bearnaise," Shawn declared.  Drink or hold. Find this wine
NV Chateau Fontaine Big Paw Red, $10: Dan describes this as "our spaghetti red," and it's made from three hybrids, Chambourcin, Chancellor and Dechaunac.  Clean, dark color, with a slightly candied red berry and cherry personality; rich and easy to quaff. Find this wine
Chateau Fontaine Cherry Wine, $8: Made from 3 "secret" varieties of Michigan cherries, and that should tell exactly what it tastes like, cherries, and there's definitely a pie spice note to it as well.  Rich, ripe, balanced and intense, it is certainly among the very best cherry wines made in Michigan.  Kim makes superb cherry wine vinegar from this that goes extremely well with vanilla ice cream, but it's very nice for sipping too! Find this wine
After tasting through the wines, Shawn concluded our most enjoyable visit by showing us through the new facility, and you can hear some of what he had to say by clicking the video link included here.
Continued from the article Tasting Leelanau
Related posts:
5 Responses to "Tasting Leelanau: Chateau Fontaine"