June 5th, 2014 |

Author:
George Heritier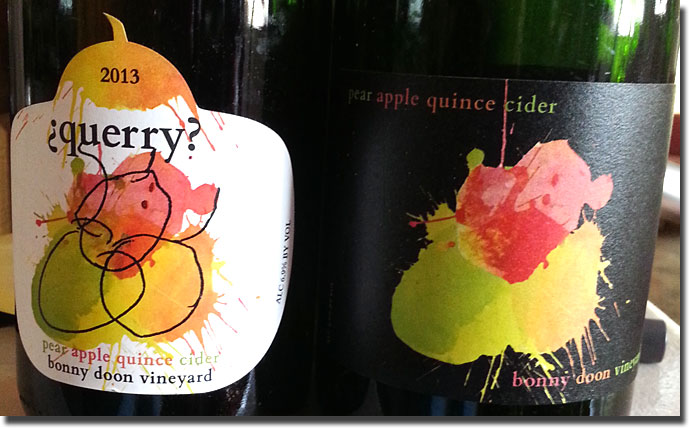 As reported last January, we were quite fond of Bonny Doon's 2011 ¿Querry? Pear Apple Quince Cider when we tried it, so when we got our hands on their new 2013 version, we were geeked to have a go at that one too. It was produced in a different manner than the previous model, as explained by Randall Grahm: "The production technique has changed slightly since the last (2011) bottling, which derived its carbonation from bottle conditioning. This time we've gone with a less labor-intensive methodology, (i.e. bottling @ 30° F. and saturating w/ CO2), enabling us to offer the new vintage at a more accessible price." The '11 was produced with secondary fermentation in bottle, à la méthode champenoise. (Click image to enlarge.)
I figured that since the 2011 is still available here in the Detroit area, it might be fun and instructive to try them side-by-side, which, as it turns out, put the '13 at something of a disadvantage.

2013 Bonny Doon ¿Querry? Pear Apple Quince Cider, 62% Pear, 36% Apple, 2% Quince, 6.9% alc., $12: A slightly deeper shade of gold than the 2011; very clean apple and pear aromas aren't exactly effusive, but what's here is quite nice. The 2011's nose is more generous, if just a bit funky in a good way. The '13 shows rich, bright, almost exotic flavors, mostly in the apple-pear spectrum, with a hint of pineapple in support, while the '11 is a bit dull in comparison, showing more quince. The effervescence in the '13 seems to diminish more quickly than I'd like or expect, but the flavors are up to the task of keeping one's attention, at least for a while; it goes totally flat within half an hour of being opened, while the '11 has lots of zip as long as there's some left.
It was pretty obvious that this particular example of '13 was an off-bottle. When I mentioned this to a Doon contact, he reminded me that the current model was produced using a different method than the '11, and didn't have quite the spritz that the previous model had, but that doesn't explain how quickly it went flat. He did send me another bottle to evaluate, and I'm pleased to report that it performed much better, holding its sparkle throughout. I hope some of this makes it here to Michigan, because I like it, but there're still bottles of the '11 on the shelves, so we'll see what happens with those first. For the record, that '11 is still drinking really well when considered on its own terms.
The makeup of the 2013 Bonny Doon ¿Querry? Pear Apple Quince Cider is as follows: Pears: Seckel, Bartlett, Forelle, Beurre Hardy; Apples: Jonagold, Golden Delicious, Gala, Autumn Greeting, Cripps Pink, McIntosh, Pink Pearl, Gala Crab, Pippin, Braeburn; Quince: Rosaceae, Pineapple. 7000 cases produced. Find this cider
Reporting from Day-twah,
geo t.
Related posts:
One Response to "A Tale of Two ¿Querrys?"