Recently, we had the good fortune to taste through 5 of the most recent releases from Troon Vineyard. We first encountered wines from this fine Oregon producer back in the summer of 2016, and with each successive group of selections they've offered for review, it's become increasingly obvious that this is a winery that is deserving of greater recognition.
The wines, three whites and two reds, are all made with Rhône varieties, and they are, without exception, delicious.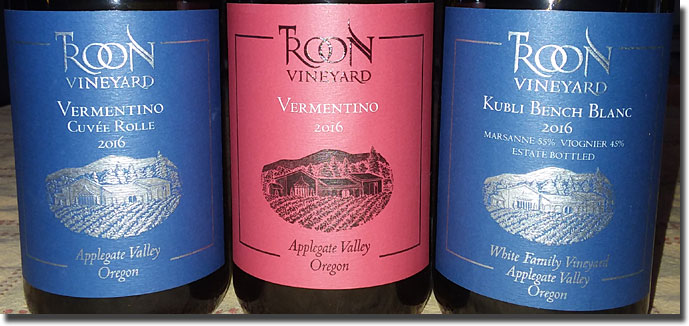 2016 Troon Red Label Vermentino Applegate Valley, 12.5% alc., SRP $15: Clean, medium color; this has an earthy quality to it that complements the apple, peach and citrus fruit nicely. Fleshy, medium-to-medium full bodied, with good density and length and active acidity. As it opens in the glass, more earthy, chalky mineral emerges, adding interest and appeal. Find this wine
2016 Troon Blue Label Vermentino Cuvée Rolle, Applegate Valley, 90% Vermentino, 10% Marsanne, 12.5% alc., SRP $20: Clean, medium color; brighter and less earthy than the Red Label, with a bit more intense citrus character, very much in the lime spectrum. No lightweight, this one; it has substance and flair. Medium-to-medium full bodied, with excellent acidity and very good length. This has a dense intensity that reminds me a little of Oregon Pinot Gris, perhaps from the weight of the Marsanne. Find this wine
Kim really likes both of these, and so do I. Here's what Troon GM Craig Camp has to say about them.

"These wines are decidedly different expressions of vermentino grown on the granitic soils of the Kubli Bench in Oregon's Applegate Valley.
"Selected from separate Kubli Bench estate blocks, the fruit for the Red Label was harvested slightly earlier, while that for the Blue Label was allowed to ripen just a bit longer. After being crushed by foot and allowed to have 24 hours of skin contact, each was pressed and native yeast fermented, the Red Label in stainless while the Blue was barrel fermented. Both were aged four months in neutral French Oak Burgundy barrels. As always, no new oak is used to age or ferment our wines.
"The 2016 Troon Red Label Vermentino, Applegate Valley is in the classic, richer, but still zesty style of Sardegna. The 2016 Troon Blue Label Vermentino, Cuvée Rolle, Applegate Valley was a co-ferment with 10% marsanne. It was named Cuvée Rolle (rolle is the name for vermentino in French) as the inspiration for this co-ferment comes from the richer rolle blends of the Languedoc in Southern France. As an interesting side note, there is actually more vermentino planted in France than in Italy."
2016 Troon Kubli Bench Blanc, Estate Bottled Applegate Valley, 55% Marsanne, 45% Viognier, 12.5% alc., SRP $25: This looks like one of those "orange wines," with its distinctly amber tine; stingy on the nose, but more generous on the palate, it shows characteristics of both its Marsanne and Viognier components. It may look the part, but it doesn't come off as "orange," like the Troon we reviewed some months ago. It almost seems low in acidity at first, but that may have more to do with the smooth texture, because by the 3rd sip, it obviously has enough "nervosity" to keep things moving along nicely. Nice white peach and red apple flavors are underscored with some mineral and just a hint o' bitter, making for a harmonious white, or rosé, or orange, or whatever you want to call it. On day 2, an appealing perfumed floral nose emerges. It never made it to Day 3. Find this wine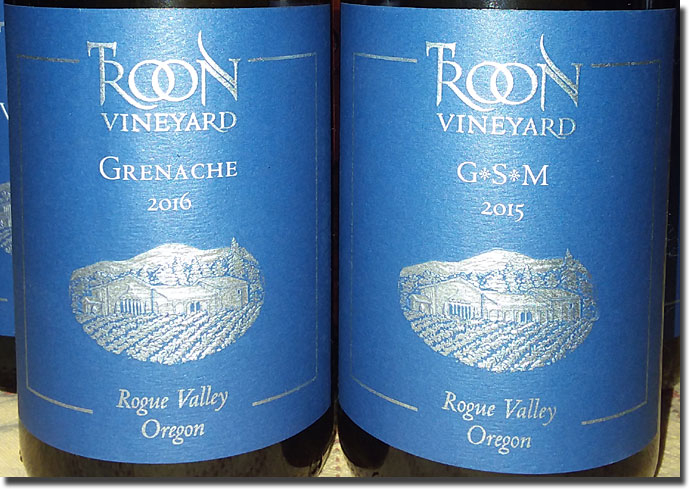 2016 Troon Blue Label Grenache Rogue Valley, 14.8% alc., SRP $25: Clean, garnet color; not a dense, dark color, but not a light Gamay-Pinot Noir color either. Earthy cherry berry aromas lead to delicious flavors of earthy black and red plums and black cherries. A bigger wine than the color might indicate, and structured for 5-8 years in the cellar. The beautiful fruit is constrained somewhat by significant tannins right now, so give it some time in a decanter if you're going to open one soon. Kim nails it when she exclaims, "That's yummy!" Find this wine
2015 Troon Blue Label G*S*M Rogue Valley, 39.66% Syrah, 31.61% Mourvedre, 16.06% Grenache, 12.67% Sangiovese, 13.5% alc., SRP $25: Clean garnet color, with expressive red and black plum, berry and cherry aromas that follow through on the palate, where the cherry character comes to the fore. Some earthy undertones and good structure can't hide the fruit bowl character here; it's not a burly bruiser like these can sometimes be, but rather a really enjoyable, well-balanced red structured for at least 3-5 years of development. A great match for a variety of foods, including grilled red meats, pasta with a red sauce, and even a good black bean veggie burger.  Yummy stuff! Find this wine
There have been some changes at Troon in the last several months. In October, it was announced that Dr. Bryan and Denise White had purchased the operation from founder Dick Troon, and last month, we got a sneak peek at a spiffy new Bandol-inspired label, which will begin appearing on new releases in May of this year. Happily, however, General Manager Craig Camp, Winemaker Steve Hall and their staff have maintained an uncompromising vision that has resulted in wines that keep getting better and better every time we taste them. Needless to say, we'll be watching (and tasting) their progress closely as time passes. If you haven't tasted anything from Troon yet, any one of these five would be a great place to start.
Reporting from Day-twah,
Bastardo
Save
Save
Save
Save
Save
Save
Related posts: