June 7th, 2013 |

Author:
George Heritier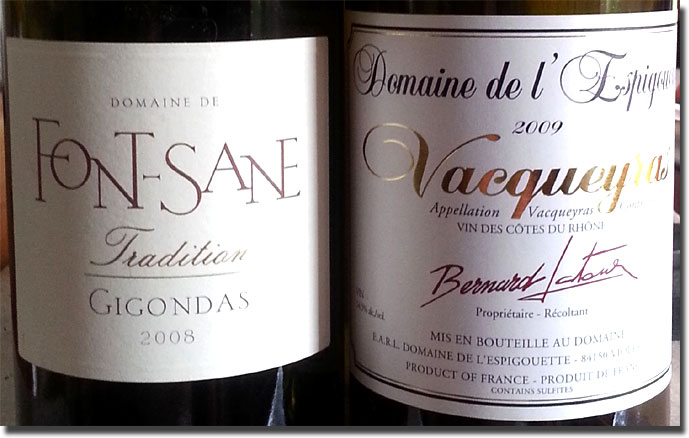 After an improbable playoff run that went further into the second round than many thought possible, my Detroit Red Wings finally came up short and now have lots of time for golf and other extracurricular activities. The boys gave the Chicago Black Hawks everything they had, and acquitted themselves admirably, but, in the end they're still on the outside looking in. We drank some delicious red Rhône mojo during the conference semi-finals, and I will file reports on them, but first, I need to finish my reports on Round One, which I have been woefully remiss in doing, due to a number of musical projects and distractions.
We enjoyed four southern Rhônes from producers with whom we are very familiar, having had several selections from each in past years. All more than live up to the high standards set by their predecessors, and are highly recommended by this taster. Here are my impressions of each.
2008 Domaine de Font-Sane Gigondas Tradition, 72% Grenache, 23% Syrah, 3% Mourvedre, 2% Cinsault, 15% alc., $22.99: Clean, dark garnet color; nice leathery black fruit nose fleshes out on the palate with earth, saddle leather and slightly pruney black fruit flavors. Full bodied and still well-structured for at least 3-5 years of further development, and perhaps as many as 10 strong years of enjoyable drinking. Domaine de Font-Sane is always a solid producer. Find this wine
Imported by AHD Vintners, Ltd., Warren, MI
2009 Domaine de l'Espigouette Vacqueyras, 14.5 % alc., $21.99: Deep, dark garnet color, and tight and primary in character, even after having been opened for a few hours. Full bodied and very well-structured, with lots of depth and substance; earth, iron and somewhat hard black plum, currant and berry gains a subtle note of leather with extended air. Give it plenty of air if you're going to open one now, but this one's best days are well ahead; a 10-year wine and then some. Find this wine
Imported by J et R Selections, Bloomfield Hills, MI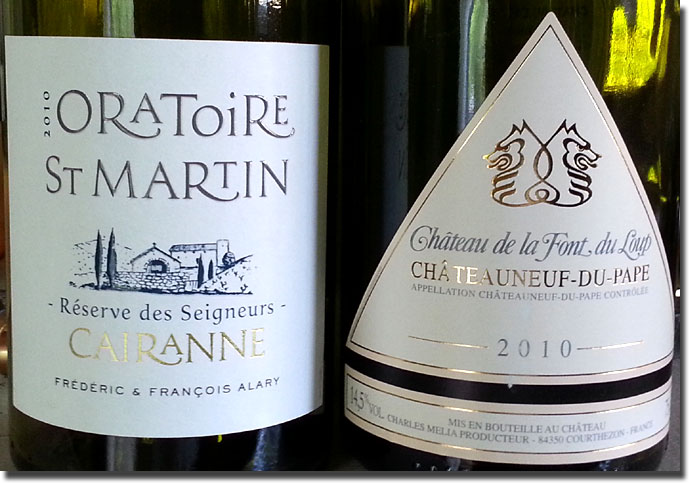 2010 Domaine de l'Oratoire St. Martin Côtes du Rhône Villages Cairanne Réserve des Seigneurs, 14.5% alc., $21.99: Deep, dark color, almost inky; appealing black plum and berry nose carries over onto the palate, where, as with the first two selections noted here, it also shows an appealing note of leather. Big and brawny, this wants 5-10 more years to develop, but it's approachable now with a couple of hours in a decanter. I've never had anything from this producer that wasn't very good, and this is no exception. Find this wine
Imported by J et R Selections, Bloomfield Hills, MI
2010 Chateau de la Font du Loup Chateauneuf-du-Pape, 14.5% alc., $48.99: Anne Charlotte Bachas usually likes her wines to be enjoyable in their youth, and while this one needs time to be at its best, it provides great red Rhône mojo in an overtime win for the Red Wings. Clean, dark color, with big black plum, blackberry, earth, iron, briar and bramble character; full bodied, with excellent structure, yet relatively svelte for Chateauneuf-du-Pape. Give this one at least a few more years in the cellar for it to give you everything it has. Find this wine
Imported by AHD Vintners, Ltd., Warren, MI
Reporting from Day-twah,
geo t.
Related posts:
One Response to "More Playoffs Red Wings and Red Rhônes 2013"