Archive for the George Heritier Category
When I purchased the 2011 Caves Saint-Pierre Vacqueyras that I reported on in my last blog entry, I had actually opted to try the least expensive of four wines from Caves Saint-Pierre that are available at our friendly neighborhood Trader Joe's. Having enjoyed that selection, I decided the other three were probably worth trying as well, so I picked them up during my next two shopping trips. While they varied some in quality, all three provided solid red Rhône mojo for my beloved Detroit Red Wings late season surge that has seen them clinch a 23rd straight berth in the NHL Stanley Cup Playoffs, despite a rash of injuries throughout the campaign that would leave lesser teams mired in the cellar with nothing but bitter wine.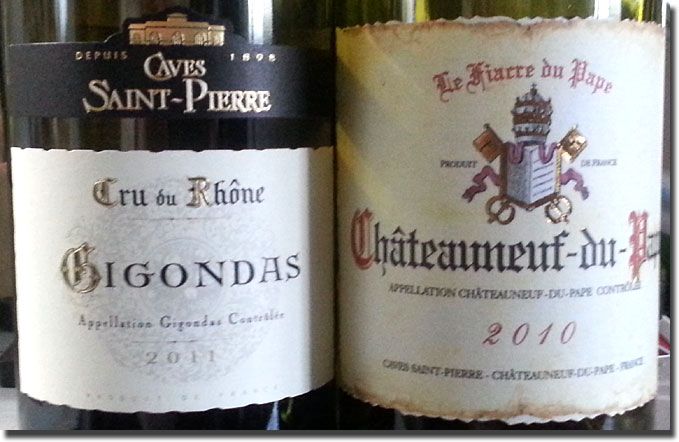 Read the rest of this entry »

I happened upon a couple of bottles of Vacqueyras of the good QPR (quality-price-ratio) variety in the last few weeks, from unlikely sources, no less. This link takes you to what may or may not be our very first report on the wines from this southern Rhône appellation, posted back in about '97 or '98; whatever the case, it demonstrates that we've been fans for a quite a while now. Unfortunately, many of the bottlings we loved so much back then have seen gradual price hikes over the years, so we don't buy them as often as we used to; Domaine le Sang des Cailloux comes to mind right away. These two new ones are by no means among the best Vacqueyras we've had, but they certainly are solid, well-made wines at reasonable prices that we'll be happy to drink now and over the next several years.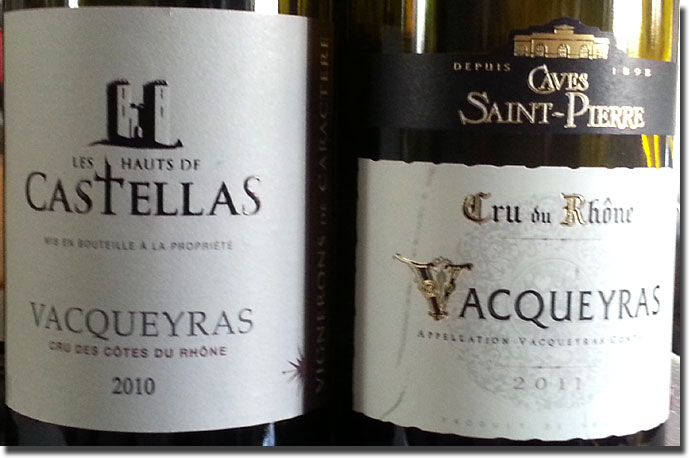 Read the rest of this entry »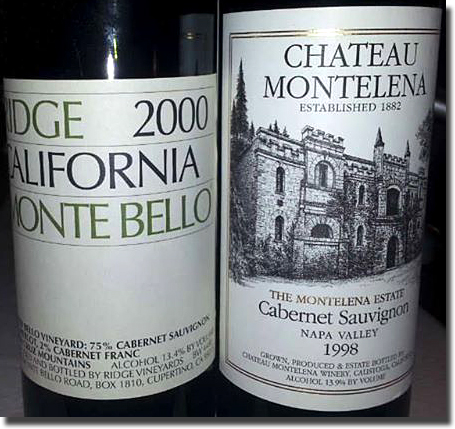 After having such a fine time at dinner with Anne Charlotte Melia-Bachas of Chateauneuf du Pape producer Chateau de la Font du Loup and AHD Vintners Sales Rep Extraordinaire Michelle DeHayes last September, Kim promised to cook the next time Anne Charlotte came to town. That turned out to be in early February, and, true to her word, Kim put together a terrific spread for our noshing and dining pleasure. Besides Anne Charlotte and Michelle, we were also joined by AHD head honcho Chip Delsener and Matt Jammes of Domaine Sarrail.
We decided that it might be fun to introduce our French guests to a couple of the best wines from California, and given that Niman Ranch flat iron steak with cannellini beans and red wine sauce was on the menu, the obvious choices were Cabernet-based. I figured it would be hard to come up with anything better than selections from Chateau Montelena and Ridge Vineyards, so that's what we went with. But first, Michelle got us started with a delicious Champagne.
Read the rest of this entry »

As was the case with the wines from Tablas Creek we reported on last week, we took our time getting around trying the three latest samples we received from the fine folks at Cornerstone Cellars of Napa Valley. The Stepping Stone Cabernet Franc had already been resting comfortably in our cellar waiting for a tasting opportunity when we took possession of the two Cornerstone Cabernet Sauvignons, which in turn spent several weeks down there as well. The reason for this is pretty simple, really; we don't eat much meat at all these days, and I wanted to pair them with a good cut of grass-fed beef, as we will not purchase products from the horrid factory farms that provide most of the meats found in markets and grocery stores these days. We finally got what we wanted from C. Roy Meats, one of the best natural, organic, grass-fed beef producers in Michigan, and the next evening, we sat down to dinner with the two Cornerstones.
Read the rest of this entry »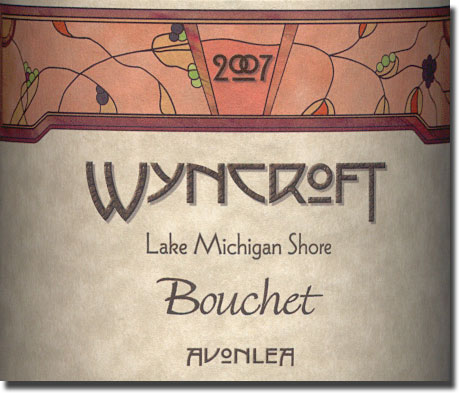 I find it quite interesting to compare my current notes on this wine to those of two years ago when we first tasted it with Wyncroft owner-winemaker Jim Lester. At that time, he told us that he had intended to make "a Joguet Chinon-styled Cabernet Franc," and it was clear that he had succeeded. Since then, the wine seems to have put on some weight, and what Jim described as a "Chianti-like cedar character" from spending 30 months in a one-year old Bordeaux barrel, has become even more accentuated. Mr. Lester left a bottle with us, and we managed to keep our hands off until just recently, when I decided to pull the cork and taste how this is coming along.
2007 Wyncroft Lake Michigan Shore Bouchet Avonlea, 13% alc.: Clean, dark color, with a lovely, perfumed nose that has a shade of something like rock 'n rye or root beer that adds a nice touch to the rich, earthy black fruit; the flavors echo and expand beautifully on a full bodied frame, with some cedar and saddle leather accents. This is structured for several more years of development, and it has a density and character that more than holds it own to the 2012 Bonny Doon Clos de Gilroy that we reported on previously and enjoyed on the same occasion. Hands down the best Michigan Cabernet Franc we've had to date, and a great example to support the argument that it is indeed possible to make world class reds in the Mitten State. (I added the following "Find this wine" link because that's what we do here, but in truth, with only one barrel having been made, chances are slim there's any out there to be found. Still, just in case some magically appears…) Find this wine
On a final note, I love those old label shots like the one above that we used to create. I wish we could have saved that old scanner that we used, because the new one just doesn't come close to that kind of image quality for this specific purpose. We actually find our "borrowed" labels from the old scanner on other wine sites fairly regularly. I suppose we should take this a compliment of sorts. Instead, we contact the appropriate webmasters and politely ask them to take our content down or provide attribution.
Reporting from Day-twah,
geo t.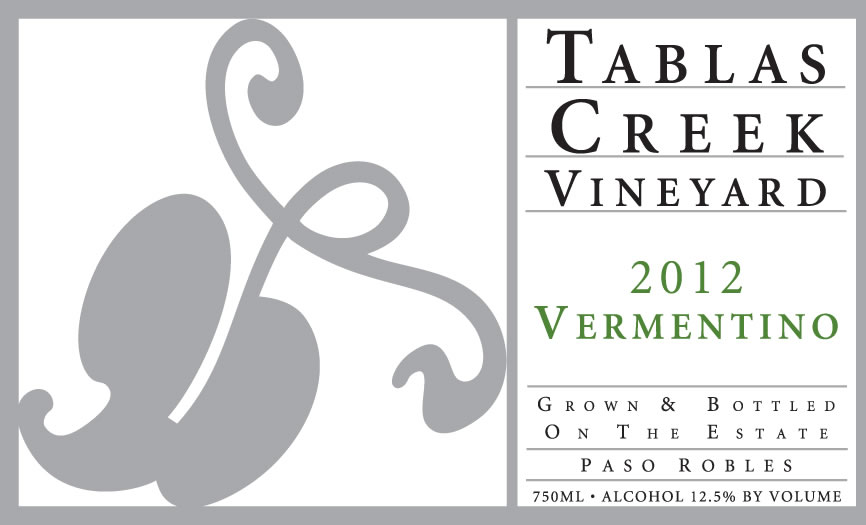 So we got this box of five wines for review from Tablas Creek Vineyard in late autumn, but one of them had been broken en route. Arrangements were made to have a replacement sent, so we put the other four down in the cellar from heck to rest up after their ride across country. When the replacement arrived, we put that one down to rest as well. We really took our time getting around to trying this latest batch, and instead, we started off with two that were left over from a previous shipment late last spring. (That was the one that included the two fine rosés we reported on at that time.) Don't ask me how it happened that we never got around to trying them when they came, we just didn't. Anyway, we finally made it through all SEVEN bottles more than two months after we received that box of five with one broken bottle, and I'm happy to report that everything was in order and that they were all of the kind of high quality that we've come to expect from one of our very favorite producers. Here are my impressions, listed in the order they were tasted.
2012 Tablas Creek Paso Robles Vermentino, 100% Vermentino, 12.5% Alc., $27 SRP: Clean, medium color; crisp and refreshing, with nice lime citrus, green apple and mineral intensity. Medium bodied and more, with excellent acids and good length. Vermentino is one of those quintessential seafood wines, and this is a beautiful match for Kim's grilled Ahi tuna and pesto shrimp. (I'm intrigued by the recommendation to pair this with Cream of Grilled Asparagus Soup at the link above.) The grapes were whole cluster pressed, and fermented using native yeasts in stainless steel. 1300 Cases Produced. Find this wine
Read the rest of this entry »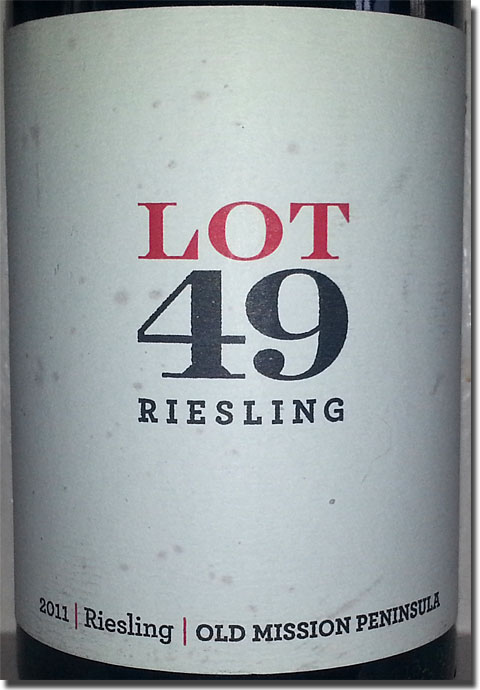 It's been a tough season so far for my Detroit Red Wings. Injuries have plagued the team, and they've had trouble scoring goals in the numbers we've become accustomed to over the past 20+ campaigns. As I write this entry, the Wings are fighting for the final playoff spot in the Eastern Conference, an unthinkable situation just a few years ago. During one recent dry spell, when my red Rhône mojo just didn't seem to be working, I decided to switch and see what some good Michigan Riesling could do for the boys. I'd been looking for the right opportunity to open this wine for several months, and I finally just said, "What the puck." As it turns out, I made a good choice on two counts.
2011 Chateau Grand Traverse Old Mission Peninsula Riesling Lot 49, $12.7% alc., $19.97: Clean, medium color, with mineral-laced green apple and quince flavors and aromas and a rich core of Riesling fruit. Decidedly dry, but not bone dry; medium bodied, with ample acids and good length. I drank half the bottle that night, and finished it the next. On the second evening, the wine takes on a subtle note of apricot and just starts to hint at some petrol. This is drier than CGT's Whole Cluster bottling, with more depth, intensity and aging potential. It's a special single vineyard block bottling of Alsace Clone #49 Riesling from winery's Bailiwick Vineyard, made in a "hands-off" manner. Find this wine
The good news is that, not only is this an excellent example of just how good Michigan Riesling gets, but the Wings won their game that night too!
Reporting from Day-twah,
geo t.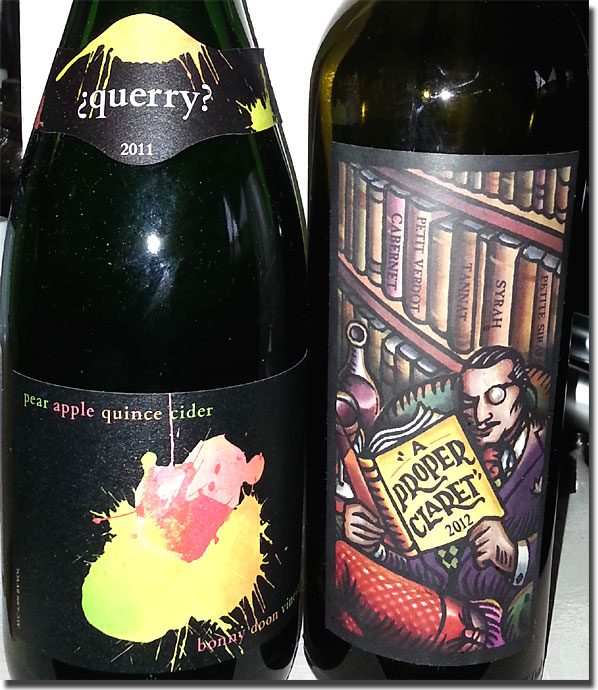 Good things do eventually make their way to the far flung bastions of civilization here in the outer provinces, and, happily, those include many of the offerings from Bonny Doon Vineyards. You can always count on Randall Grahm and crew to come up with something new and interesting, if not downright off-the-wall. We reported on a brilliant Sparkling Albariño last spring, and in this latest group we tried, we were intrigued to find a sparkling cider. That was followed up a few weeks later with another surprise, a mostly Bordeaux blend, composed predominantly of (gasp) Cabernet Sauvignon, never one of Grahm's preferred varieties!
We also tried some of Doon's more usual efforts, and as is almost always the case, we were mucho impressed. I'll start this report with our impressions of the cider and "claret."
2011 Bonny Doon Querry? Pear Apple Quince Cider, 58% pear, 33% apple, 9% quince, 6.9% alc., $14 SRP: Rich, golden color, with a fine, active bead and refreshing effervescence in the mouth. All three fruit components are all recognizable in the flavor profile, but there is a seamless quality to it as well. The percentage of pear in the blend makes this a little less pungent and intense than might probably be the case with a more apple-driven cider, but I like a good perry, so that's fine by me. This one is tons of fun, and I've tried it twice now. Naturally fermented with indigenous yeast and secondarily fermented en bouteille à la méthode champenoise. Pears: Bartlett, Seckel; apples: Pink Pearl, Macintosh, Pippin, Crabs (variety unknown); Pineapple and other unnamed quince. Find this wine
Read the rest of this entry »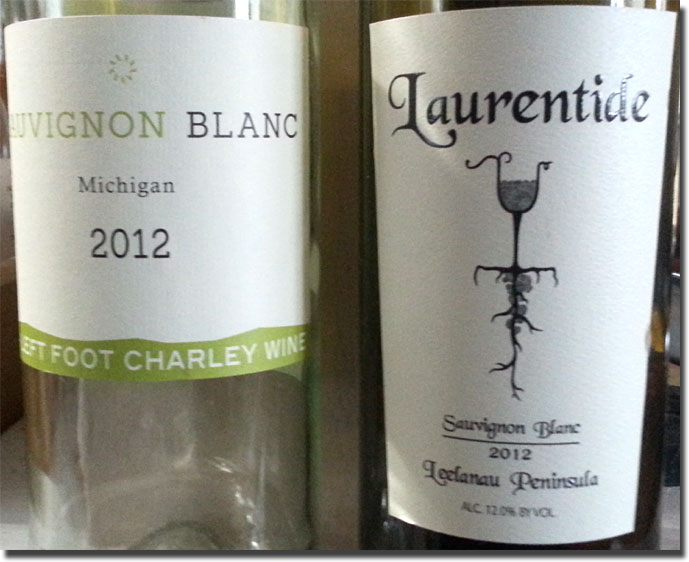 Last April, Kim and I drove up to Traverse City to attend the Leelanau Peninsula Vintners Association Media Weekend. After checking into our hotel, we did what we do whenever we go to TC, and booked straight over to Left Foot Charley Winery and Tasting Room. It's right in town, we don't have to drive to either the Old Mission or Leelanau Peninsulas, and we know we're going to taste some of the best wines in Michigan. As luck would have it on this occasion, owner/winemaker Bryan Ulbrich was in the house; he took us back into the production area, and gave us a taste of several tank and barrel samples. Everything was at least good (some parcels were meant for blending, rather that standing alone, so while not shining on their own, they would make important contributions to their intended greater whole), and then there were things like the then-yet-to-be-bottled 2012 LFC Pinot Blanc, which we could already tell was quite yummy. One of the most intriguing samples that Bryan poured us was a 2012 Sauvignon Blanc, one of the first from Michigan we'd ever tasted as far as I can remember, but as it turned out, by no means the first that has been produced. (I say as far as I can remember, because some years back, Kim and I sat on Joel Goldberg's Michwine.com tasting panel, and I seem to vaguely recall that we tried one or two back then, but I have no notes to verify that.)
The next day, during the LPVA Media Loop Tour, we stopped into the tasting room of one of the newest Leelanau producers, Laurentide, and we got a taste of another Michigan Sauvignon, this one grown right there on French Road, and made by our friend Shannon Walters. That one was from the 2011 vintage, and it caught the attention of everyone in our group. So, the variety was making inroads in the Grand Traverse Bay region, not unlike the upstart plantings of Gruner Veltliner at Chateau Grand Traverse and Chateau Fontaine that we've reported on previously.
Read the rest of this entry »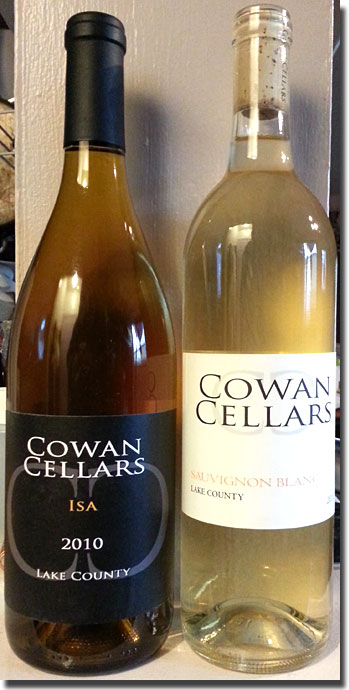 Gang of Pour was created back in 1997 as an offshoot of our involvement in the internet wine community, on such forums as those operated by Wine Spectator, Robin Garr, Brad Harrington and others. Over the years, we got to know many people virtually through said forums, and got to meet many of them in person through "offlines," tasting gatherings in various parts of the US and Canada. Several of the people we met have contributed to Gang of Pour over the years, and one gentleman who still does is "Florida Jim" Cowan. We first met Jim in person back in 2001, during a road trip to North Carolina, and have met up with him on several other occasions since. We found him to be every bit as charming and gracious as his online persona; here's what I said about Jim when we welcomed him as a contributor to our pages in 2010.
It's no exaggeration to describe "Florida" Jim Cowan as one of the most respected and admired commentators in the online wine community. A true gentleman, Jim is the consummate voice of reason, with a common sense view of all things wine-related that resonates strongly with his many friends and readers.
Jim is more than just a commentator, though; he caught the winemaking bug after working in the vineyards and wineries with Russell Bevan, of Bevan Cellars, and Steve Edmunds, of Edmund St. John, during the fall of both 2006 and 2007. He made his first wine in 2007 and has been making wine every year since then, establishing his Cowan Cellars with his wife, Diane Arthur. We first tasted one of Jim's wines in 2009, and while it received mixed reception among the rednecks we drank it with, this taster was most impressed.
A few months ago, Kim and I decided that it was high time to see how Cowan Cellars was coming along, so we ordered up a case. Kim wanted to throw a dinner party featuring some of the wines, and I thought it would be fun to try the two Sauvignon Blancs, the Pinot Noir and the Syrah. In his own words, Jim makes "wines that accompany food well, which is very important because I also love the food that my lovely wife, Diane, prepares for our daily meals – usually vegetarian, and always light yet flavorful." In that regard, Kim contacted Diane and set her menu based on some of her suggestions. We invited three of our best friends in the wine biz to join us, Rebecca Poling, Michelle DeHayes and Anne Keller Klump. We got things started with a very fine Left Coast sparkler that Rebecca brought over.
Read the rest of this entry »