January 5th, 2016 |

Author:
George Heritier
Our wine fridge in the basement died a while back, so I spent some time a few weeks ago transferring the bottles from it into our passive Cellar From Hell. I had to move some things around to make everything fit, which is a good problem to have in this case, because it occurred to me that what had been a somewhat depleted collection a few years ago has become fairly substantial once again. Perhaps most surprising is that there's a good deal of Chardonnay down there now, which was never the case before, and it ain't from California, baby, it's all from the Chablis and Maconnais wine regions. Nothing "high end" (except for that one Raveneau), just solid and damned tasty stuff. We can live with that.
I've already blogged about the Collovray & Terrier Mâcon-Villages Tradition, Domaine de Roally Macon Vire-Clesse and Laroche and Picq Chablis, all of which are now well represented in our stash. In the past few months, the following three selections have also been very well received here at Gang Central.
I know that we've enjoyed previous vintages of this next wine at our good friend Anne Keller-Klump's house; it's out of the Vineyard Brands portfolio that she represents here in Michigan. This is the first time I've taken notes, though, and I'm glad I did, because it's a keeper. (Click images to enlarge.)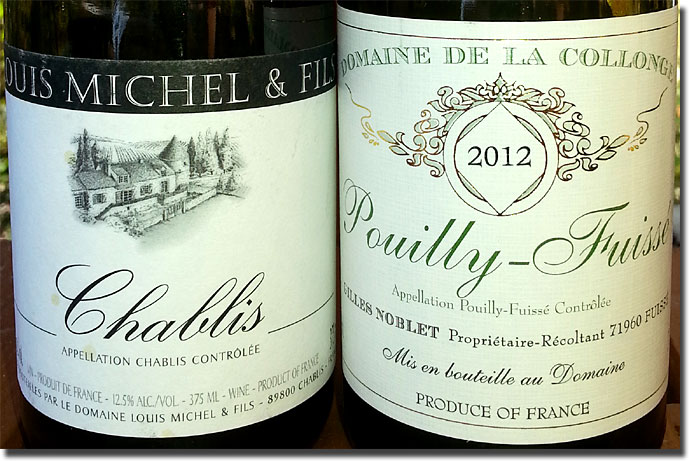 2012 Domaine Louis Michel & Fils Chablis, 375ml, 12.5% alc., $14.99: Clean, medium color, with a chalky mineral nose that follows through on the palate over a nice core of bees wax and golden delicious apple. I really like the almost funky character going on here; the wine is dense, not quite oily and has plenty of acids and good length. Fans of your typical California Chardonnay might not care for it, but I like it a lot. Tasted twice with consistent impressions. Find this wine
Imported by Vineyard Brands, Birmingham, AL
I've never drunk much Pouilly-Fuisse, and the only reason I can come up with is the fact that it was so fashionable back in the '80s, I guess I developed something of an aversion to it for that reason alone. Not a good reason, in hindsight, and I can tell you that, based on this next one, I'll certainly be checking more of them out.

2012 Gilles Noblet Domaine de la Collonge Pouilly-Fuisse, 375ml, 13% alc., $15.99: Medium straw color; rich and intense, with a slightly chalky note and an almost steely quality to go with the green apple, citrus and mineral flavors and aromas. Medium-full bodied, with excellent acidity and very good length. Really nice, but $19.99 nice?! It was reduced to $15.99 and I like that price a lot better. Tasted twice with consistent impressions. Find this wine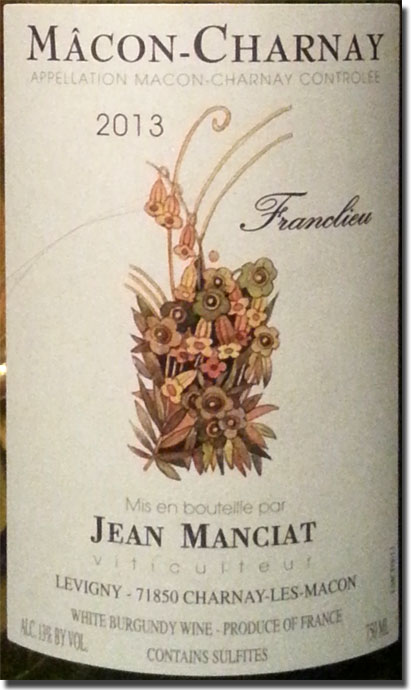 Finally, here are our impressions of a new vintage of an old friend.
2013 Jean Manciat Mâcon-Charnay Franclieu, 13% alc., $18.99: Pale gold color, and like the Domaine de Roally, another lovely example of that consistent house style from Jean Manciat with this bottling, with attractive apple/pear flavors and aromas, more in the yellow spectrum than the green, and graced with pretty floral overtones and nice mineral shading. Rich, fairly ripe and intense; full bodied, with plenty of lemon squirt acidity and good length on the finish. There are very few California Chardonnays that offer the kind of pleasurable drinking that this does on a regular basis, in my not-so-humble opinion. Find this wine
A Louis/Dressner Selections, Imported by LDM Wines, Inc., New York, NY
Imported by Michael Corso Selections, Oak Park, IL
Reporting from Day-twah,
Bastardo
Related posts: