April 2nd, 2013 |

Author:
George Heritier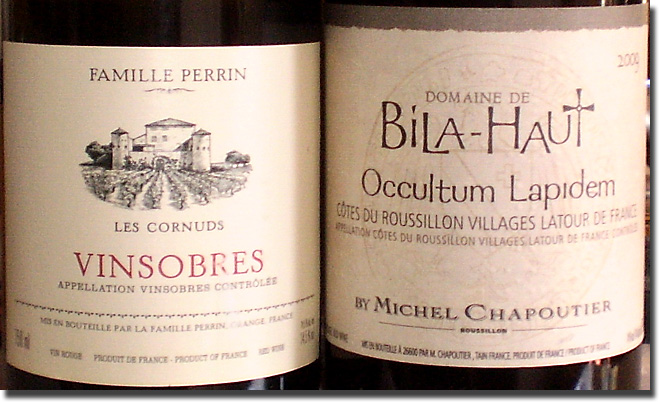 The Red Wings and Red Rhônes revival continued this past week, when the boys wearing the winged wheel on their jerseys returned to the west coast for a four game swing. These two wines paired well with consecutive wins over the Anaheim Ducks and Phoenix Coyotes.
I've never been a big fan of the wines of M. Chapoutier. Some I've tried have been very good, and more have been not so great. The Bila-Haut bottlings I've had in the past have been decent, however, so there didn't seem to be too much risk involved with trying this one, especially at the Costco price.

2009 M. Chapoutier Domaine De Bila-Haut Occultum Lapidem, 14% alc., $14.99: Showing clean, dark color, with earth, smoke and iron over dark plum and berry in both flavors and aromas, and very pleasingly so, I might add. The fruit and earthy characteristics play off each other very nicely. Full-bodied, and structured for at least three-to-five years of further development, perhaps more. Not a "great" wine, but certainly an enjoyable one, and priced fairly, all things considered. A blend of Syrah, Grenache and Carignan.
From the HB Wine Merchants web site: "The Domaine is located in the commune of Latour-de-France…just about as close as you can be to Spain, but still be located in France, with a great deal of history related to the Nights (sic) Templar, and the Cathar movement, hence the T in the title of the Domaine shaped like the Nights (sic) Templar Cross." Find this wine
Imported by HB Wine Merchants, New York, NY
We've been fans of Perrin family wines for years, from their iconic Chateau de Beaucastel Châteauneuf-du-Pape right down to the everyday La Vieille Ferme lineup. We've enjoyed previous vintages of the Les Cornuds, so, this was a no-brainer, again, especially at the Costco price.
2010 Famille Perrin Vinsobres Les Cornuds, 14.5% alc., $16.99: Not quite inky in color; the earthy black fruit-hint-of- iodine nose follows through on the palate, gaining a pleasant leathery note with air. This is a fairly brawny wine, full-bodied and structured for several years of cellaring. I can't help but scratch my head when reading some review that say this is good to go now, because, to me, it really needs some time in the cellar. It has all the goods to be a solid red Rhône, but I'd lay it down for three-to-five years to see how it's developing. I think it should be good for eight-to-ten and beyond, so I recommend patience.
From the Vineyard Brands tech sheet: "The most northern vineyard of the Southern Rhône. The Perrin family owns around 60 hectares in one single plot in Vinsobres. The average altitude is 300 metres on hills and terraces. Stony and sandy marl on the slopes, stony quaternary alluviums on the terraces. The entire harvest is destemmed. Syrah is vinified in wooden truncated tanks that are punched down and pumped over. The Grenache is vinified in stainless steel tanks. The Syrah is partly aged in one year old oak barrels. Blending takes place after malolactic fermentation and the wines age for a least 6 months before being released." Find this wine
Imported by Vineyard Brands, Inc., Birmingham, AL
It's great fun doing the Red Wings and Red Rhônes thing again, and as in days of yore, I like to think that I'm doing my small part for the team by uncorking some red Rhône mojo. I'm looking forward to seeing what else I can find to contribute to the cause…
Reporting from Day-twah,
geo t.
Related posts:
One Response to "More Red Wings and Red Rhônes 2013"