August 20th, 2013 |

Author:
George Heritier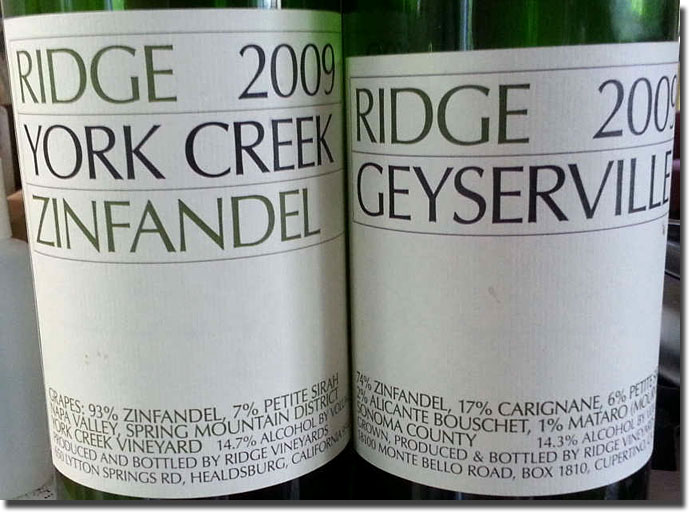 I wrote a song in 2011 that's on my CD, "In My Element," called "I'm Getting' Squirrilly in My Old Age," and the last verse pays homage to two of my very favorite California wine producers:
"These days I'm happy just to get along
All I want to do is write and swim and sing my song
I got no ambition beyond fishin' for that next new tune
And sippin' on some tasty wine from Mr. Ridge and Bonny Doon."
In the past few months, we've had two wines each from Mr. Ridge and Bonny Doon, and my notes are presented here in the order of their mention in the song. During a recent visit from our colleague-in-crime, Alan Kerr aka Canadian Zinfan, I put him on notice that I had a nice '09 Geyserville with his name on it, and he reciprocated with a York Creek Zin from the same vintage. Both were delightful with Australian lamb-sickles.

2009 Ridge Napa Zinfandel Spring Mountain York Creek, 93% Zinfandel, 7% Petite Sirah, 15.3% alc.: Clean, dark garnet, almost opaque; it exudes a pretty sweet oak Draper perfume that fleshes out in the mouth to deliver svelte ripe black raspberry and blackberry, shaded with some subtle earth and lavender. 10 minutes in the glass does wonders for this, and it's so interesting, considering the '95 I tasted in June. It's great now, and promises many years of good drinking and development down the road. Find this wine
2009 Ridge Geyserville Sonoma County, 74% Zinfandel, 17% Carignane, 6% Petite Sirah, 2% Alicante Bouschet, 1% Mataro (Mourvedre), 14.3% alc.: Deep, dark garnet in color, and deeper, darker and more earthy than the York Creek, with a boatload of a rich black berries and plums at its core. Full bodied and structured for 10-15 years and beyond in the cellar. This is classic Geezer, as you might expect, and a more substantial wine than the York Creek. I want to try this again and again for as long as I'm around and can get my hands on some. Find this wine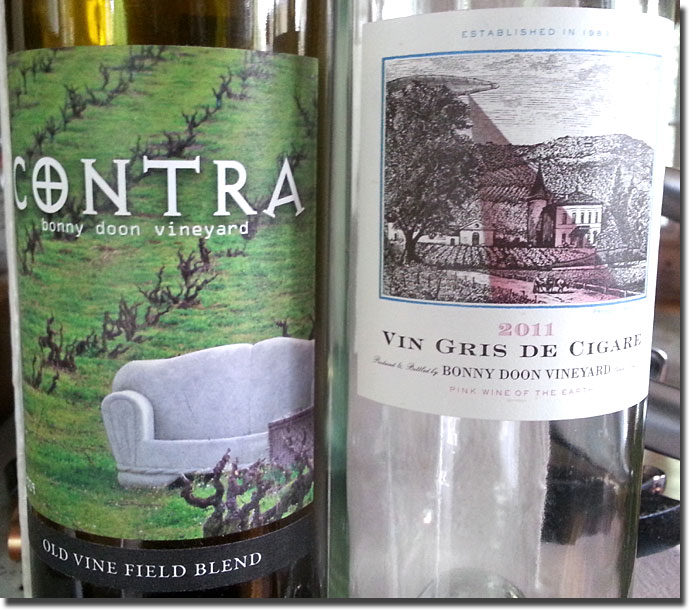 The two from Randall Grahm were enjoyed in the very early summer, and more than lived up to the last batch we tasted through last spring.
2011 Bonny Doon Vineyard Vin Gris de Cigare Central Coast, 73% Grenache, 10% Mourvedre, 8% Grenache Blanc, 5% Roussanne, 4% Cinsault, 13.5% alc., $16.99: A lovely, harmonious rosé, with salmon-peach pink color that belies the depth and intensity of flavor here; it has a nice earthy quality to it, and even a hint of the barnyard, but otherwise, it's hard to describe with the usual "strawberry-watermelon" clichés, because they just don't apply here. As with so many of Randall's wines, this more resembles its European counterparts than something from the Left Coast; I'm thinking Provence. Medium-to-medium-full bodied, with good acids and length, this makes a great match for grilled, medium rare elk burgers (you read that right, elk burgers). I like this one as well as, if not better than any of the rosés we reviewed in June. Find this wine
2010 Bonny Doon Vineyard Contra Old Vine Field Blend Contra Costa County, 13.5% alc., $16.99: This one is especially interesting in comparison to the quintessential field blend, Ridge Geyserville; it's full bodied, not too ripe and very well balanced. It shows clean dark color, and offers flavors and aromas of black raspberry, blackberry and black currants, all with nice earthy undertones. It's drinking great now, and while there's no reason to hold on to it for too long, it has the structure to age and even benefit from a year or three in the cellar. No California fruit bomb this, and that's just fine with me, because I could drink it on a regular basis. A blend of Zinfandel, Petite Sirah and Syrah. Find this wine
Reporting from Day-twah,
geo t.
Related posts: