September 12th, 2016 |

Author:
George Heritier
I happened upon these two little delights a few weeks ago whilst strolling through Plum Market to pick up some victuals for the holiday weekend. We'd not had either previously, but the prices are very pocketbook friendly, and you pretty much can't go wrong with wines from either importer. Happily, they proved to be just the kind of Chardonnay we like to drink here at Gang Central.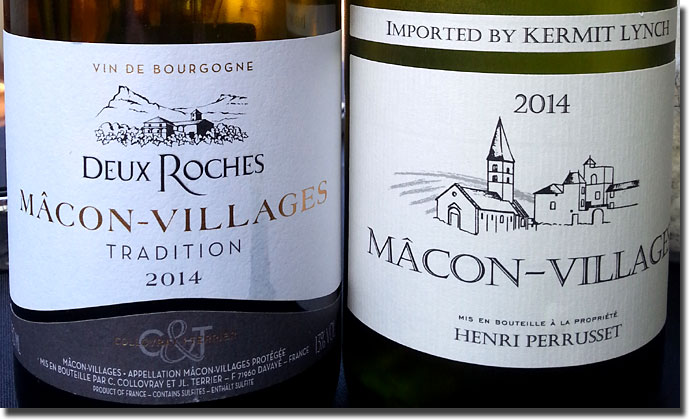 2014 Henri Perrusset Mâcon-Villages, 12.5% alc., $15.99: Clean, medium straw in color; the mineral and beeswax aromatics echo on the palate, gaining green apple and wet stone, being almost funky, and that's a good thing. I love the wet stone, as it really sets the tone to the character of the wine. Full bodied, with balanced acids and nice length. Best of all, it offers terrific QPR (quality-price ratio) at this price. Find this wine
Imported by Kermit lynch
2014 Collovray & Terrier Domaine des Deux Roches Mâcon-Villages Tradition, 13% alc., $13.99: Quite different from the Collovray & Terrier Mâcon-Villages Tradition I reported on last year, this shows a clean pale-to-medium straw color, with more than a hint of burnt matchstick on the nose that follows through on the palate, with a solid core of green apple and pear fruit laced with underlying minerality. Full bodied, with excellent acids and good length; a little richer than the Perrusset, with a bit of a citrus-like zing to it, and like the previous selection, it offers terrific QPR. Find this wine
Imported by AHD Vintners, Ltd., Warren, MI
We like these both a lot, and you can bet your sweet bippy that we'll be going back for more of both. No fat ass low acid California Chardonnay for these Gangsters.
Reporting from Day-twah,
Bastardo
Related posts: