May 23rd, 2012 |

Author:
George Heritier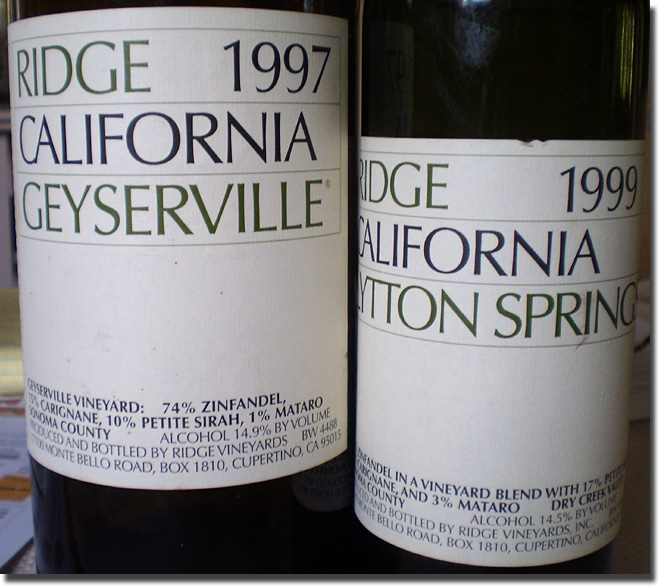 Master Sommelier Robert Jones came to Day-twah recently to promote the wines of Kysela Pere et Fils, LTD, for which he serves as National Sales Manager. Robert and I go back some years, and in that time, he's noticed that we have a special place in our hearts for the wines of Ridge Vineyards, a passion which he shares. He contacted me in advance of his visit, wondering if we'd care to share a magnum of '97 Ridge Geyserville that he'd been cellaring for some years, and of course, we responded enthusiastically to the affirmative. We convened at Gang Central for Mr. Ridge and lamb-sickles on the grill, and we were joined by Rebecca Poling. We started things off with the last bottle of an old friend that had been resting comfortably in the Cellar from Heck.
2004 Luneau-Papin Muscadet Sèvre & Maine Sur Lie Le L d'Or, 12% alc., $18.70: Despite its relative youthfulness (it gives the impression that it will continue to develop and give pleasure for many years), this clean, medium colored beauty is drinking very well right now, with the typical chalky wet stone minerality that one expects, along with a nice core of under-ripe apple and quince; Robert adds an impression of anise-seed-licorice on the nose. Medium bodied, with the requisite acidity and very nice length; sure wish we had a few more of these… Find this wine
1997 Ridge Geyserville, 74% Zinfandel, 15% Carignane, 10% Petite Sirah, 1% Mataro, 14.9% alc., 1.5 L: Deeply, darkly colored, with nary a hint of bricking; this has that nice, funky 15-year old Geezer thing going on, with earthy mushroom and what Robert rightly describes at that "autumn forest floor." There's still a big core of fruit here, with plenty of plum, raspberry and black raspberry, and as it opens with air, it keeps getting better and better, showing more "Draper perfume" all the time. Big, rich and oh-so-lovely, this is a perfect example of why you lay Geyserville down for 15 years and more. This one is in no danger of fading any time soon, and will probably improve for at least a few more years, especially if you're fortunate to have some in magnum, like this. It makes a great match for grilled, medium rare racks of lamb. Find this wine
1999 Ridge Lytton Springs Dry Creek Valley, 70% Zinfandel, 17% Petite Sirah, 10% Carignane, 3% Mataro, $30, 14.5% alc.: Not quite opaque garnet in color; Robert's first impressions are "pencil lead, cedar shavings and a bitter green herbal" quality, while Rebecca adds impressions of tobacco and smoked meat. This is still a big, deep and, yes, hard wine; Robert calls it "a brooding beast," and the difference between this and the '97 Geezer is like night and day. As it opens and evolves with air, it evokes more descriptors from Mr. Jones, including "high-toned pine, rosemary and thyme." There's a huge core of dense, dark plummy fruit, and after an hour's worth of air, it does open and become more generous. Full bodied and structured for at least 5-7 years of further improvement, so there's no need to be in any hurry to open this; it'll only get better and better. Find this wine
After dinner, I kept a promise to Robert to offer up some of my recent original tunes. Because the '99 Lytton needed a little air, Rebecca opened the 2000 Champagne Moet & Chandon Dom Perignon that she'd brought, and while I was totally focused on hitting all the right notes and remembering words, I took no notes whatsoever. I can vouch for its quality, however; it is a delight to drink, and will continue to improve for many years. I have no doubt that it brought out the best in my performance. Find this wine
Many, many thanks to Robert and Rebecca for bringing such wonderful wines to share with Kim and this taster. It was a memorable evening indeed!
Reporting from Day-twah,
geo t.
Related posts:
3 Responses to "Mr. Ridge Comes a-Knockin'"