November 21st, 2014 |

Author:
George Heritier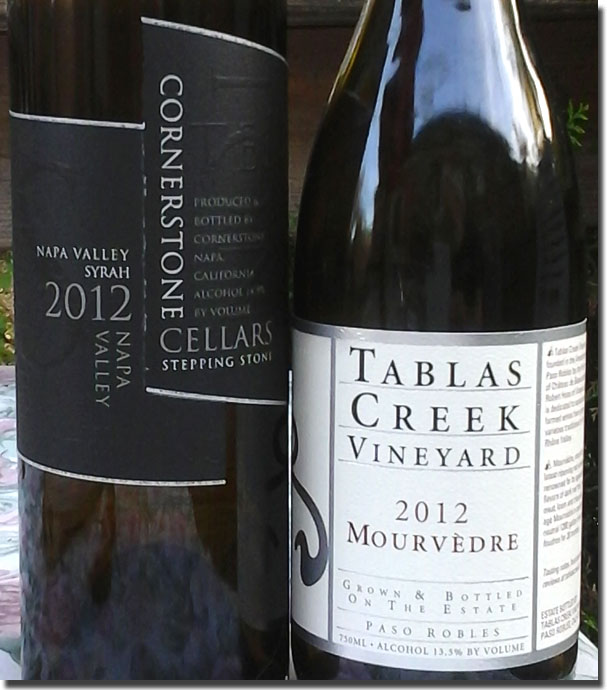 While preparing this report, the following thought occurred to me; man, I've been doing these Red Wings-Red Rhônes for quite a while now! Sure enough, a quick check on the old site shows that our very first RW-RR was posted in October of 1997, 17 years ago. Here is the premise as originally stated at that time: "Come October, this taster's thoughts turn to Red Wings hockey and big red wines from France's Rhone Valley. While I never mind the Wings' season extending into June, as it did this past summer, the same can't be said for the enjoyment of the heavy traditional winemaking styles that are typical of the southern Rhone. There's something almost oppressive about these wines, for me, when consumed between the bookend holidays of Memorial and Labor Days. With the first inkling of autumn, however, a magical change seems to occur, when they regain all of their considerable charm and appeal." (Click image to enlarge.)

To be honest, we have been known to enjoy a fine, mature Chateauneuf-du-Pape on occasion during the summer months, but for the most part, these are cooler weather wines for us. The one thing that has really changed since back then is that we don't limit ourselves exclusively to wines from the Rhône valley. If the wine is good and is composed of traditional Rhône varieties (Grenache, Syrah, Mourvedre, etc.), we don't care if it comes from Mendoza, Barossa or Paso Robles.
With that in mind, we got the 2014-15 season off to a good start with a couple of Left Coast reds, and, wouldn't you know, the first one is indeed from Paso!
2012 Tablas Creek Vineyard Mourvèdre Paso Robles, 100% Mourvedre, 13.5% alc., $40.00: Clean, dark color, with a pretty red and black fruit nose that leads into more of the same on the palate with a judicious kiss of oak, focusing on sweet black plum and black cherry with a little hint of chocolate. Full bodied, but not heavy, with some nice earth underneath the fruit, and structured for aging and developing into 2022 and beyond. Much brighter, and not as dark and brooding as the 2011 version, and much more approachable now for those reasons.
From the Tablas Creek tech sheet: "The Mourvèdre grapes were destemmed and then fermented using native yeasts in a balance of small open-top and enclosed stainless steel tanks. After three weeks, they were pressed and moved to 1200-gallon foudres to complete their fermentation. The Mourvèdre lots were blended in May of 2013, aged for an additional year in a 1200-gallon foudre and bottled in June 2014." Find this wine
2012 Cornerstone Napa Valley Syrah, Black Label, 100% Syrah, 14.9% alc., $35.00 750 ML, $110.oo 1.6 L: Deep, dark color, almost opaque, with a serious dose of oak on the nose; rich, ripe and lavishly oaked on the palate. Big, brawny and seriously structured, with almost searing acids that are even more prominent that the burry tannins. Even with grilled lamb-sicles, this is awfully young to drink right now, but there's a ton of fruit here, and you can cellar it for a decade or more. Hopefully, that should be enough time for the oak to integrate, so while this is all about promise right now, there's lots of that here. To be fair, I sipped this over a couple of hours and it finally started to open and smooth out some towards the end of my second glass, so if you have to pull the cork from one right now, give it at least an hour in a decanter before drinking. Grapes were sourced from the REI Soda Canyon Vineyard, located in the Atlas Peak appellation; harvested early October 2012. The wine spent 18 months in French Burgundy oak barrels, 40% new, and was bottled May 15th., 2014.
160 cases of 12 x 750 mL produced, along with 30 bottles of 1.5 L. Find this wine
Reporting from Day-twah,
geo t.
Related posts:
2 Responses to "Red Wings and Red Rhône Rangers"