August 22nd, 2010 |

Author:
George Heritier
We got our first taste of wines from Cornerstone Cellars' second label, the mid-range priced Stepping Stone brand, last October, and we liked what was in those two bottles. So, when I got an email a few weeks ago from Cornerstone General Manager Craig Camp telling me that five new releases were on their way to us for review, I perked up and took notice, looking forward to seeing what these would have to offer. As previously reported, pretty much everything these folks turn out has been first rate, and for the most part, the new batch lives up to that standard. Here are our impressions: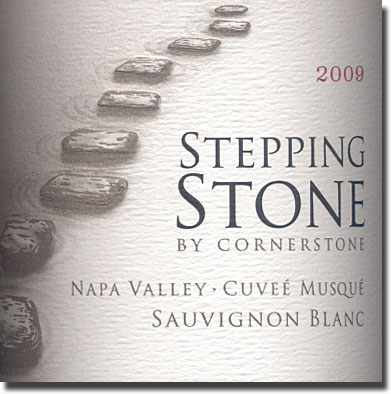 2009 Stepping Stone Napa Sauvignon Blanc Cuveé Musqué, 13.9% alc., $16.00: Clean, somewhat intense medium straw color, with creamy grapefruit flavors and aromas shaded with herbaceous, grassy undertones; medium-to-medium-full bodied, with good acidity and length.  A nice expression of this distinctive sub-variety. Find this wine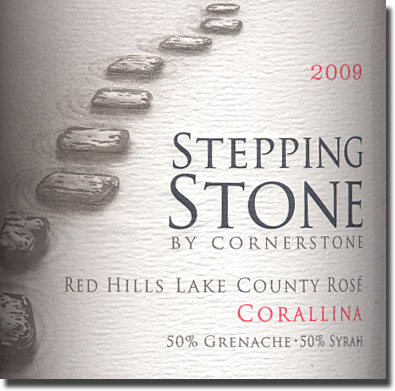 2009 Stepping Stone Lake County-Red Hills Corallina Rosé, Grenache/Syrah, 13.9% alc., $16.00: Strawberry pink color; rich and fairly ripe, with strawberry and raspberry flavors and aromas, some subtle mineral underneath and just a hint of wood from the 132 gallon mature puncheons.  Medium bodied and then some, with ample acids and good length.  A little more fruit forward than many of it's southern French cousins, and perfectly enjoyable, this offers good value for the price and is welcome at our table any time.  A blend of Grenache and Syrah from a vineyard at an elevation of 3000 feet in the Red Hills appellation of Lake County. Find this wine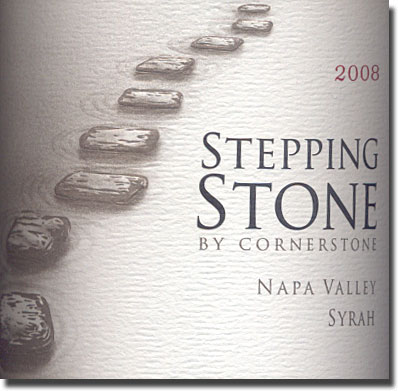 2008 Stepping Stone Napa Syrah, Napa Valley, 14.9% alc., $20.00: Opaque, almost inky in color, with rich inviting flavors and aromas that offer more house style than varietal character at this point.  The substantial oak remains just within my tolerance level, adorning  a rich, ripe core of black plum and blackberry and underscored with a bit of earthiness.  Full bodied, with good structure and a nice dry finish, this ain't Crozes-Hermitage, but it ain't bad if you like Left Coast Syrah.  It shows good promise for at least three to five years in the cellar, so it may well develop into something even nicer.  From Carneros vineyards in Southern Napa. Find this wine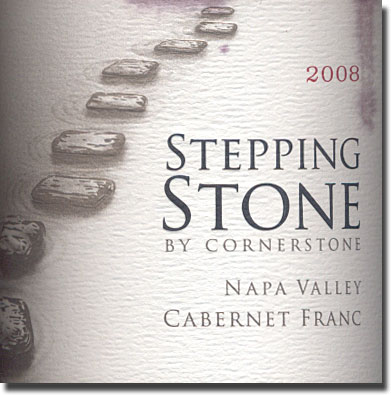 2008 Stepping Stone Napa Cabernet Franc, 14.5% alc., $30.00: Clean, dark color, with a kiss of sweet oak over black currant and blackberry on the nose; any more wood and I might not like it (it's a bit too much for Kim), but as it is, it works fine for me.  Flavors echo beautifully with less oak, rich, sleek and intense; ripe and earthy at the same time, striking a very nice balance between the two characteristics.  Full bodied, well structured and a with nice long finish, this promises good things to come in three to five years and beyond, but is already drinking very well indeed. 96% Carneros Cabernet Franc (Truchard Vineyard); 4% Cabernet Sauvignon Howell Mountain (Ink Grade Vineyard) Find this wine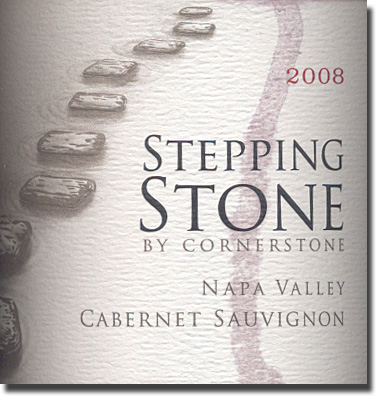 2008 Stepping Stone Napa Cabernet Sauvignon, 14.9% alc., $35.00: Clean dark color and showing more oak than the Cab Franc or Syrah on the nose at this point, along with the requisite black currant and blackberry; even more of the same in the mouth, rich and ripe, with bitter chocolate nuances, strong earthy undertones and tannins that clamp down some on the finish.  The oak pushes the envelope for me, almost reminiscent of a wood shop, so oakphobes will likely not care for it.  Full bodied and well structured this is rich bordering on luscious, but again, the wood gets in the way.  Built to last in the cellar for several years, with plenty of stuffing, so maybe the oak will integrate, because there sure is a lot of fruit here to soak it all up. Find this wine
Reporting from Day-twah,
geo t.
Related posts:
2 Responses to "5 From Cornerstone Cellars"