April 21st, 2015 |

Author:
George Heritier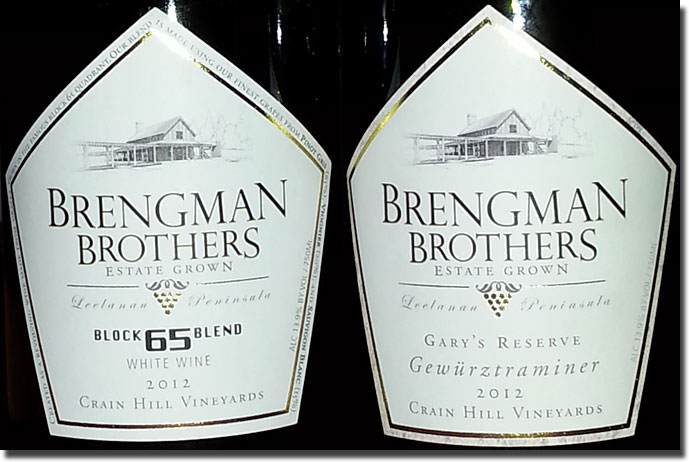 I stopped into Western Market in Ferndale for produce and wine last week, and while I was chewing the fat with my buddy Jarred Gild, I noticed a couple of wines from Brengman Brothers Winery in the Michigan section. Kim and I had visited this producer during last year's Leelanau Peninsula Vintners Association Media Weekend, and we were quite impressed with the facility, the wines and the winemaker, Nathaniel Rose. It occurred to me that these two might be good choices to review in our continuing celebration of Michigan Wine Month. (Click images to enlarge.)
The Brengmans got into the wine game by way of their family business in the restaurant industry in the Detroit area. Their love of wine took them on site visits to wineries all over the world, in locations as diverse as California, New Zealand and Italy. After deciding to get into wine production themselves, Ed and Robert Brengman settled on a prime spot on the Leelanau Peninsula, and began planting Crain Hill Vineyards in 2004; over the next two years, 20 acres of vines were planted.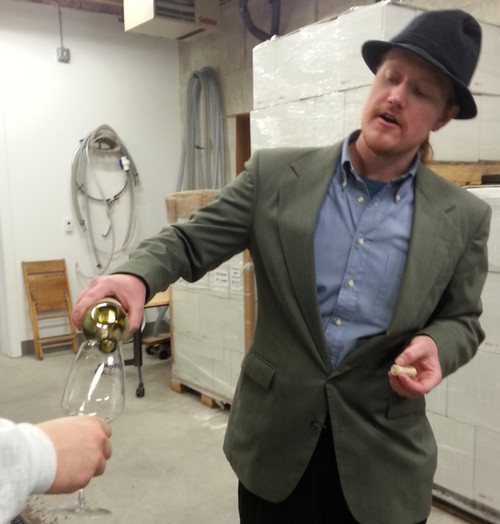 Winemaker Nate Rose is quite an interesting fellow. I first met him two years ago at the LPVA Media Weekend Reception, when he poured me tastes of a couple of his private label small batch wines, and they were quite good. When we tasted through much of what Brengman Brothers produces last year, I was even more impressed, so I took a leap and gave him a copy of my CD, guessing that my music might appeal to him. Turns out it did, and after "friending" him on Facebook, I was pleasantly surprised to find that we have more mutual friends on the music side of things than in wine.
You can find out much more about this excellent operation on the winery's website. For my purposes here, I'll focus on my impression of these two wines, starting with the estate blend. Jarred tells me that it normally sells for the same price as the Reserve Gewurztraminer, but because he bought everything available to him, he is able to offer it at the price listed below.
2012 Brengman Brothers Leelanau Peninsula Block 65 Blend Reserve, 65% Pinot Gris, 20% Viognier, 15% Sauvigon Blanc, 0.5%, RS 12.5% alc., $17.99: Medium straw in color, and a little earthy and a little funky in flavor and aroma; so far so good! Stoney, earthy mineral sets the tone early, reminiscent of something from Alsace, which is always a plus in my book. As it opens in the glass, a solid core of peach and red apple-like fruit emerges, striking a nice balance with the minerality. Medium-to-medium-full bodied, with good acids and length. I spent a couple of hours with three glasses of this and I quite like it. Vinified in stainless steel, 330 cases produced. Find this wine
2012 Brengman Brothers Leelanau Peninsula Gary's Reserve Gewurztraminer, 0.3% RS, 14% alc., $24.99: Clean, medium color, with a rosewater and litchi nose that's quite pretty and obviously gewurz. Rich, spicy and intense, this is quite likely the best Michigan Gewurztraminer I've had to date, with the possible exception of one or two of the Peninsula Cellars Manigold Vineyard models that Bryan Ulbrich made back when he was there. Medium body +, with racy acids and underlying minerality that shows most on the finish. I didn't have this with food, but some spicy (though not flaming hot) Asian cuisine seems like a no-brainer. A wee bit bitter on the finish, and in this case, that's not a bad thing at all. Really nice, and not yet at its peak. 220 cases produced. Find this wine
Brengman Brothers is most definitely a winery deserving of greater recognition, and I'm hoping to try more of their wares when I'm back up that way for this coming weekend's LPVA Media Tour. I highly recommend stopping into their tasting room for a more complete survey of what they produce. If you're in the Detroit area, Jarred has a good supply of both of these fine whites for you to try for yourself. I like them a lot, and I think you just might too.
Reporting from Day-twah,
Bastardo