Recently, I had the distinct pleasure of taking part in a vertical tasting of the Lake Michigan Shore winery Domaine Berrien Cellars Bordeaux-style dry red blend, Crown of Cab. The tasting, open to invited members of the Michigan wine press and a limited number of ticketed wine lovers, was held at Michigan By The Bottle Tasting Room's Royal Oak location, and featured vintages 2006 through 2010, pulled from MBTBTR proprietors Shannon and Cortney Casey's personal cellar, along with the current vintage, 2012. Domaine Berrien Winemaker/Co-Owner Wally Maurer and Co-Owner Katie Maurer were also on hand, and they brought along the 2005 vintage to add to the lineup. (Click images to enlarge.)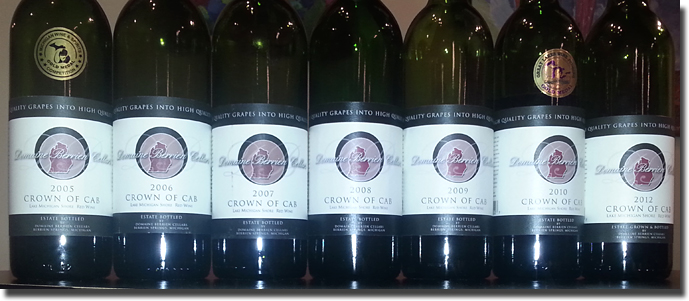 Up until this tasting, my experience with Domaine Berrien had been limited to trying some of their wines at the two MBTB tasting rooms (they're one of the wineries that partnered with the Caseys to create these establishments) and evaluating some of their offerings as part of the MichWine.com tasting panel some years back. I'd been impressed with what I'd tried previously, so this seemed like the perfect opportunity to get to know one of their premier bottlings a lot better.
Domaine Berrien Cellars is a small, boutique winery specializing in estate-grown, handcrafted wines, and, depending on the ravages of recent winters, annual production can be as much as 4,500 cases. Readers can learn more about the history of this fine producer at their website; for my purposes, I'll focus on the wines featured at the tasting.
After introductory remarks from Shannon, he introduced Wally, who walked us through the wines, giving us some background on each and the Crown of Cabernet program in general. The first vintage was produced in 2003, and each vintage up until 2010 had relatively low Merlot components (the reader will notice that the blends in the 2010 and 2012 reviewed below were both dominated by Merlot). The wines are aged for 24 months in 100% French oak, 12 months separately and 12 months after blending. They are bottled 5 months before release. The wines are made to age, which was certainly borne out by this tasting, and by the time we were finished, I was a believer.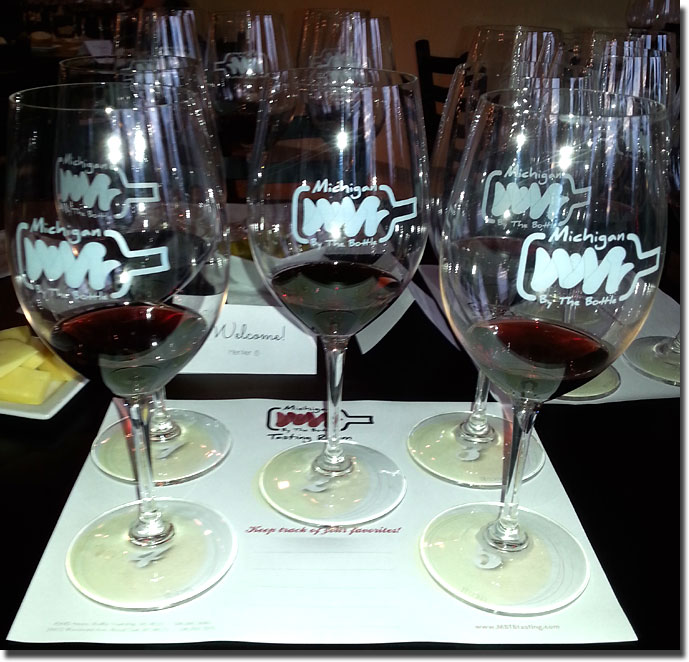 2005 Domaine Berrien Cellars Lake Michigan Shore Crown of Cab, 59% Cabernet Sauvignon, 33% Cabernet Franc, 4% Petit Verdot, 3% Merlot, 1% Malbec, 13% alc.: Good dark color; pretty nose shows more red than black fruit, with spicy nuances from a kiss of oak. On the palate, this is a bit earthy (always a good thing in my book), with pretty fruit, subtle leather and spice and still showing the oak influence in an attractive manner. Nicely balanced and still well-structured, with enough fruit for 3-5 years of further development or more. A little lean in a good way, not thin. My favorite of all the wines tasted for drinking right now; 2005 was a very good vintage, and it really shows in this wine. Find this wine
2006 Domaine Berrien Cellars Lake Michigan Shore Crown of Cab, 55% Cabernet Sauvignon, 18% Cabernet Franc, 18% Merlot, 8% Petit Verdot, 1% Malbec, 12.8% alc: From a more challenging vintage, this is not as effusive as the previous vintage, but does show the same kind of nice red fruit on the nose; not as generous with fruit on the palate either, but does offer nice earthy, leathery character, with hints of briar and bramble. There IS a nice core of red fruit here, with a green streak that adds to, rather than detracts from, the wine's appeal. More acids than in the '05 and still in a good drinking window, now and over at least the next few years. Find this wine
2007 Domaine Berrien Cellars Lake Michigan Shore Crown of Cab, 42% Cabernet Sauvignon, 25% Cabernet Franc, 25% Merlot, 6% Petit Verdot, 2% Malbec, 12.5% alc.: Showing clean, dark color, and, like the '06, not as generous on the nose as the '05. On the palate, earth, leather, spice, red and black fruit are seamless and balanced, making for a fine, satisfying Michigan claret that gives lots of pleasure now and should drink well on its 10th birthday and beyond. Find this wine
2008 Domaine Berrien Cellars Lake Michigan Shore Crown of Cab, 40% Cabernet Sauvignon, 29% Cabernet Franc, 20% Merlot, 8% Petit Verdot, and 3% Malbec, 12.3% alc.: Pretty color, with the 2nd best nose so far, showing toasty notes with air; there's obviously a house style I'm recognizing here, very consistent from vintage to vintage, and I like it. Generous in the mouth, with just a hint of bell pepper adding a nice addition to the flavor profile. Medium-full bodied, with good tannin and acid structure and a nice core of fruit, this should drink well over the next five years and beyond. Find this wine
2009 Domaine Berrien Cellars Lake Michigan Shore Crown of Cab, 42% Cabernet Sauvignon, 31% Cabernet Franc, 22% Merlot, 3% Petit Verdot, and 2% Malbec, 12.5% alc.: Good color, with a little darker nose than those of the previous vintages; greener fruit as well, but then, this was a very difficult vintage. Good structure and length, and not a bad wine by any means, but there's not as much here as in the others, either. Find this wine
2010 Domaine Berrien Cellars Lake Michigan Shore Crown of Cab, 40% Merlot, 36% Cabernet Sauvignon, 20% Cabernet Franc, 3% Petit Verdot and 1% Malbec, 13% alc.: Clean color, with a nice smoky nuance on the nose that I like; rich and intense on the palate, with earth, spice, smoke and the blackest fruit of any of these so far. Medium-full-to-full bodied, and in a very nice place right now; it should age and develop gracefully for 5-8 years or more. I'm guessing that Kim would describe this as "eminently drinkable." Find this wine
2012 Domaine Berrien Cellars Lake Michigan Shore Crown of Cab, 40% Merlot, 28% Cabernet Sauvignon, 25% Cabernet Franc, 5% Petit Verdot, 2% Malbec, 13.5% alc., $25.00: Maybe the darkest color or the bunch, and the darkest fruit in both flavor and aroma as well. Young and primary, with earthy black currant and plum, briar/bramble and some subtle spice; toasty nuances emerge on the nose with air. Yes, you can drink and enjoy it now, especially with grilled red meats or a hearty stew, but this shows excellent aging potential, so patience will be rewarded. I bought two of these, and I'll try to hold them for 3-5 years, at least. I might just go back and buy a few more, while I'm at it… Find this wine
Many thanks to Shannon and Cortney for staging this most enjoyable tasting, and to the Maurers for driving over from the west side of the state to share their insights into these excellent wines that they've been crafting for more than a decade. Thanks also to my buddy Chris Kassel for not showing up. My new buddy Josh Wright and I scarfed down your pours, my brother, so they didn't go to waste.
Every month is Michigan Wine Month.
Reporting from Day-twah,
Bastardo
Related posts: