Archive for December, 2010
Our friends at Vineyard Brands sent us a couple of review samples from the venerable Spanish producer, Marqués de Cáceres. The regular Rioja Crianza is the latest version of an old friend, previous vintages of which we've enjoyed on many occasions. The "MC" is another matter. It's the first time we've seen or tasted one of these, and it's a separate bottling in addition to the Reserva or Gran Reserva.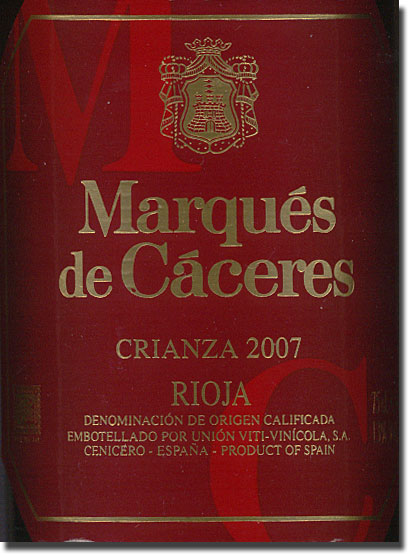 2007 Marqués de Cáceres Rioja Crianza, 85% Tempranillo, 15% Garnacha Tinta & Graciano, $14.99 SRP: Clean, dark color; sports a vanilla, chocolate and cherry nose that fleshes out on the palate with a solid core of deeper, darker black currants, berries and cherries, all shaded with earthy undertones. Full bodied, but by no means heavy, with good tannin and acid structure that should easily take it through the next three-to-five years in the cellar. Nice with food now (we had braised veal breast), but it'll only get better with time. A nice de Cáceres, this.  12 months in oak barrels, followed by at least 14 months in bottle, depending on the date of release. Find this wine
Read the rest of this entry »
The 2010 archive is presented by date the notes were compiled and submitted.  This is Part 2 of the archive.  Part 1 may be found here.
December 22, 2010
2005 Luneau-Papin, Muscadet Pueri Solis:
12% alcohol; smells close to corked; tastes similar; not much here for me although, with the proper food this is better than something that really is corked. Find this wine
2002 Verget, Chablis Vaillons:
13% alcohol; rich on both the nose and palate with a full-ish delivery and good sustain. A damn nice wine – and I| don't usually give Verget the props. Find this wine
2004 de Vilaine, Mercury Les Montots:
12.5% alcohol; pretty green to start with but this came alive with a spicy corn dish. Probably less than what I want (at least, right now) but has its place. Find this wine
It occurred to me a few months ago while drinking a nice bottle of '09 Laurent Grégoire "Domaine de Beauregard" Muscadet de Sèvre et Maine Sur Lie that we haven't been enjoying enough Muscadet at our house lately. Muscadet, white, bone dry and the perfect wine for oysters, and a variety of other seafood as well; we've been tasting the stuff going back to the late '80s, but not so much recently, which is a shame, because the good ones are among our very favorite styles of vinous libations. I decided to correct that, and picked up on four selections that are available in our neighborhood, starting with an old favorite from one of the very finest Muscadet producers.
Because our tastes turn more towards the French models these days, we can pretty much count our favorite domestic wine producers on one hand, and Tablas Creek Vineyard is right there on that very short list. I suppose that might be expected, given the collaboration of families Haas and Perrin, but it wouldn't make a bit of difference who was involved if the wines were just all right, or worse, hit-and-miss. Happily, such is not the case; they are consistently brilliant, and we're always happy to have anything they make in our glasses. Our friend Anne Keller obliged us in that regard recently by opening three vintages of Tablas Creek's flagship white Esprit de Beaucastel Blanc for our enjoyment, and enjoy them we did!
That is correct, your eyes do not deceive you. The label pictured at right IS the 2006 Sean Thackrey Andromeda, and not the 2004 that is clearly indicated in the title of this entry. The bad news is that the two label shots taken of the '04 with Kim's otherwise incredible Droid Incredible were just not good enough to use, and since we have two bottles of the '06 in the Cellar from Heck, and Thackrey's Andromeda labels look exactly the same in all other ways except for that one little '4′ and the equally minuscule '6′ (not to mention the alcohol content), I made an executive decision to go with what we have. So there.
The good news is that the wine itself is quite nice; here are my impressions.
I had the opportunity recently to taste through five wines from the Piedmont producer Andrea Oberto, courtesy of our good friend Michael Korn at J&J Importers/Wines of Distinction. The wines were selected for two winemaker dinners, which have since taken place, both in the Metro Detroit area. I'd never tasted any of these before, and indeed, they were barely on my radar, but Mr. Korn assured me that they were of high quality, and not only is his word good enough for me, the wines acquitted themselves admirably. Michael describes Oberto as "a bit of a modernista," and sustainable farming practices are employed in the vineyards.
On hand for both of those was Fabio Oberto, Andrea's son and the man responsible for making them. Besides the five reds, also included in this tasting were an excellent, well-priced Brut Rosato Spumanti and a zippy little Moscato d'Asti. I was joined by Papa Joe's Gourmet Market Corporate Executive Chef Tim Enfield C.E.C, who was responsible for one of the two dinners, and have included his comments and menu pairings as well.

Snooth, "the world's largest and most comprehensive online wine destination, featuring millions of reviews and hundreds of thousands of wines," gave props to the Gang of Pour and two other wine blogs in their weekly "What We've Been Reading" column.  Subtitled "3 blogs bringing the wit as well as the wine," Snooth editor, Gregory Dal Piaz says this about the Gang – "Gang of Pour is another group effort, with five main contributing authors at this point. This is some fine wine writing — always with a bit of cheek, which makes it that much more interesting to read. Check 'em out and see if one of these guys, and gal, has a palate, and sense of humor, that matches yours."
The other two blogs are  Another Wine Blog and Suburban Wino.
Thanks, Gregory!
Up until now, much of the burgeoning Michigan wine industry's reputation has been based on its white wine output, but little by little, quality reds have been catching up to their paler counterparts. Producers such as Wyncroft, Shady Lane, Longview and Circa have been making Pinot Noir and/or variations of the Cabernet theme that have really turned our heads, and a few nights ago, we were knocked out by two from the Old Mission Peninsula winery, 2 Lads. We've been impressed with pretty much everything that we've tasted from them previously, but Cornel Olivier and Chris Baldyga have really outdone themselves with their '09 Pinot Noir and '08 Cab Franc. Here are our impressions of these beauties.
Back in business, and just in time for the concluding release of 2010 that is scheduled to hit the shelves on December 11th. Ouch, time does fly by, especially when one is having fun, and fun I had, as there are several great wines to be found. Those most notable are from the Golden State, Italy, Australia and Ontario. Happy holidays as we have to say now, and have a safe and wine-filled New Year.
Speaking of New Year, here is an array of fine bubblies, at all levels of pricing, which will fit the occasion nicely.
We've been aware of Neil Ellis since we first started investigating the wines of South Africa in the early '90s, but we've actually had precious little experience with his products over the years. It was during our adventures with the varieties of the Sauvignon experience back in 2000 that we tried the only selection we've ever reported on (it was quite good, by the way), and then came another long drought. Happily, our friends at Vineyard Brands, Inc. rectified that oversight on our part by sending us two samples for review. It's been 10 years and 11 vintages since we enjoyed that 1998 Neil Ellis Sauvignon Blanc, and based on this 2009 model, we may have missed some pretty fine stuff in the interim. Also included in the package was an impressive late model Cabernet Sauvignon. Here are our impressions.