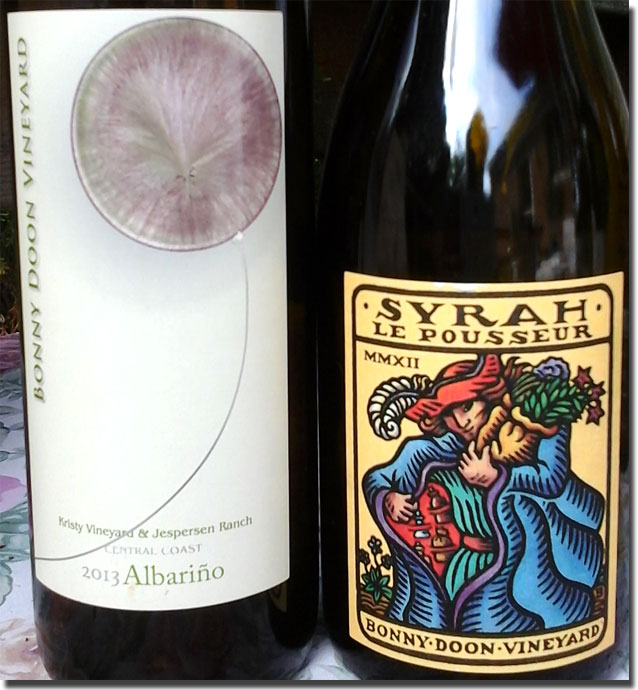 Now that I have a little down time after lots of singing and playing during the summer, I've been going through various folders to try and catch up with posting notes on some damned good wines we've tried over the last few months. For instance, the 2013 Bonny Doon California Vin Gris de Cigare that we reported on in our Six Rosés entry from July was actually from a 6-pack sent for review by Randall Grahm & Co. several months ago. We had other rosés to review, so separating the Vin Gris from the other five seemed like the obvious thing to do at the time, but what about those other Doons?
Well, we got to four of them eventually, but the Vinferno Grenache Blanc was the holdup for this report, because we just never did take the time to check it out. Finally, I said enough is enough. This needed to be resolved in short order, so I took one for the team, twisted off the Stelvin and made it happen last night. Here then are our impressions of those remaining five wines from Bonny Doon's spring release, which were all tasted here during the past three months. (Click images to enlarge.)

2013 Bonny Doon Central Coast Albariño Kristy Vineyard and Jespersen Ranch, 13.2% alc., $18: Clean, medium color, with a lovely, almost floral nose; more tart on the palate than the aromas might lead one to expect, with a citrus-green apple combo, some underlying minerality, and again, something faintly floral. A little fatter than the Spanish versions, but the zippy acids more than offset that, and it makes a nice match for baked walleye. Mr. Grahm seems to concur with my last observation with the following comment: "We've settled into a nice groove with these two vineyards: Kristy, located in the Hwy 101 wind-tunnel corridor just outside of Greenfield in the Salinas Valley and Jespersen Ranch in the very cool Edna Valley. Perhaps slightly richer in texture than the exemplary '12, but with still great natural acidity (no acidulation required), and textbook citrus and peach character." 1592 cases produced. Find this wine
The Clos de Gilroy and Contra were tasted on the same occasion.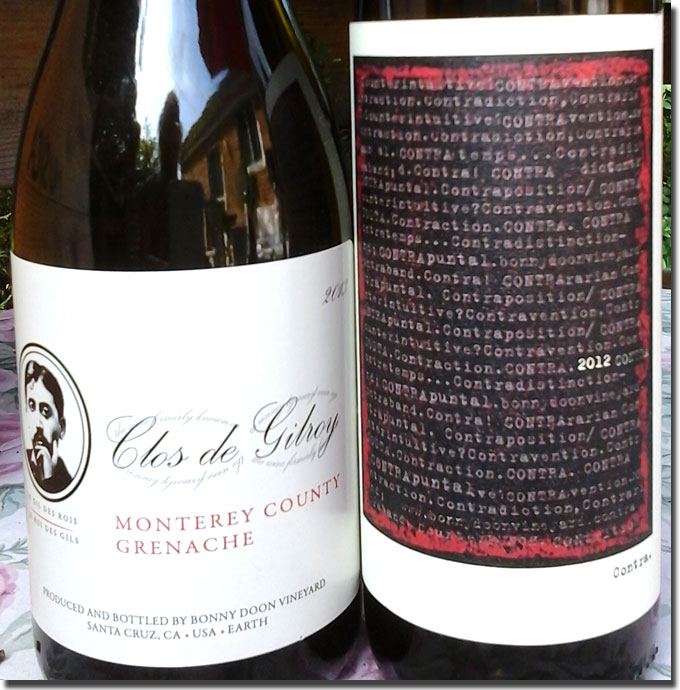 2013 Bonny Doon (The Wine Formerly Known As) Clos de Gilroy Monterey County Grenache, 75% Grenache, 17% Syrah, 8% Mourvèdre, 14% alc., $20: Clean, dark garnet color, with an almost Beaujolais-like very cherry nose, and plenty more of the same on the palate. Like a fruit bowl of ripe cherries, with an earthy base that shows up on the finish. Full bodied, well balanced and structured for several years in the cellar, this is delicious already, despite the tannic-acidic bite on the finish, and it seems to put on some weight with air, turning deeper and darker. I'd love to try this again in four or five years to see how it evolves. 61% Alta Loma Vineyard, 18% Ventana Vineyard, 13% Alamo Creek Vineyard, 8% Del Barbara Vineyard, and "bottled without any exposure to oak." 3,285 cases produced. Find this wine
2012 Bonny Doon California Contra (Old Vine Field Blend), 56% Carignane, 17% Syrah, 15% Grenache, 11% Mourvèdre, 1% Cinsault, 14.1% alc., $20: Clean, dark garnet color, darker than the Gilroy, with an earthy minerality that dominates the deep, dark black fruit on the nose; the earthy black plum, berry, currant (and even a subtle note of black cherry) flavors are very bison burger friendly, and a note of dark cocoa emerges with air. Full bodied, balanced and structured for several years in the cellar. A tasty Californian approximation of a southern Rhone-Languedoc red blend, this will never be mistaken for one of its old world counterparts, and that's fine by me.
I do find it somewhat odd that BD's notes on this mention the inclusion of some Zinfandel, yet none is listed in the percentages: "Again, a blend of primarily old-vine Carignan from ancient, ungrafted, and non-irrigated head-trained vines in Oakley and Antioch, CA (in Contra Costa County). Blended with some younger vine Zinfandel. The earthiness of the old-vine Carignan is very vivid, tempered with some licorice spiciness of the younger-vine Syrah. This wine also really benefits from decanting." 4500 cases produced. Find this wine
2012 Bonny Doon "Le Pousseur" Central Coast Syrah, 13.5% alc., $26: Very dark color, not quite opaque, with lots of earth and mineral over deep, dark black fruit on the nose, fleshing out on the palate to show earth, iron, rich black plum, berry and currant and a touch of iodine. A big wine, but by no means fat or extracted. It's structured for several years in the cellar, but approachable now, with a little air and some grilled or roasted red meats. Kim really likes this, and so do I; I'm betting we'll like it even better in 5-10 years. 48% Alamo Creek Vineyard, 18% Bien Nacido Vineyard, 18% Spanish Springs Vineyard, 16% Ventana Vineyard.
More from RG/BD: "We've been in a nice aromatic groove of late with Le Pousseur, largely in virtue of the string of very cool vintages, and sourcing our fruit exclusively from cool climate sites (Alamo Creek, Bien Nacido, Spanish Springs and Ventana.) The Alamo Creek component (possibly in virtue of its extremely gravelly soil) seems to add a strong mineral/earthy/bloody note, not utterly unreminiscent of Cornas." 2,400 cases produced. Find this wine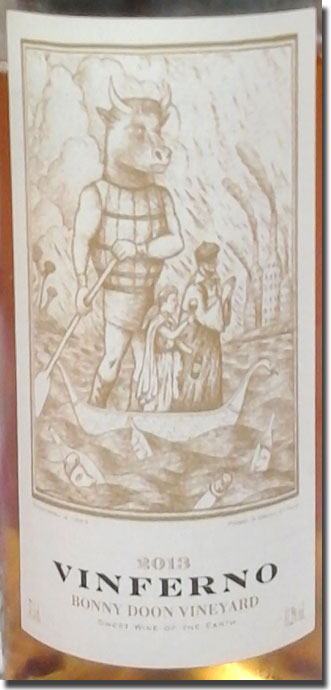 2013 Bonny Doon Arroyo Seco Vinferno (Grenache Blanc) Beeswax Vineyard, 375 ml., 14.6% RS, 11.2% alc., $24: Amber-gold in color, with characteristics reminiscent of apricot, honey and maple syrup in both flavor and aroma. Rich and unctuous, but not at all cloying, this coats the palate with a thick patina of sweet delight, finishing long and lingering. This has more than enough acidity to keep everything moving along nicely and avoiding any sense of flab or fat. I can see where this would pair well with a variety of dessert dishes, but, for me, the perfect choice is a bowl of Graeter's Vanilla Ice Cream drizzled with Kim's amazing Gang of Pour Maple Syrup Vinegar.
RG/BD: "Alas, we would have loved to see some botrytis in this vineyard this year, but it was not to be. The saving grace was the vintage was an exceptionally early one, allowing us to leave the Grenache Blanc on the vine well into early November without major incident. Remarkably clean, citrusy, and honeyed, with the characteristic beeswax character that comes from the Beeswax Vineyard." 987 cases produced. Find this wine
We make no secret of the fact that we love Bonny Doon wines, and, in fact, since they streamlined their operations a decade or so ago, we've never had anything from them that wasn't downright delicious. As you can see from this report, nothing has changed from what we've tried, and that's just fine by us.
Reporting from Day-twah,
geo t.
Related posts:
One Response to "A Doon Quintet"