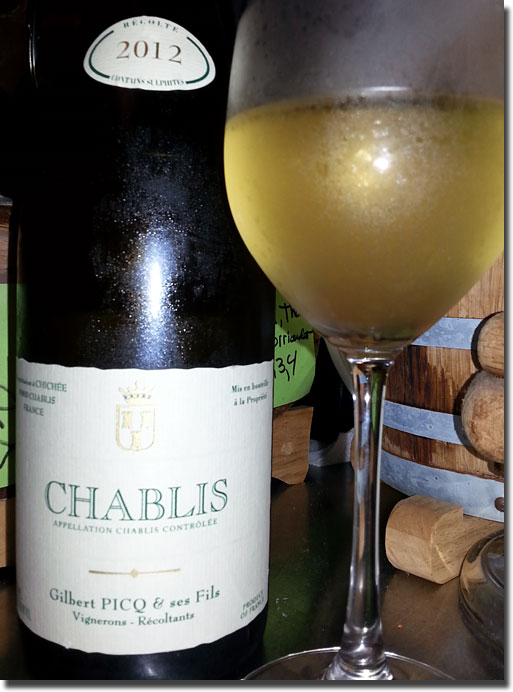 We've been celebrating the slightly oddball summer with some interesting, and mostly very good, wines of the pale and pink persuasions. June and July were all over the place, weather-wise, ranging from wet and unseasonably cool to the more usual oppressive hot-and-muggy that rears its sweaty head in Michigan this time of year, but we've stuck with our warm weather game plan throughout. Some of these are new vintages from old friends, and some we tried for the first time. Here are seven that we've encountered over the last four or five weeks, starting with the whites.
This first one had sat patiently in the cellar since early winter, waiting for just the right moment to pop its cork, and I found it a few days ago.
2012 Gilbert Picq Chablis, 12.5% alc., $23.99: Clean medium color; tart, yet rich and quite tasty, with mineral-driven green apple and quince flavors and aromas. Great presence and balance, full bodied without being heavy in any way, with racy acids and a nice long finish. An excellent food wine, but I chose to sip and savor it on its own after a week without wine, and it's a very fine choice indeed. It just gets better as it opens and warms a little in the glass. I want more of this one.
Imported by Vintage '59 Importers LLC, Washington, DC
2012 Domaine de Roally Macon Vire-Clesse, 14% alc., $23.99: Another beauty from Domaine de Roally; so consistent from vintage to vintage, this is always welcome at Gang Central. Clean, medium straw color, with spicy, rich, delicious Chardonnay fruit with that lovely herbal overlay that I simply adore. Full bodied, with excellent acids and very nice length. Because of what we choose to spend (or not) on wine these days, this our "special" white Burgundy, so good that we don't need or want anything "better." Find this wine
A Louis/Dressner Selection – Imported by LDM Wines, Inc., New York, NY
2012 Domaine Laroche Saint Martin Chablis, 12% alc., $19.99: Clean, medium straw color, with under-ripe apple, quince and mineral flavors and aromas. Starts off slowly, but with air, shows more intensity, hints of citrus and beeswax, chalky mineral and a slightly saline character, finishing with a dusty earthiness. Solid, if unspectacular, and perfectly acceptable at the Costco price listed above. This is the first wine from Domaine Laroche that I've tried in many years, and I like it well to buy a few more. Find this wine
Imported by Wilson Daniels Ltd., St. Helena, CA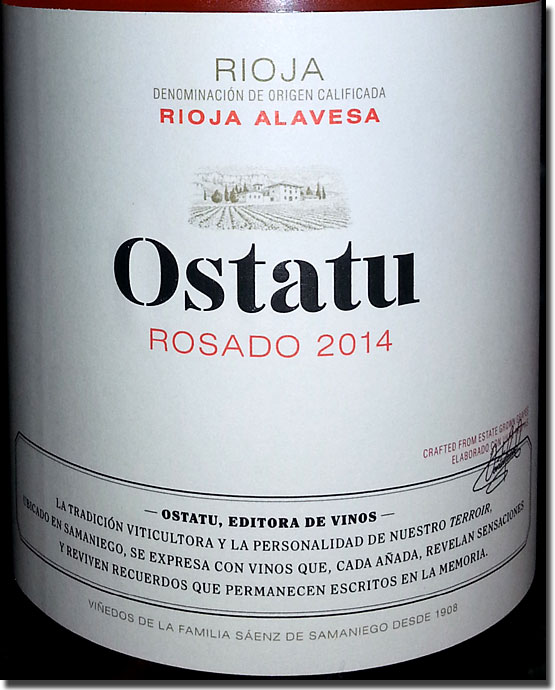 2014 Ostatu Rioja Rosado, 70% Tempranillo, 30% Garnacha, 13% alc., $15.99: Salmon pink, and predominantly peach-like, with some strawberry, watermelon and stony mineral in support. Rich and generous, without being overdone in any way; medium bodied and nicely balanced, with ample acids and good length. A delightful rosé, and perfect with tapas at La Feria. Sourced from some of Ostatu's oldest and highest elevation vineyards, located in the heart of the Rioja Alavesa region in the town of Samaniego. Find this wine
Imported by De Maison Selections, Inc., Chapel Hill, NC
2014 Miraval Côtes de Provence Rosé, 13% alc., $19.99: Pale rose petal pink; balanced and satisfying, with every component seamlessly integrated just so. Flavors of peach, watermelon and a bit of strawberry, underpinned with slightly chalky mineral; the moderately ripe fruit and the minerality play a perfect counterpoint to each other on a medium bodied frame, with just the right zip from the acids. Like each previous vintage of this that we've tried, this hits all the right buttons to satisfy our rosé jones. Find this wine
Imported by Vineyard Brands, Inc., Birmingham, AL
2014 Château d'Aquéria Tavel Rosé, 14% alc., $13.99: Bright raspberry pink; rich, fairly ripe and intense, with fruit that's almost as bright as the color. Somewhat candied, with raspberry, strawberry and cherry character, and a little mineral underneath it all. Somewhat dense and more than medium bodied, with good acids and length. Not my preferred style of rosé by any means, and not one that I'd buy again, but not all that bad for what it is, I suppose… Find this wine
Imported by Kobrand Corporation, Purchase, NY
2014 Bonny Doon Vin Gris de Cigare, 35% Grenache, 18% Mourvedre, 16% Grenache Blanc, 12.5% Roussanne, 8% Carignane, 8% Cinsaut, 1.5% Marsanne, 1% Counoise, 13% alc., $18.00: Pale pink in color; as with previous vintages, this is decidedly more Euro than New World in style, and we wouldn't have it any other way. Rich and mineral-driven, with peach and watermelon flavors and aromas; medium-to-medium-full bodied, with perfectly balanced acids and good length. As fine a domestic rosé as we've had, which could easily describe every vintage of Vin Gris de Cigare we've tried. Find this win
Reporting from Day-twah,
Bastardo
Related posts:
One Response to "Summer Wines So Far"