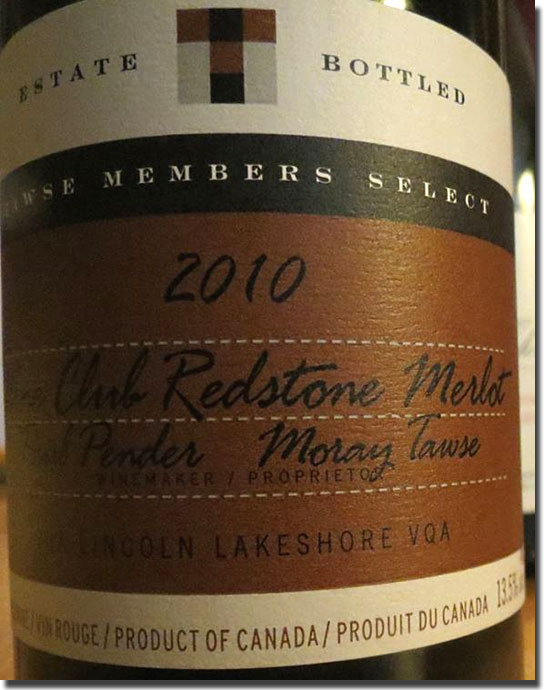 As promised in our previous blog entry, Pairs and Pairings, here are collective impressions of the six single wines we dropped into the duos during our Easter weekend festivities. Styles were all over the place, from old school Rhône to fruit bomb Californian. The first three were contributed by Alan Kerr aka Canadian Zinfan, starting with two from the Niagara Peninsula. The Chardonnay was actually our starter on Saturday evening. (Click images, stolen from Kerr's Facebook page, to enlarge.)
2012 Lailey Vineyard Chardonnay Canadian Oak Niagara River VQA, 13% alc., $25.20 Can.: Clean, medium color, with straightforward apple and pear flavors and aromas laced with a good dose of oak that shows more and more as it opens in the glass. Not a "big" Chardonnay, but not delicate either, this is medium-full bodied, with good acids and length. Alan, Rebecca Poling and Kim seem to like this just fine, but, while it's pleasant enough, it's not a style that I favor, as the oak is more pronounced than I care for. "Since 2001 Lailey Vineyard has aged select batches of wine in Canadian oak barrels. While our native wood is the same species as that grown in the United States, the growing season is shorter, the wood denser and the flavour more spicy than sweet." Find this wine
Alan pulled the cork on the next wine right after we enjoyed the two 2000 Saint-Emilions on Friday night. I've had enough excellent wine from Tawse to know that this was likely to be quite good, but I had no idea just how good it would prove to be.
2010 Tawse Wine Club Redstone Vineyard Merlot Lincoln Lakeshore VQA, 13.5% alc.: Deeply colored; my notes read, "Mmm, nice, even after the two Bored Dukes; more than holds its own." Intense black currant character, with some subtle earth and a fine leathery nuance. Full bodied, with good structure and length, this doesn't have the depth of the Saint-Emilions, but is still a very impressive piece of winemaking. Kim remarked, "This is fucking delicious," adding that "it reminds me of Thackrey." I'd like to try it again in five years to see how it develops. We were still talking about this the next day. Find this wine
Judging from the vintage, this next one must have been resting in Chef Kerr's cellar for several years, and it was a most welcome change of pace on Saturday, especially for Rebecca Poling, who has stated that she doesn't get to try Rhônes nearly as much as she would like to except when she visits our house.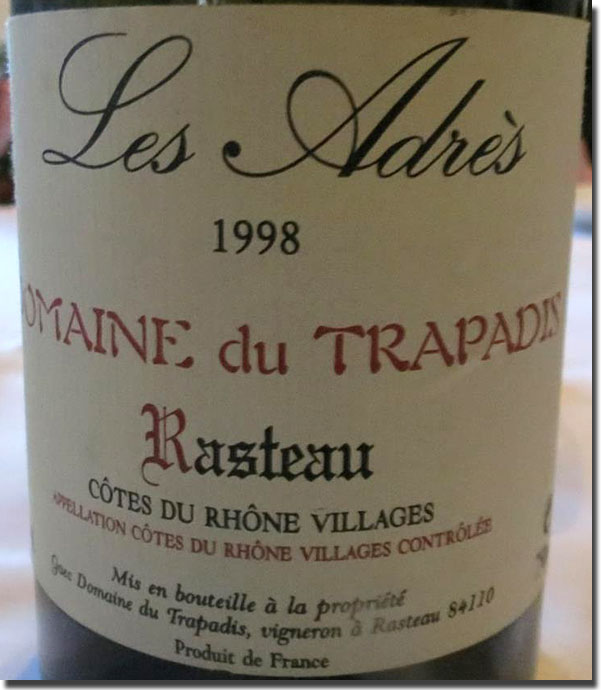 1998 Domaine du Trapadis Côtes du Rhône Villages Rasteau Les Adrès, 13% alc.: Deep and dark, with very nice secondary characteristics reminiscent of leather and mahogany; full bodied and still well-structured for some years of further development. Really nice, especially as it opens in the glass, and still on the way up. Find this wine
The following two were contributed by Rebecca, and they couldn't have been more different, stylistically.
2009 Poderi Oddero Barolo Villero DOCG, 14.5% alc.: Smoky ruby garnet color, with a pretty, dusty, plum and berry nose; earthy leathery dried cherry flavors get better and better as it opens, with more fruit emerging. So nice, and best of all, it's structured for several more years of aging and developing. Find this wine
Imported by The Piedmont Guy, Shafer, MN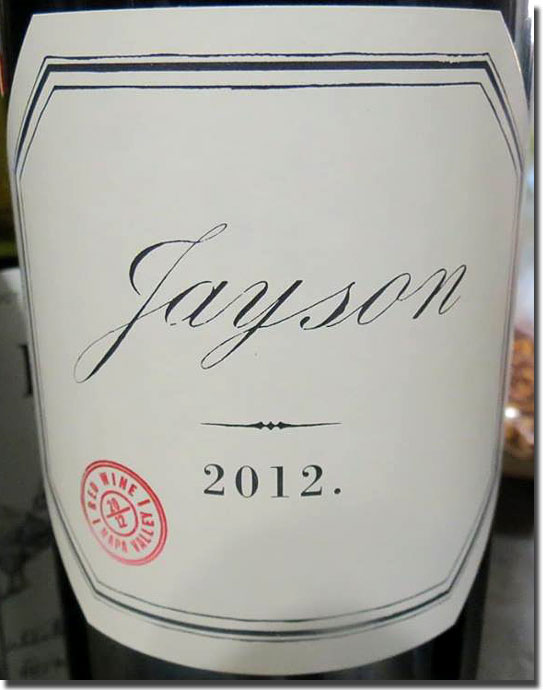 2012 Jayson Napa Valley Red Wine, 50% Merlot, 29% Cabernet Sauvignon, 17% Cabernet Franc, 3% Petit Verdot, 1% Malbec, 15.2% alc.: "Jayson" is the second label of Pahlmeyer, and this one elicited the following comments:
"That's a big boy; smells like cassis. Lots going on here; pencil shavings." – Rebecca
"If there's a fault, it's too (much) cassis. Sappy, unctuous, sweet fruit." C. Z.
Wow! This is one intense, blow-your-hair-back fruit bomb, tight, with slightly astringent tannins. Give this another five years in the cellar, at least. Find this wine
The final wine in this report was a gift to Kim and me from our dear friend Holly Giselle Purcell, and while I suppose I could have included it with the Jayson in the "Pairs and Pairings" entry, I think it works better here.
2012 Venge Vineyards Napa Valley Cabernet Sauvignon Silencieux, 14.6% alc.: Opaque, impenetrable color, with a sweet oak cassis nose that echoes and explodes on the palate; this is quite a mouthful of wine, young, intense and very primary. Chef Kerr commented, "So tannic, tight and chewy; all oak flavors over a lot of fruit right now, (with) tarry sweet black licorice." Thanks, Holly!!! Find this wine
While these last two are not the style of wines we usually drink at Adams-Heritier and Associates, they were both drained, and were enjoyed by all on their own terms. Our old "Gang of Pour UNLEASHED" buddy Gary Bell would have loved them.
Reporting from Day-twah,
Bastardo