Archive for January, 2018
The good folks at Mercer Estates reached out to us a while ago to ask if we'd be interested in trying some of their recent offerings. It had been a while since we last tasted anything from this producer, and we have fond memories of a wine dinner centered around some of their wares back in 2014, so, of course, we replied to the affirmative. We thought it would be fun to check out the three wines they sent us with our good friends Shar Douglas and Ken Hebenstreit, and Shar offered to cook dinner, so we set a date and made our plans.
The white was poured with appetizers, and the two reds were paired with Shar's excellent beef-centric repast. Our impressions are as follows.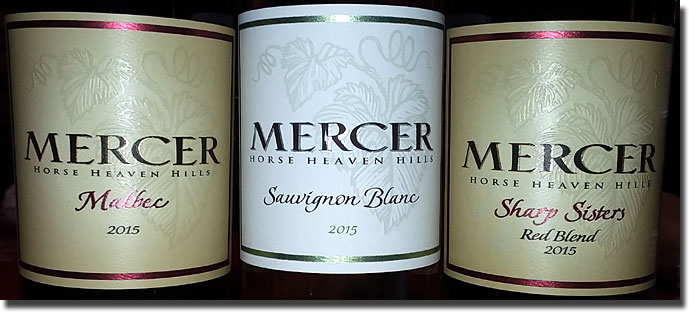 2015 Mercer Estate Horse Heaven Hills Sauvignon Blanc, 12.5% alc., $15.00: Showing clean, medium color, and a little stingy on the nose; steely, and not exactly fruit forward, eliciting a descriptor of "salty" from Kim, and there is a certain subtle saline quality to it. Shar adds an impression of "a little bit of orange peel," while I find under-ripe green apple, citrus and stony mineral. Medium bodied, with good acids and decent length, this doesn't show a lot of varietal typicity; it could be mistaken for something else in a blind tasting, like Ugni Blanc, for instance. Perhaps surprisingly, it's a bit more Old World in style than new, and that's not a bad thing. A pretty good all-purpose white, in our not-so-humble opinions. Find this wine
2015 Mercer Estate Horse Heaven Hills Sharp Sisters Red Blend, 29% Cabernet Sauvignon, 27% Syrah, 18% Merlot, 14% Petite Verdot, 10% Grenache, 2% Carignane,14.8% alc., $25.00: Clean, dark color, with a bright red fruit nose kissed with a bit of oak; flavors echo, smooth, showing more oak and very New World in style (more than I care for in this case). Very soft structure, almost flabby, but full and round otherwise. Almost "generic" in character, without much to distinguish it, and quite overpriced for what's in the bottle. Find this wine
2015 Mercer Estate Horse Heaven Hills Malbec, 78% Malbec, 22% Cabernet Sauvignon, 14.8% alc., $25.00 (sold out at the winery): Clean, dark color, with a nice black fruit nose graced with a generous dose of oak; more substantial and more structured than the Sharp Sisters Red Blend, but any varietal character is obscured by the New World winemaking. Ripe and round, with flavors reminiscent of blackberry and black plum, shaded with hints of chocolate and earth. The oak character has a more balanced place here than in the blend, and of the two reds, this one appeals to us much more. It pairs pretty well with the beef too, but I wouldn't spend $25 on it. To be fair, those who gravitate more toward the "international" style might well view this price point more kindly, and it can be found for less using the following link. Find this wine
Reporting from Day-twah,
Bastardo
Save
Save
Save
Save
Save
Recently, we had the good fortune to taste through 5 of the most recent releases from Troon Vineyard. We first encountered wines from this fine Oregon producer back in the summer of 2016, and with each successive group of selections they've offered for review, it's become increasingly obvious that this is a winery that is deserving of greater recognition.
The wines, three whites and two reds, are all made with Rhône varieties, and they are, without exception, delicious.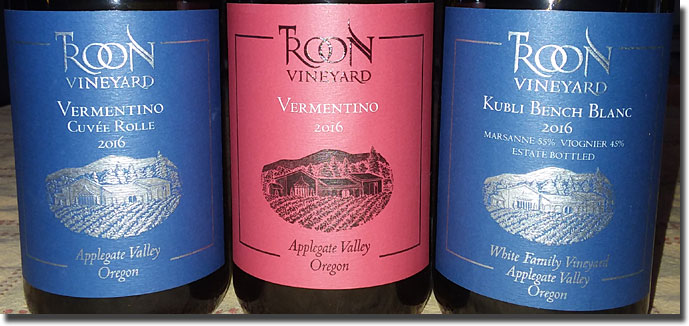 2016 Troon Red Label Vermentino Applegate Valley, 12.5% alc., SRP $15: Clean, medium color; this has an earthy quality to it that complements the apple, peach and citrus fruit nicely. Fleshy, medium-to-medium full bodied, with good density and length and active acidity. As it opens in the glass, more earthy, chalky mineral emerges, adding interest and appeal. Find this wine
2016 Troon Blue Label Vermentino Cuvée Rolle, Applegate Valley, 90% Vermentino, 10% Marsanne, 12.5% alc., SRP $20: Clean, medium color; brighter and less earthy than the Red Label, with a bit more intense citrus character, very much in the lime spectrum. No lightweight, this one; it has substance and flair. Medium-to-medium full bodied, with excellent acidity and very good length. This has a dense intensity that reminds me a little of Oregon Pinot Gris, perhaps from the weight of the Marsanne. Find this wine
Kim really likes both of these, and so do I. Here's what Troon GM Craig Camp has to say about them.
Read the rest of this entry »