December 2nd, 2016 |

Author:
George Heritier
Thanksgiving was a laid back, low key affair here at Adams, Heritier & Associates. We kept to ourselves, stayed at home and took things real easy. We did have a somewhat traditional holiday dinner, with a Bell & Evans Organic Turkey Breast (bone in), red skin potatoes with a red wine and mushroom sauce, stuffing and haricot verts. I even had the annual Detroit Lions football scrum playing on the big screen, although I paid closer attention to my Forge of Empires game.
As I mentioned in my last report, Donna White Communications sent us several of their clients' wines samples for review over the last month or so, and among them were two from Oregon's Left Coast Cellars, with whom we have some very positive history. Kim had suggested that they would be excellent choices for our holiday dinner menu, and so they were! Here are our impressions of each.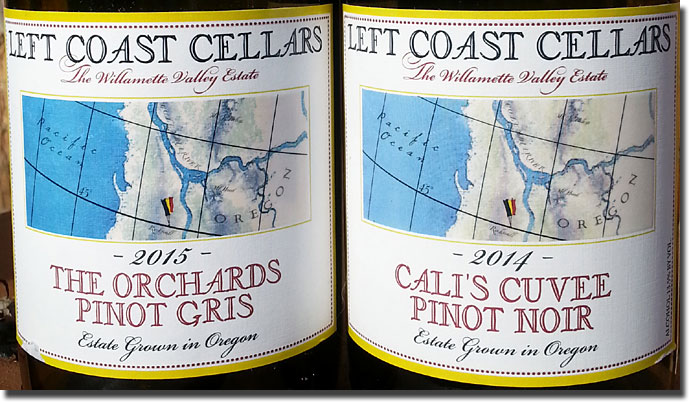 2015 Left Coast Cellars Willamette Valley Pinot Gris The Orchards, 13.7% alc., $18.00: Pale to medium straw in color, with a pleasant if not overly effusive nose of citrus and tree fruit that follows through and explodes on the palate with lots of green apple, pear and lime. Rich, intense and quite tasty; medium-to-medium full bodied, with finely balanced acids and very good length. I don't drink a lot (or enough) Pinot Gris, but this is certainly one of the very best domestic American specimens that I've had to date, and an impressive glass of wine indeed. Find this wine
2014 Left Coast Cellars Willamette Valley Pinot Noir Cali's Cuvée, 13.5% alc., $24.00: Clean ruby garnet color; pure, lovely Pinot Noir character, rich and fairly intense. It's "a little green," according to Kim, who adds, "not saying I don't like it, but it's a touch stemmy and green." I do detect a little of that, but these are minor aspects that lend positive, rather than negative attributes; mostly, I get somewhat earthy black cherry and cranberry. Medium full bodied, and structured for at least 3-5 years in the cellar, but more than just approachable already. Find this wine
I saved the last few sips of a glass of Pinot Gris to try with the holiday fare, and it worked beautifully. Needless to say, the Pinot Noir is a consummate turkey companion as well, making these two a solid 1-2 punch for any dinner starring turkey, duck or even a smoked chicken. Best of all, both offer great QPR (quality-price ratio), so you can buy multiple bottles of each without breaking the bank.
Reporting from Day-twah,
Bastardo
Related posts: