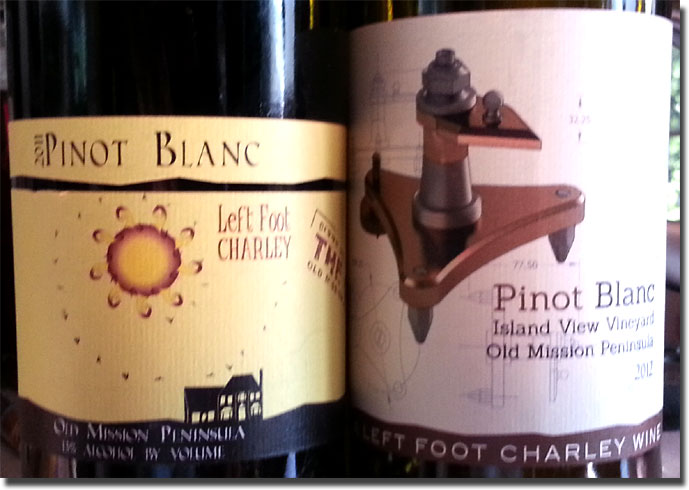 Riesling is reputed to be King in northern Michigan wine country, and in the past, I have been one who crowed loudly in that regard. I'm not necessarily changing my tune, but, as much as I love our homegrown version of that noble Germanic variety, two of my very favorite wines are different critters altogether. One is Charlie Edson's Bel Lago Auxerrois, which I will revisit in an upcoming report. The other is Left Foot Charley's Pinot Blanc from Werner Kuehnis' Island View Vineyard on Old Mission Peninsula. We first walked this vineyard with Left Foot Charley himself, Bryan Ulbrich, back in '07; we tasted the '06 out of the tank that day, and we've been big fans ever since. The vineyard itself is quite interesting, due to its oddball character. As I reported back then, "Swiss native Kuehnis has spent years retraining the vines, which are planted "the wrong way," with an eastern exposure. The vines are trained with a standard trellis system, so that the fruit is on the south side…"

Last week, our longtime partner-in-crime, Alan Kerr aka Canadian Zinfan, paid us his annual visit with his darling "mum," Sylvia, who resides in the U.K. Because Kim and I are eating almost no red meat these days, we decided to honor our guests with some smoked organic chicken on their first night in town. I decided to show Chef Kerr two great examples of Michigan white wines, in thanks for turning us on to so many delicious tastings at Niagara Peninsula producers that he's lined up for us.
2011 Left Foot Charley Old Mission Peninsula Pinot Blanc Island View Vineyard, $23.99: Clean, medium color; citrus and green apple nose fleshes out on the palate with some subtle minerality. Rich and ripe enough to give a delicious snootful of fermented grape juice without pushing things too far. Medium bodied, with plenty of acidity, and good length on the finish; this makes a great match for a variety of Michigan fish and the free range fowl we enjoyed on this occasion. It also works well just sipping whilst playing 12-string and harmonica. Alan was quite impressed, and remarked upon the great minerality and "nice herbaceous" shades. Find this wine
2012 Left Foot Charley Old Mission Peninsula Pinot Blanc Island View Vineyard, $23.00: Kim and I tried this one with Bryan straight out of the tank in late April, just before it was bottled, and it was my whistle-wetter during my first set when I played music at Left Foot Charley last month. I loved it then, and I love it now. Both Bryan and our longtime wine biz buddy Gary Kahle characterize this as being a little fatter, with a little more residual sugar and perhaps a little less acidity than the previous vintage, the operative term being "a little." Alan likes it even better than the '11, saying "I would drink this in copious quantities," and I have to admit, I'd be right there with him. It is "a little" deeper in color than the previous model, with great intensity of green melon, green apple, citrus and mineral flavors; Kim chimed in to say that it's "a little" thicker, corroborating Ulbrich and Kahle's testimony, and she's so right. It also sports a subtle herbaceous undergarment, and is indeed "a little" richer in fruit than its older sister, and if it's "a little" less acidic that the other, it has more than enough zippy gumption to drive it well through the next five years, at least. I've had this twice since enjoying it with Chef Kerr, and it never fails to satisfy completely. Find this wine
Both wines proved to be a great match for grilled, smoked chicken and mixed veggies, and yes, they made playing that sweet old Guild 12-string of mine and singing a song or three even better. I love this wine, vintage in and vintage out.
That's my story, and I'm stickin' to it.
Reporting from Day-twah,
geo t.
Related posts:
7 Responses to "Pinot Blanc a la Left Foot Charley"